Krishna Janmashtami, Gokulashtami or Sri Krishna Jayanthi is the birthday of Lord Krishna.
It is celebrated on the Rohini nakshatra, Ashtami tithi of the Krishna paksha of a year. This is in the lunar Indian calendar. To approximate it to the Gregorian calendar, it will be between the months of August – September.
Offerings and naivedyam on Janmashtami 
Lord Krishna was brought up in a community where cow herding was the predominant occupation. Naturally, the best offering for this occasion, the Krishna favourite ones are deemed to be milk,  milk products, honey, butter and aval (or rice flakes). While milk and milk products are from the livelihood, the rice flakes ( in regional names-aval,poha, avalakki) are from the mythology of strong friendship.
Why is aval or rice flakes associate with this festival?
It is from mythology we learn that Krishna was so good at hand-pounded rice. The legend goes that his best friend Kuchela at his wretched levels of poverty had gone to see him with a few handfuls of aval wrapped in a nearly tattered piece of cloth. Krishna, who at that time ruled Mathura and had Lakshmi Devi(goddess of wealth)as his wife received and entertained his dear old friend with love and affection. When Kuchela hesitantly offered the humble rice flakes, Krishna took three handfuls and ate them. With these three handfuls of rice flakes, he bestowed riches upon his poor friend and family that they never had a hungry moment thereafter.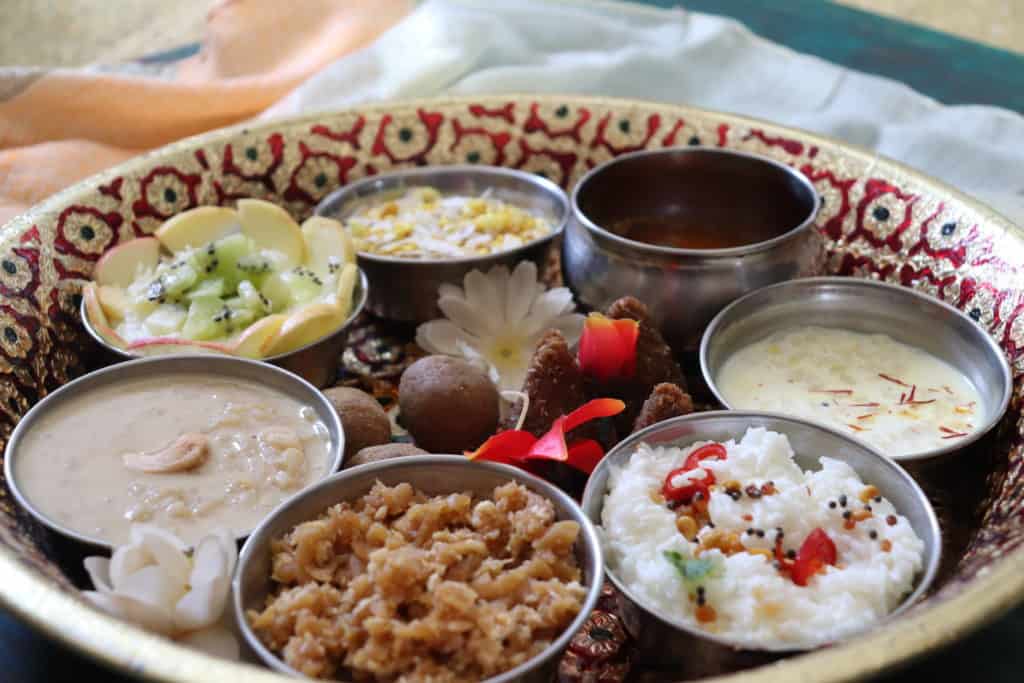 Recipes with Rice flakes for Janmashtami
My mother and mother-in-law are ardent fans of Lord Krishna. The takeaway from all the mythology, I have grown up with, was the deep-rooted unjudgemental friendship. This is why I picked Aval as my key ingredient for this celebration. Over a period of time, there is a collection of rice flakes recipes on this blog that showcase this humble ingredient. Together they form the naivedyam platter that I offer (the image above) as aval thali. 
Here is a listing of these rice flakes recipes along with some more that you can add up to make this aval thali. 
1. Aval payasam – Coconut milk-based porridge that forms a significant, quick-cooking naivedyam. 
2. Gopal Kala or Dahi poha– A simple delicious combination of yoghurt soaked and tempered rice flakes carrying a savoury note.
3. Inipu aval kozhakattai– A zero oil,  steamed riceflakes dumplings made with coconut jaggery
4. Dates and poha ladoo – Ladoos are perfect jar snacks that you can make ahead for this festival. Try this naturally sweetened ladoo with red rice flakes.
5. Aval pongal – Red rice flakes simmered in fresh sugarcane juice and with the fragrance of cardamom is a delightful dessert to serve during this festival.
6. Jolada avalakki mixture or chivda – Crispy and spicy jar snack, made with sorghum ( jowar) flakes that you can make ahead and also enjoy with a cup of tea.
7. Millet Flakes upma – A perfect use of millet flakes, flavoured with methi leaves forms a great breakfast as well. 
8. Doodh pavva or Paal aval -A quick version of kheer, with hand-pounded thin rice flakes ( nylon poha) soaked in warm milk and topped with jaggery syrup.
9. Dahi Chura–  A soothing fruit and yogurt parfait made with seasonal fruits and yogurt soaked poha.
10. Aval nanachathu or vella aval -A no-cook recipe with rice flakes pounded with coconut and jaggery
11. Aval kesari – a sweet dessert made with coarsely powdered poha.
12. Aval kozhukattai- A steamed savoury dumpling made with brown rice flakes.
13 Avalakki sandige – crispy fried treats made with sun-cured avalakki.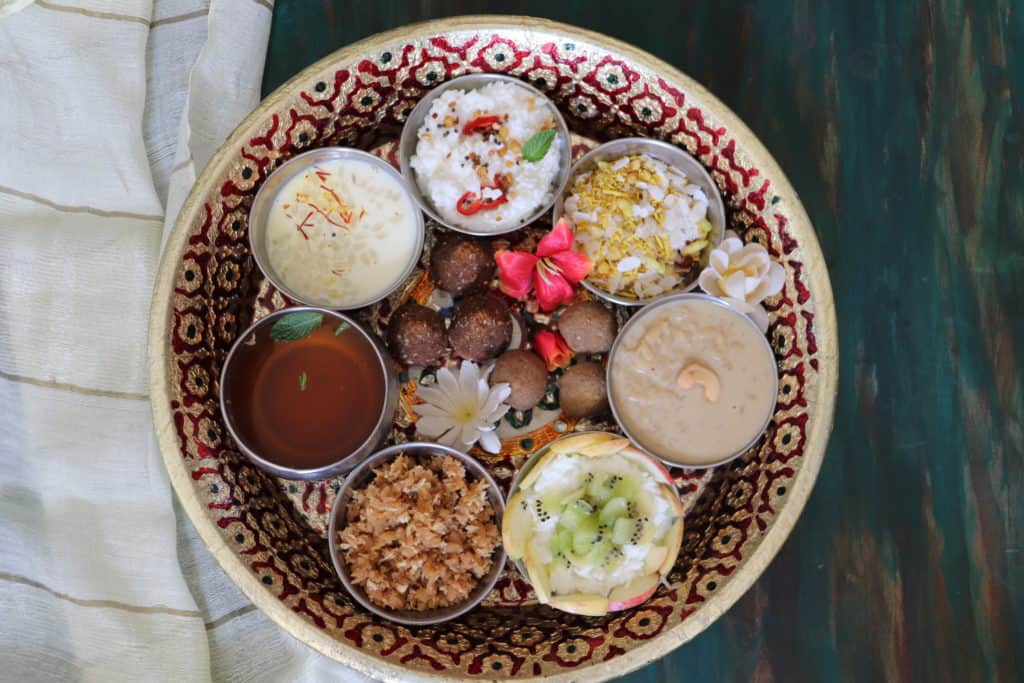 Where to pick up some good rice flakes for Janmashtami recipes?
Since I live far away from India, my best location to stock up on aval in the Indian grocery store. If you are in India, there are plenty of varieties to choose from. Here is a link to Spirit of the Earth  (not affiliated)  whose passion has revived a number of indigenous varieties of rice and rice products. Try out the aval variety, Sivappu kurivikar,  from them which will be perfect for aval nanachathu, aval payasam or the poha ladoo.
Share with us your favourite aval variety or any special recipes that you male with them. 
To add to the platter for Janmashtami recipes
Stay connected.
After all, festivals are the times to enjoy the cultural heritage we inherit. That also means you add in your own family traditions as the time is right. Share with us your traditions for the Janmashtami in the comments below. Share this recipe with your best friends who celebrate the festival too.  Tag us                     (#mildlyindian or @mildlyindian) when you make some of these recipes and do stay in touch.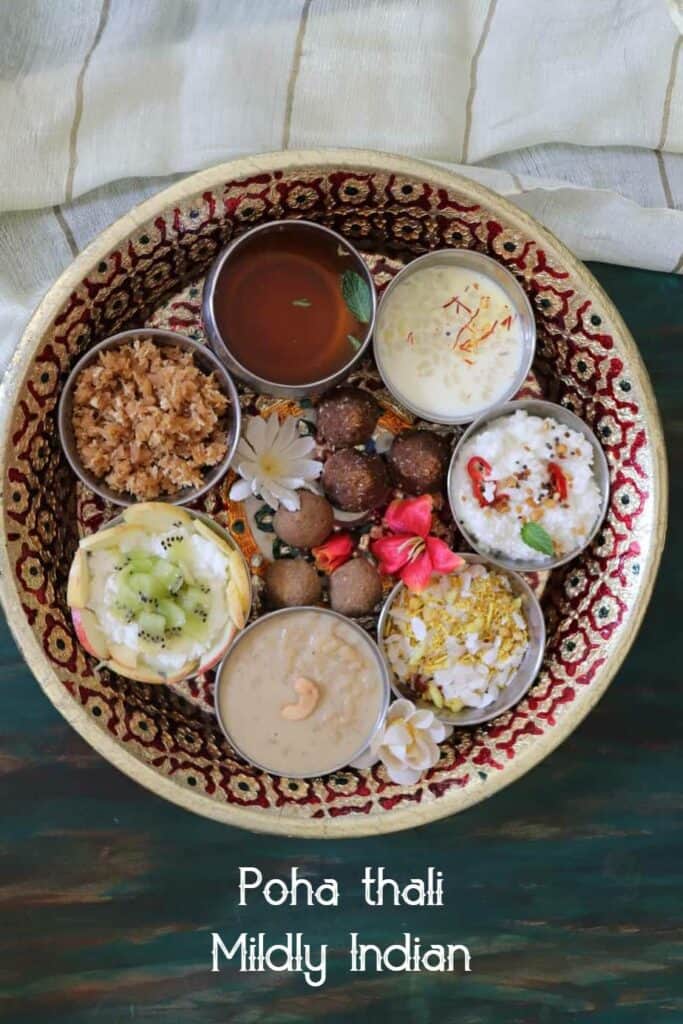 Happy Krishna Janmashtami!!