Bhale besh!!!
Pretty much you can get through most South Indian festivals if you can get payasam done. Mostly these payasams have rice, milk and sugar or jaggery in them, you don't expect anything different from it,  Do You?
If you can get a pink temple paal payasam done,  then you rise above the crowd in the hierarchy of better cooks! That too,  if it gets closer to the taste test review, "bhale beesh," you are the best in the family till that round of festivals finishes.
Among the temple paal payasam of South India, Ambalapuzha paal payasam is the famed best. Pretty much sold out if you haven't pre-booked.  This celestial ambrosia is what devotees wait for months or years to get to. Slogging over the wood fire from the early hours of dawn to near lunchtime, this payasam (kheer) is a lot of muscle power and great simple ingredients. The faint rose pink colour, the aroma of cooked raw rice in fresh milk and the heady amount of sugar… can't beat it with any other rice pudding.  All you need after that is a long siesta. This is clearly what makes these payasams the festival favorites too.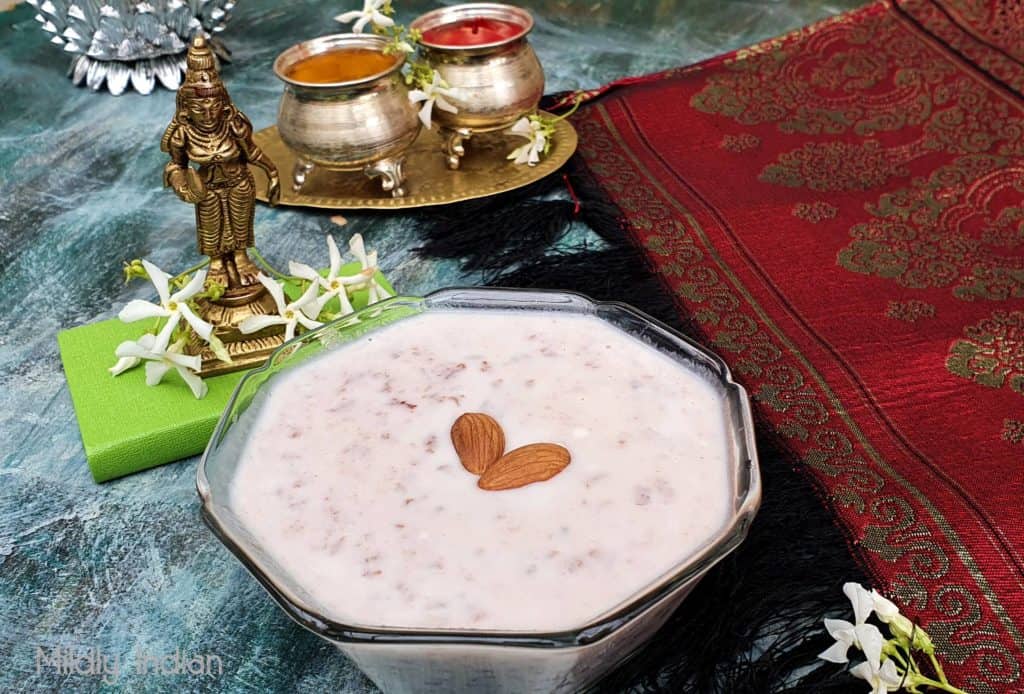 It is quite clear that the pink colour is what attracts most of us towards it. This is achieved without any added colour but with the gentle simmering of the milk and traditional varieties of red rice indigenous to these regions. The taste, therefore,  of the slow-cooked recipe is also a reason for the ambrosia feel to this temple paal payasam. 
Here are a few similar recipes
Now, that many hours of work for a payasam, however, divine it is, is not my portion of work. So,  today I share my not so perfect, shortcut,  Kerala temple style paal payasam. The method us similar to the earlier posts of pressure cooker prathaman and bamboo rice payasam. A few tweaks make this close to the temple style one. Check out the recipe as I am sure once you try it you will love it too. Here I have also added a slow cooker version as definitely the slow cooker ( crock pot) version does do justice to the temple feel ten times more. Check out all the versions and see what works best for you. Do let us know your thoughts, tweaks and changes when you have tried this recipe in the comments section.
Follow us on the social media links below and subscribe of updates regularly.
Here are our social media handles. Do share, follow and keep in touch as we love hearing from you each day.
Facebook – Click here to join our Facebook page
Instagram – Instagram Handle for you.
Pin – Save up your favourites.
Stay safe, catch up later again.
Happy Deepawali to all my readers.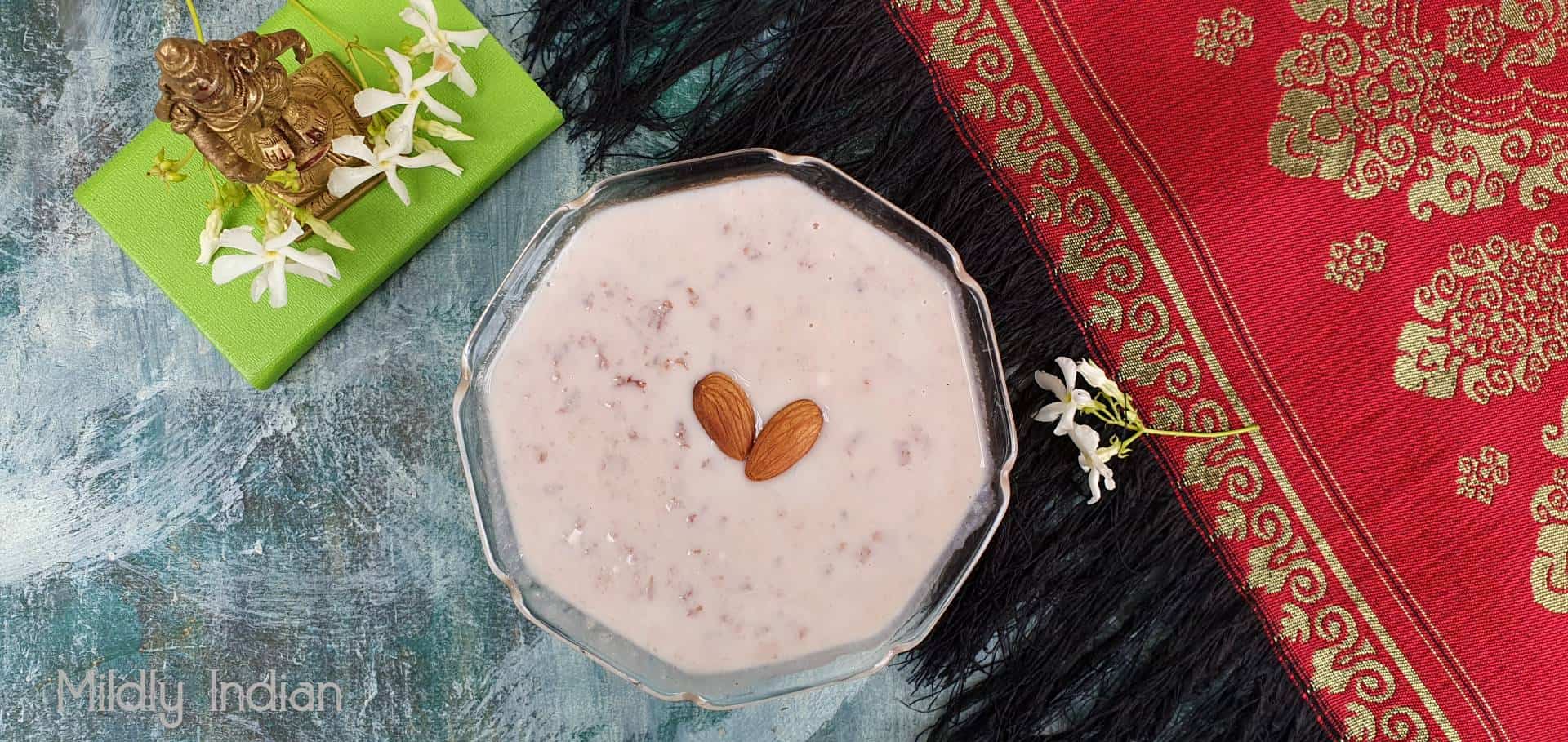 Kerala pink paal payasam
Pressure cooker and slow cooker version.
Ingredients
Pressure cooker method.
1.5

litres

full cream milk

1/2

cup

Raw rice

( I have used raw red rice, Srilankan variety- See foot notes for more details.

3/4

cup

unrefined sugar

( I dont use refined whilte sugar, if you do, that will give a deeper pink colour)

1/2

tsp

cardamom powder

2-3

dry rose petals

optional
Slow cooker method
2

litres

full cream milk

1/2

cup

Raw rice

3/4

cup

unrefined sugar

( I will recommend to use as required as I find the slow cooker breaks down the rice sweeter, so you can cut back on the sugar)

1/2

tsp

cardamom powder

2-3

dry rose petals
Instructions
Wash the rice in running water and set aside.

Into the pressure cooker add 1-litre milk and the washed rice.

Set the pressure cooker and cook on a medium flame for 5 whistles.

You will need to watch out for the spillage through the pressure cooker as milk tends to bubble up. Lower the heat if the spillage comes about.

Once the whistles are done, remove from heat and release pressure naturally.

Now, stir and mash the rice with the back of a ladle. Add the rest of the milk and simmer and stir for 7 to 10 minutes till the milk bubbles and boils.

Add the cardamom powder, crushed rose petals and remove from heat.

The payasam is now ready to serve
Slow cooker recipe
Wash the rice and add it to the crock pot.

Add the milk, cardamom and stir well.

Set it on low for 6 hours and allow the rice to cook and breakdown.

After 6 hours stir in the sugar and the rose petals.

The payasam is ready to serve.