Three things that make Diwali such a joyous occasion is food, hope and joy of sharing. I am not one for the fireworks, never been a fan of the noise and the smoke. I make up for my absence from this by trying to share my best Diwali box with friends. This makes it back to the three things that Diwali is for us.
The past couple of years has seen a transformation in the way we celebrate and adapt. This year it is all about hope. Needless to say, yummy recipes and sharing go with it naturally.
Prepping a  Diwali gift box.
Anything that comes in a gift box is more fun than a regular Tupperware, isn't it! Long gone are the days where I buy the sweet boxes to exchange. I  try to make a few things at home to pack in these boxes. That is more fun and memorable for me.
Choose your box
Choose the box size you want to have. I like them to be lined so they do not soak through the sweet or the savoury that you pack in it. You can have any decorative box, cookie tin or glass boxes to get organised. Don't forget to get some cupcake liners as well when you start as they are great to separate out the sweets.
What can you pack in these boxes?
Traditionally sweets and savouries are exchanged on a platter. Going with this idea, you can have a variety of Indian sweets that you can share. You could think of various types of cookies in a box, as my Malaysian friends do. Do a whole chocolate box for a chocolate lover with chocolate truffles and chocolate chip cookies. Alternatively, you can do healthier nuts and sweets box too. My Diwali gift box is going to have this soft ladoo, Kaju katli, a pack of namkeen or mixture, puklein cookies, dark chocolate clusters and a pack of nuts and seeds.
I am sure you are coming up with your plans to pack this box. Do share what you include in the box. We will love to try some too.
This mango pineapple ladoo recipe.
The mango pineapple ladoo, with coconut, is one of the easiest Indian inspired sweet recipes that you can try. The combination of pineapple with coconut is loved all over the world as the best tropical flavour. I am sure there is no need to describe how yummy mangoes are with desserts. The same flavours come into play in this Indian sweet recipe along with the fragrance from cardamom. This recipe is dairy-free, ghee and oil free and uses fresh fruits. It forms a very soft pineapple ladoo that is melt in the mouth.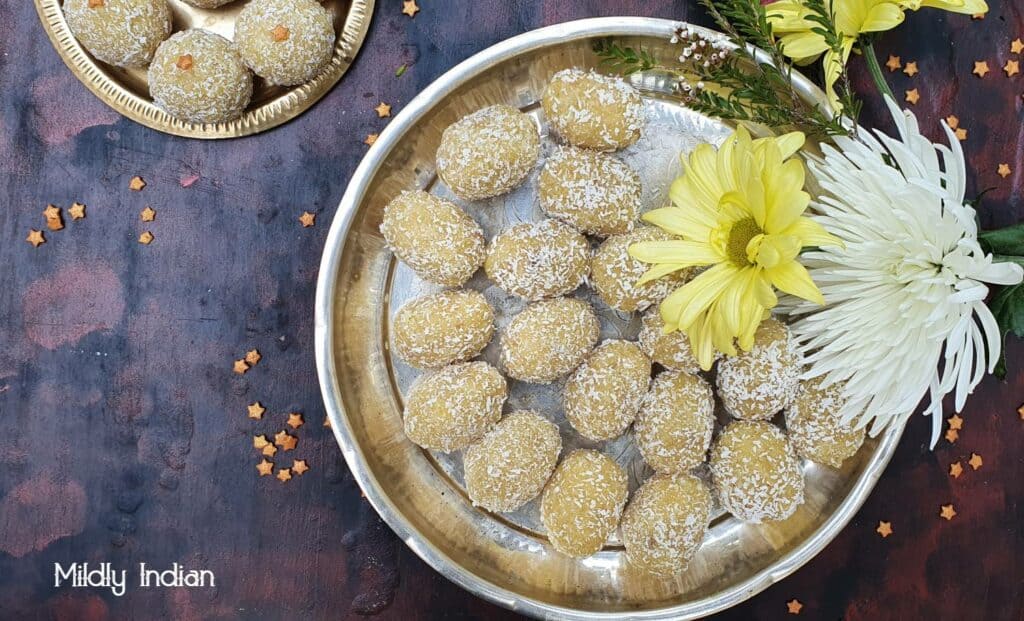 The details of the ingredients and recipe for this pineapple ladoo are in this recipe card. You can use the pin image here to add this mango pineapple ladoo to your Pinterest boards from here. We would love it if you can subscribe to this website and stay on our email list as we post new recipes every week. 
Mango pineapple ladoo
Sweet Mango pineapple ladoo with coconut is melt in the mouth and perfect for deepavali celebrations. Enjoy this gluten free, oil and ghee free dessert treat.
Ingredients
For the ladoo
4-5

rings

Pineapple

1/2

cup

mango

chopped

1/2

cup

sugar

Use 4 tablespoons stevia instead.

180

grams

dessicated coconut

1/4

tsp

green cardamom powder

1

pinch

nutmeg
For rolling up the ladoos.
1/2

cup

dessicated coconut
Instructions
Chop the mango and the pineapple and add to a sauce pan with the sugar.

Bring it up to medium heat and let the sugar melt slowly.

Mash the fruit as it softens creating a fruit stew.

Let it thicken that it coats the back of a spoon well and has a honey dropping consistency.

Now stir in a little bit of the coconut at a time. This will thicken the mix quickly.

Make sure it is lump free.

Add the cardamom powder and nutmeg grated and mix well.

Remove from heat and set aside.

When the mixture is cooled down, it will be easy to shape.

Roll small balls in your palms and roll the in dessicated coconut.

Place in an airtight box till serving time.
The Shh cooking challenge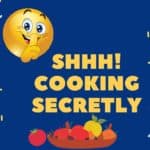 This coconut ladoo with mango and pineapple is a result of the Shh cooking challenge. With a huge workload, the recipe would not have happened without the enthusiasm from my fellow blogger and partner for this Challenge, Preethi. Preethi in turn has made a delicious moong dal halwa for this Diwali that is absolutely a must-try recipe. The two lovely people who keep this exciting Challenge running smoothly are Mayuri and Renu. Both these bloggers feature some wonderful recipes. Mayuri's Jikoni highlights unique recipes from Kenyan cuisine that are my absolute favourites. Renu on the other hand sports easy to make healthy dishes that make life easy. Try out both these blogs as you will find so many that you will want to try.
Other ladoos you don't want to miss.
It was not until we listed so many that I realised we have about 12 ladoo recipes on this blog. In fact, this is because they serve as the perfect jar snacks throughout the week for my family. Many of them don't have much sugar in them and utilize dates or jaggery as the sweetness base. I do make these with stevia as well at times to suit us. Hope you like this collection along with today's recipe. 
Nuts and dates ladoo: A variety of nuts bound as a small ball with the help of soft dates is one of the most loved ladoo recipes that we make.
Moong dal ladoo: the traditional Deepavali, nei urundai is a recipe that is a south Indian favourite during this season.
Sattu ladoo: The roasted gram flour ladoo made at Teej is a traditional Rajasthani snack. Absolute must try this is a keeper jar snack.
Black rice ladoo: rare but divinely tasty, the black rice ladoos with dates and coconut make up for a good snack.
Peanut ladoo: Easy to prepare, no oil added peanut ladoos seem to vanish faster than ever in my house.
Bajra raisin ladoo: A healthy winter perfect bajra ladoo flavoured with raisins is a wonderful energy ball.
Chocolate Bread ladoo: wondering what for this week in the snack box?  Use up all the leftover bread to make these chocolate flavoured bread ladoo.
Toasted Quinoa ladoo: This is a most sought after jar snack that my colleagues love as much as I do. It stays well for a couple of weeks and instant good snacking option.
Apricot ladoo: with some fun from the tutti frooti, this apricot ladoo is yum!
Roasted atta ladoo: classic roasted atta ladoo with melon seeds is a delicious keeper recipe
Cranberry coconut ladoo: unique, cranberry flavoured bliss ball uses coconut and milk powder.
Dates poha ladoo: Zero oil/ghee dates and poha ladoo is so easy to prepare and tasty in the gift boxes. 
Stay connected
We hope you will love to share with us your thoughts about or recipes and post. Do leave your comments for us to improve and also notes on the ones you love.  Take a moment to visit our youtube channel. Leaving you with our Facebook page  (click here) and Instagram (click here ) so you can take a peek. Don't forget to follow us as we update these to the best of our efforts. Subscribe, share, like and evermore come back
Stay safe and see you at the next post.