Indian cooking comes effortlessly for me. The ratio of spices and I pinch of this and a pinch of that is my preferred way of cooking. But it doesn't seem to suit my progeny. At this point, I have to say I had no intention of learning to cook until I starved in my dorm during my college years.
Learning Indian cooking
In the beginning, this was quite a difficult task.  The Indian spices and their balance is like Greek, Latin and many other mixes together. My beginnings were no better and now I remember this as we were undertaking the much-needed cooking skills for my kids during this Easter break. Since we focused on core recipes this time it was elaborate and time-consuming. A pinch, small amount, add that, instructions were so difficult for them to comprehend as Indian kitchen is loaded with masalas, spices and of course veggies and beans and mine is no better. So I had to work on my ways of making the kitchen sessions, not a tantrum. I have been listening to why can't we just make "dump it all pasta "all this week. I am not ready to give up yet, so will persist till we reach some consensus.
This mixed vegetable pulao
After the first exhausting day of Indian cooking, I remembered a recipe my mum taught me when I was beginning to cook in my dorm. So this is on our menu practice today, the vegetable and bread pulao. This is a great recipe to feel the spices instead of the masala powders which you cannot figure out what is going on. I wonder how mum patiently described the recipe and standing by with each step just nodding saying nothing. I may not be that, I may need to tape my mouth.
Here are my tips following this teaching-learning session.
Today the mixed vegetable pulao went well. In fact, the end result of this mixed vegetable pulao with ghee croutons,  was so good it seems to have renewed some interest in the masala dabba coz I got the question
"so what is on for tomorrow? another one of this? this is bearable!!"
I guess they did not see the steam coming through my ears. but on hindsight here are some useful tips.
For winging this recipe, any cooked grain you have at hand will work. We worked with rice today. You can try it with millets, quinoa, bulgar, or even couscous. I like short-grain rice to start teaching as the basmati does have a mind of its own at times, especially with newbies.

That bag of frozen mixed veggie you can grab from the supermarket will suffice.

Since the spices are whole you can see them to recognise and add. Now if you don't have all of them, never mind, it will still be fine.

Leftovers cooked grains are welcome in this recipe especially rice as It won't make your pulao sticky while you mix it.
So here you are with a generously easy mixed vegetable pulao with crunchy croutons aka bread pulao that is loaded with veggies and dorm -friendly.
Here are a few more dorm friendly filling recipe
Bhindi pulao – stir fry rice with okra and walnuts
Bagara rice- flavourful bagara rice mix from the Deccan cuisine
Hope you have some fun with these Indian cooking recipes too. This week my plan is to post five recipes that can be the best combination of your dinner menu. This will help to bring up a collection for meal prep and so useful once the stay-at-home season ends. This is the first of the series.
Stay safe and do tag us when you make these recipes.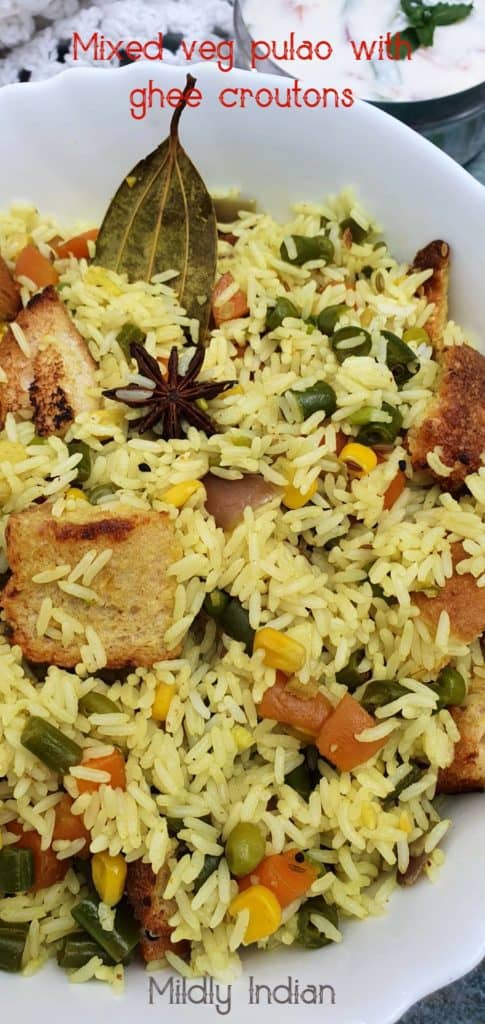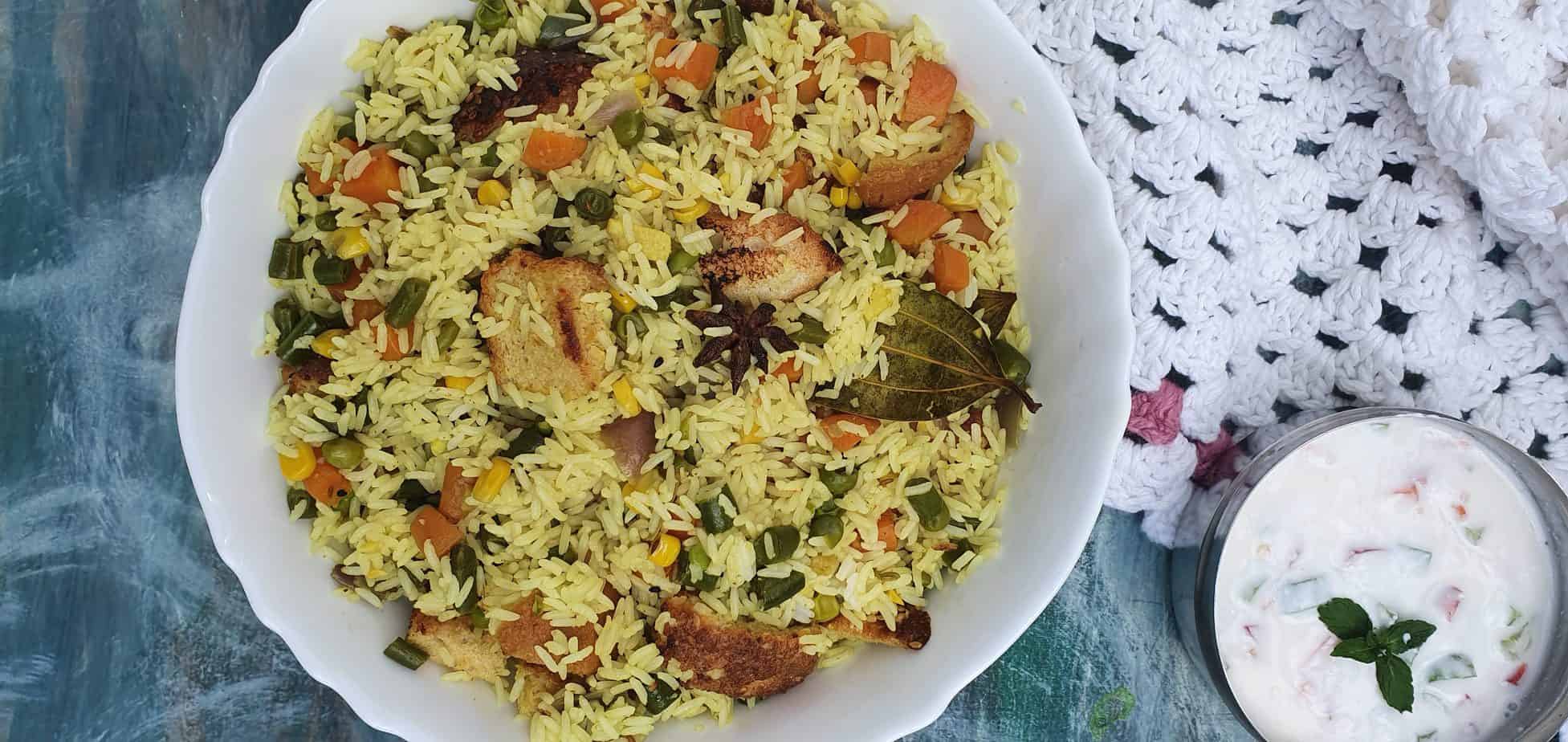 Mixed vegetable pulao with ghee croutons
Learning Indian cooking
Ingredients
For the rice
1.5

cups

Raw rice

(approximatey 1/4 cup of dry rice per person)

5

cups

drinking water
for the vegetable mix
1/2

cup

carrots

diced

1/2

cup

french beans

diced

1/2

cup

corn kernels

I have used frozen

1/2

cup

peas

I have used frozen
For the spices
1

small

red onion

chopped small

2

bayleaves

2

cloves

1

small piece

cinnamon stick

broken into pieces and get about an inch long piece

1

star anise

1

black cardamom

1

small piece

mace

1/4

tsp

cumin seeds

1/4

tsp

caraway seeds

1/4

tsp

Nigella seeds

1

clove

garlic

chopped fine

1/2

tsp

fresh ginger root

grated or chopped fine

1

small

green chilli

( we omited this)

salt to taste

1/4

tsp

turmeric powder
for the saute
1

tbsp

ghee / clarified butter
for the garnish
1

tsp

coriander leaves

Chopped ( optional)
Instructions
Wash and soak the rice in 5 cups of water. Set aside for 10 minutes

Put the rice for cooking after 10 minutes

Prepare the vegetables, sort out the spices you need from the list above and keep it ready.

Cut the bread in 1-inch squares and set aside

Set a nonstick pan, Add the tsp of ghee and gently toast the bread slices on a very low heat

Check on your rice and fluff it

In another deeper pan ( you need a lot of space), add the tbsp of ghee.

As the ghee warms up add the dry spices and roast for a minute.

Now add the garlic ginger and onions and saute till the onions are translucent.

Add the vegetables and saute them on medium heat. Add the salt and turmeric and continue with the saute.

The rice should be ready now, fluff it and spread it out a bit to cool down a little bit

When the vegetables are cooked yet crisp add in the cooked rice and ghee croutons and remove from heat

Fluff and toss the whole mix together.

Add to a serving bowl and sprinkle on the chopped coriander

Serve warm with raitha of choice