As the children grow up, the need to blend in and feel a part of the society takes over. I am sure many mums around will agree to this. At this phase, nutrition takes a backstep and lunchboxes are feeble. It happens at mine too. That's when I device new ideas for the always lunch love- sandwiches.
With our love for peanut butter and banana or simple toastie no longer holding up that very hungry roaring tummies we need to move on to adult-like sandwiches. The key to any great sandwich is a good balance of vegetables, a good source of protein and wholesome carbs from the bread.
Paneer
Unlike hard cheeses, paneer has a mild flavour. This acid set cheese is soft and crumbly. It packs in a fair bit of dairy-based proteins. If made with low-fat milk, the paneer is a perfect low-fat option to have.
Back to sandwiches
Don't limit your sandwiches to a lunch box. They are the perfect appetizer on a summer grill. They are the best to curl up with and watch a movie and you won't go to those bags of salt-laden chips easily. Here is the best part..no cutlery needed so minimal wash-ups (this is my favourite part)
In these sandwiches, the core protein is the paneer and the tomatoes and a bit of the arugula just make it exciting. The pesto really adds a smoothness to the sandwich and the basil is best with the paneer.  Choosing the bread should be quite a breeze…
Hold on… Not really with an aisle or two of products in the market. Here is my tip, read the ingredients. If you cant make sense of most of them… Don't get it. Go for simple words like wholewheat, sourdough or ask the local baker for a wholesome one. They will get you straight to the point. I have chosen a wholewheat one with no colours or additives in this sandwich. Here is a little secret with this sandwich I do get that rare hug from my older teen. So it really does work. Try it and tag us when you get that hug.
Here are the sandwiches that takes over my lunchbox love
and here are a collection of sweet dessert sandwiches
Don't miss to subscribe as we bring more yumminess soon.
Check us out on Instagram and keep following.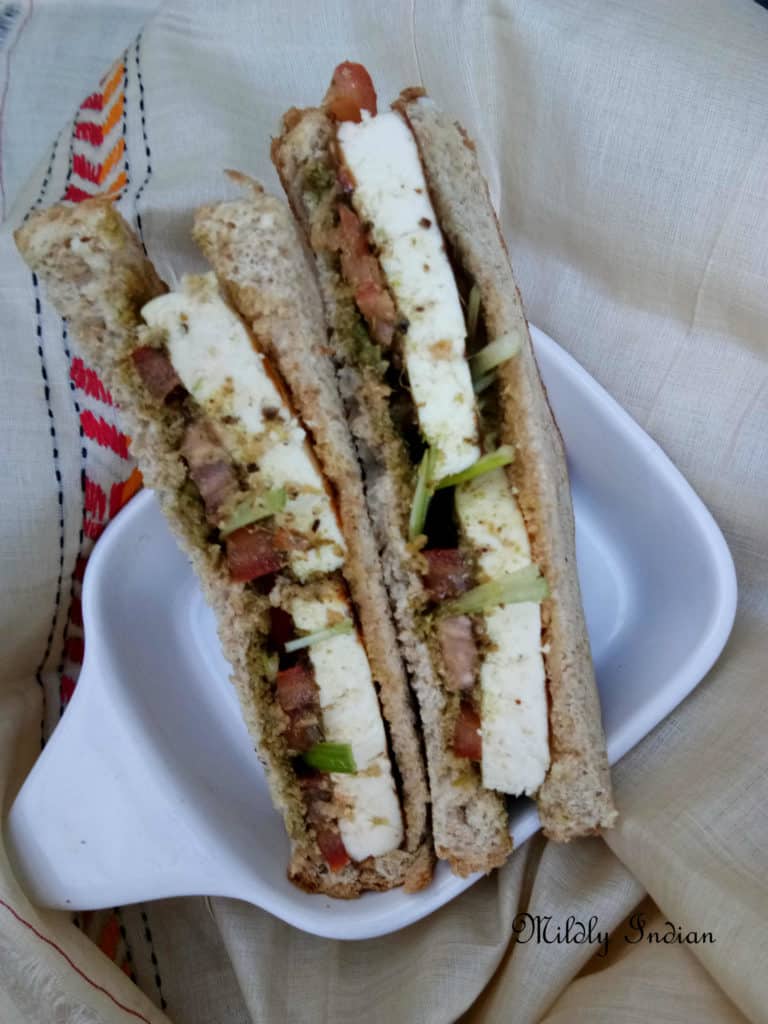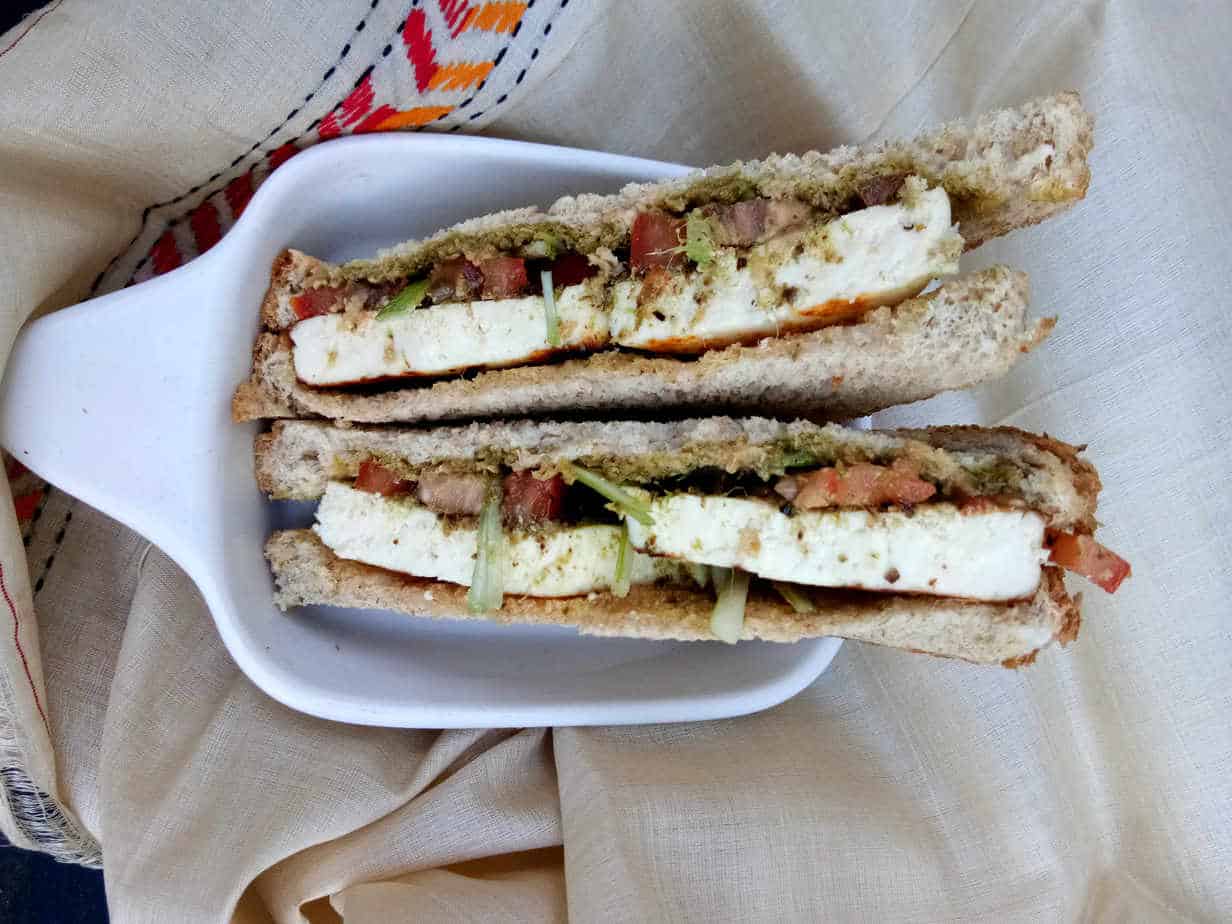 Griled Paneer Pesto sandwiches
perfect lunch solutions
Ingredients
for the grilled paneer
100

grams

paneer / cottage cheese

pressed to remove the liquid

2-3

tbsp

pesto

(I have used nut free pesto)

1

pinch

black pepper powder

1

pinch

pink salt

( any salt that you have will suffice)

cooking spary

or a tsp of oil to brush on the grill pan
For the sandwich assembly
2

slices

Whole meal bread

( use rye, mixed grain or Low GI based on your preference)

1/4

tsp

butter

or coconut oil

2

slices

Tomato

(swap for any salad element)

1

handful

Arugula

or any salad green / something crunchy

1

tbsp

alfalfa sprouts
Instructions
Grease the grill pan and heat it up to medium heat.

Slice the pressed Paneer into a cm thick slices.

Apply the pesto and sprinkle on some salt and pepper on it

Place it on the grill and let it sizzle to create the grill marks

Leave it alone for about two minutes

Gently flip it over and grill the other side as well. Remove and set aside.

Apply a bit of butter/ coconut oil on the bread and toast on the same grill pan

Place the grilled paneer on a slice of toast and add the salad veggies of arugula , alfalfa sprouts and tomato slices.

Close the sandwich with the second slice of bread and Enjoy.
Notes
The nut based pesto will burn much faster on the grill and hence I choose a nut free one. Also nut free is safer in a school enviornment.
Alter the salad veggies based on your preference.
Nutrition
Calories:
464
kcal
Carbohydrates:
33
g
Protein:
18
g
Fat:
30
g
Saturated Fat:
10
g
Polyunsaturated Fat:
1
g
Monounsaturated Fat:
4
g
Trans Fat:
0.03
g
Cholesterol:
40
mg
Sodium:
1383
mg
Potassium:
326
mg
Fiber:
3
g
Sugar:
6
g