Poha sheera or aval kesari is s delightful Indian sweet recipe made during festivals. This foolproof recipe is easy to master and perfect for a beginner. Check out the detailed post for all the tips and tricks for making the perfect aval kesari.
Every year we add something more to our aval thali for Gokul Ashtami. This practice began a few years back when stories were a big part of my children's life. It was the story of friendship that they loved to hear, the one where Krishna and Sudharma are best friends and meet to bond over a fistful of homemade aval. Now we have a full thali that we make and add to every year, we call it the aval thali. Though it is a lot of recipes, aval is a quick-cooking form so it is easy to make some even during a midweek festival day. This year, we plan to swap the vella aval with aval kesari, just for a change.
What is aval kesari?
Kesari or sheera is a sweet dessert made commonly with semolina, like the banana sheera we made earlier. Aval kesari or poha sheera uses coarse ground flattened rice to make the dessert. This quick and easy dessert is often shared during festivals like Diwali, Gokulashtami. The dessert is easy to add to the naivedyam platter and a mild flavoured one.
What poha to choose for this sheera?
Usually, poha or aval is classified by its thickness. Nylon poha or the thinnest one is used to make chivda or crunchy snacks. The thick one is soaked and used for making savoury breakfast poha or to add to idlies. The medium thickness one is what I have used to make this sheera.
It doesn't matter which thickness you choose, but be watchful as the nylon ones melt off with the cooking, making them almost like mashed potatoes. In addition, there is red, brown or white poha depending on the rice variety that was flattened. This again just changes the appearance of the halwa, not its taste.
Aval pori or the fried poha is what is unsuitable for this recipe.
Making poha sheera dairy free
One of the ingredients that make the kesari come together is ghee. If you are making dairy-free, vegan kesari, replace the ghee with coconut boil and turn the heat a notch down. The kesari turn out fine, now with a coconut flavour.
Keeping the kesari lump-free
Keeping the kesari lump free is the biggest trick in mastering this recipe. So here is what you do. Start stirring the boiling liquid in figure 8. They stream the coarse ground poha with the other hand. Keep mixing still till they almost absorb the liquid.
How to make the perfect instant pot aval kesari?
Aval kesari is easy to make on an instant pot or stovetop. If you are a true beginner, I would suggest trying the first time for the stovetop so you can see the texture changing. The key point is to get the aval cooked (which doesn't take long).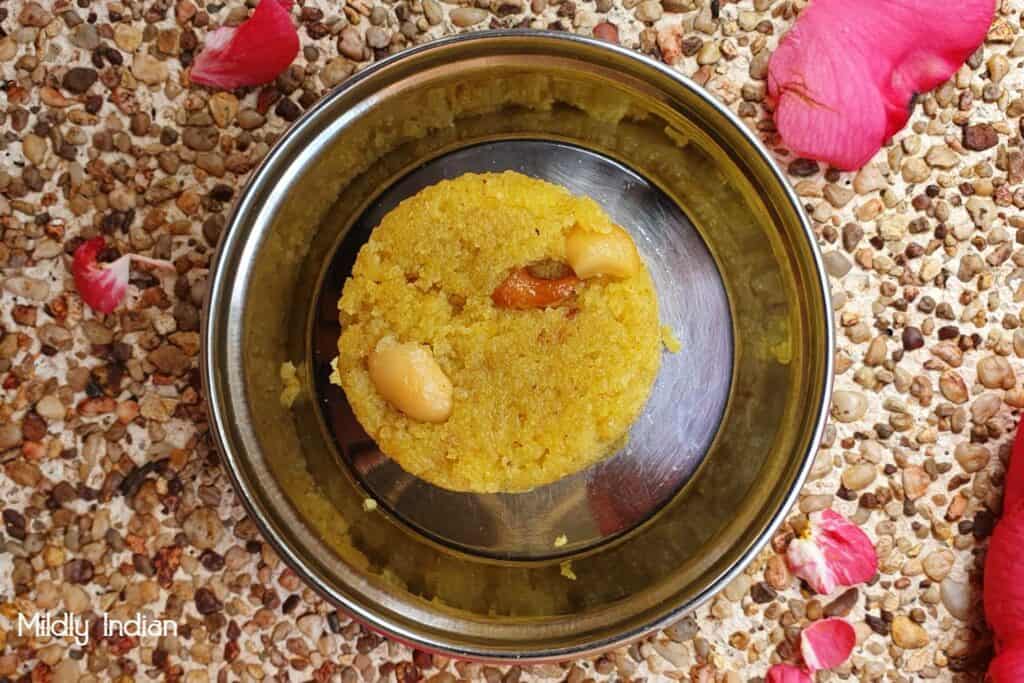 Fruits you can add to this kesari
Pineapple-my favourite fruit to add to kesari is pineapple. The crushed pulp is added. When measuring, make sure you have reduced the water quantity, corresponding to the Pineapple. I have added up to 1/4 cup of crushed Pineapple and removed the same quantity of water.
Strawberry- this applies,  just like the Pineapple.i like adding cinnamon or vanilla with strawberries than cardamom.
Bananas- follow the exact process of how we made banana sheera before.
Jackfruit- now this is exotic. Fresh or jam jackfruit tastes amazing in Kesari. The pulp is thicker than Pineapple so adjust the water quality as you go.
Aval Kesari
Poha sheera or aval kesari is s delightful Indian sweet recipe made during festivals. This foolproof recipe is easy to master and perfect for a beginner. Check out the detailed post for all the tips and tricks for making the perfect aval kesari.
Ingredients
1/2

cup

rice flakes

aval, avalakki

10

cashew nuts

2

tbsp

ghee

1.5

cup

drinking water

4-5

strands

saffron

1/8

tsp

green cardamom powder
Instructions
In the instnat pot or a pan, dry roast the aval till slightly golden and crunchy.

Remove the aval once crunchy into a plate, spread it out and leave it to cool.

When cooled powder the roasted aval coarsely and set it aside.

Into the pan add a teaspoon of ghee and once the ghee starts melting add the cashew.

Once the cashews are golden, remove from heat and add the water into this pan.

When the water starts bubbling, stream the powdered aval and saffron strands and keep stirring.

The mix will start together when the aval absorbs the water. Keep stirring till it is totally lump-free.

Now cover and cook for two minutes so the aval is completely cooked.

Add the sugar, upon opening and stir in the sugar well.

The mix now has more liquid and stir an cook till this is almost evaporated.

Add in the rest of the ghee, roasted cashew and cardamom powder and stir well.

The kesari is now ready to serve.
Notes
I have made this Kesari in the instant pot set on saute mode. 
Storing the kesari
The kesari can be easily stored in the refrigerator in an airtight box for up to a week (that is if it lasts that long!!). I have never attempted freezing this recipe, if you do let us know how that turned out.
Here are a few highlights for gokulashtami
Gokulashtami thali can be as simple as ever. A piece of butter, and some milk with some easy aval based recipes with making the perfect naivedyams. Here are three sweet treats you can make easily.
Inippu kozhukattai
Aval payasam
Vellai aval
Stay connected
Gokulashtami is celebrated in various ways in India. Share with us how you celebrate this festival and the specials you make in the comments below. Don't miss subscribing and enjoy reading our blog from time to time. If you are looking to tag us, choose @mildlyindian or on insta, use #mildlyindiankitchen to showcase your recreations.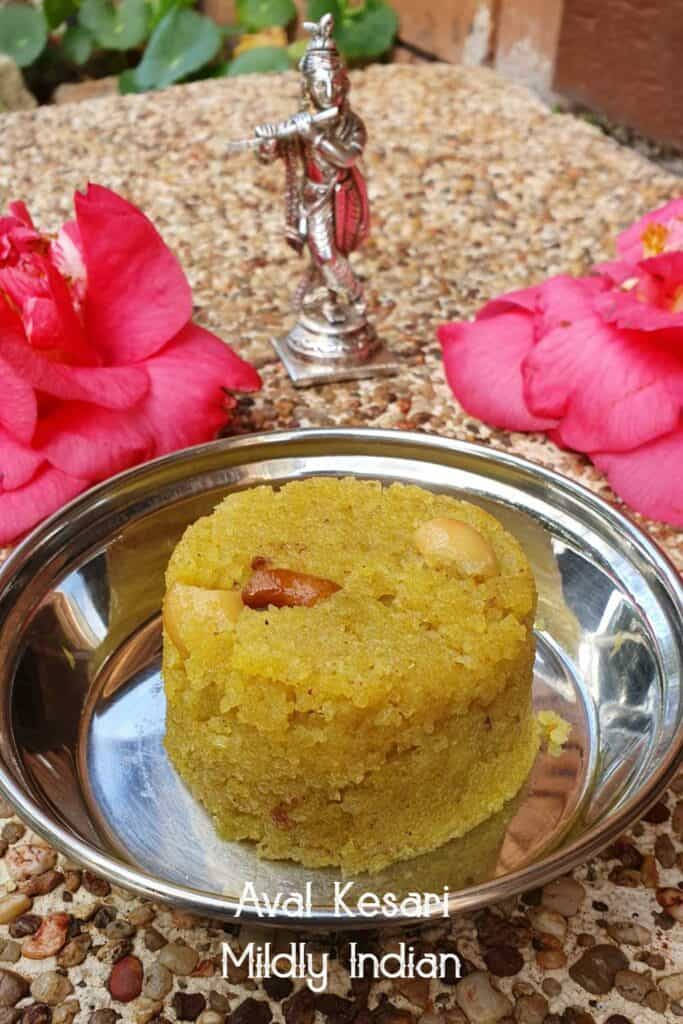 Happy Krishna Jayanthi!