There are a couple of things I have learnt to do in the southern hemisphere winter. Crank up that old oven in my kitchen and feel that warmth. The aroma of cinnamon and vanilla fills the house with warmth and I simply love it. In my dreams, I wish there was a fireplace and a dog too. But for now, they are my wishes and I will settle down with my cat and some happy carrot cake. This carrot cake has loads of carrot, is zero oil or butter used and the most decadent cream cheese frosting to make it perfect. 
Don't be afraid to bake
Baking forever has classified itself as an exact science. This certainly creates a perception that it is difficult. Well, it is the science of baking, it is pure food chemistry. Coming from a science background, this doesn't create any panic in my head rather makes me think of the fact that baking actually makes you feel good! I am currently teaching my younger one to be that confident. Burn that cookies with confidence, pull that cake that will fall … it is all good. For, each time you learn something new and do more with confidence. Over a period of time, it will create a collection of successful recipes save them and repeat. See, after all, it doesn't look so bad. You still can bake and just as you do, make sure you try this zero oil cake recipe with the comfort of cream cheese frosting.
This zero oil carrot cake.
This carrot cake recipe is slightly deviating from the exact science of baking.  Hold your thoughts, it works and worked every single time even though it is a zero oil cake. If you read the recipe, there is loads of carrot here, yes there are 4 cups of it, co I don't believe a carrot cake should have slithers of carrot here and there.  It should have carrots in every bite and enough to feel the carrots in it. The eggs make up for the oiliness needed so it still yields a moist cake without a huge egginess.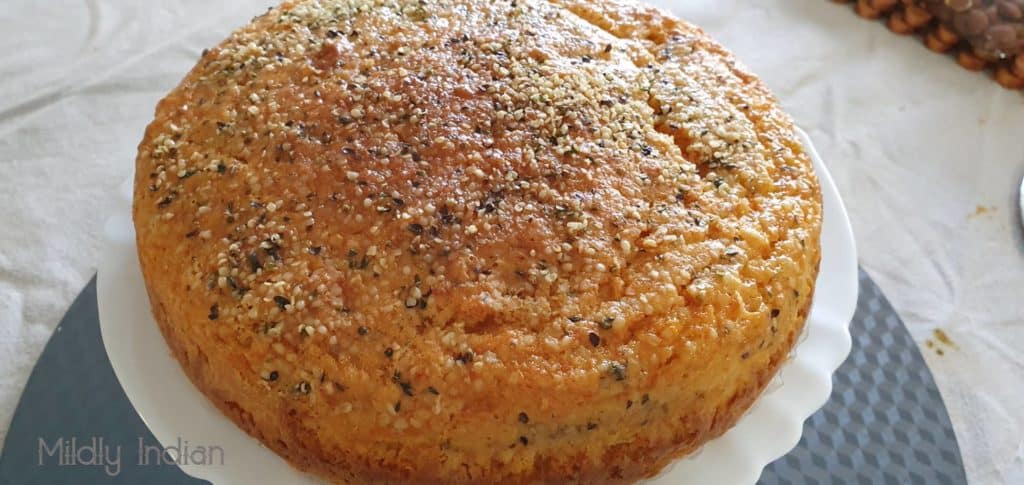 I love to add candied ginger to this recipe as it tastes amazing as you bite into some, especially in winter. Adding nuts to this is totally up to you, but I went for some hemp seeds. You could use some chopped pecans, walnuts or almonds.
The cream cheese frosting
According to my daughter, any carrot cake is incomplete if it was not having the cheese frosting. Since cheese frosting is a bit thicker than buttercream frosting we made for the confetti cake and holds shape better we decided to work on it with the minimal fork tricks. We have tried a basic basket weave pattern with a fork. How do you like it?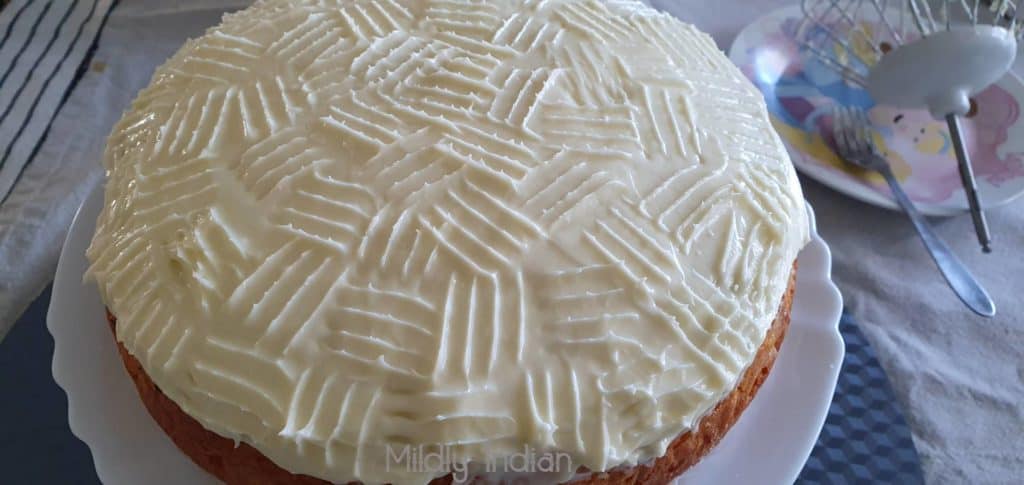 Lots of carrot, carrot cake
Zero oil, no butter cake with lots of carrot.
Equipment
measuring cups and spoons

Whisk

oven
Ingredients
Wet ingredients
4

medium

eggs

1

cup

unrefined sugar

1

tsp

cinnamon powder
Dry ingredients
1

cup

whole wheat flour

1

cup

oat flour

1/2

tsp

baking powder

1/2

tsp

baking soda
for the cheese frosting
1

cup

icing sugar

150

gram

cream cheese

2

tbsp

butter

(softened)

1

tbsp

crystallised ginger

or candied ginger
Instructions
to make the cake
Preheat the oven at 180 degrees for 10 minutes

Grease the baking pan and dust it with flour. or line the pan with baking paper.

Into a large mixing bowl, crack and add the eggs, cinnamon powder and the sugar.

Whisk till the sugar is well dissolved and the eggs are fluffy.

Sift in the flours, baking powder and baking soda and fold gently.

Add the carrots, crystallised ginger and fold well.

Pour into the greased mould and tap well ( this remove any trapped air in the cake.

Sprinkle the hemp seeds on top and place the cake mix in the oven

Bake till the skewer comes out clean in the centre of the cake.

Remove the cake from the oven and place it on a cooling rack.

Once the cake is cooled unmould the cake and let it rest for 1 hour
For the cheese frosting
Into the mixing bowl add the cream cheese, the icing sugar and softened butter.

Whisk gently till the ingredients are combined and the cheese frosting is soft and fluffy.

Keep it chilled.
to frost the cake
Place the cake on a turntable ( or a makeshift one like us, an inverted plate on a tumbler.

Place the frosting in the centre of the cake and using a knife, spread the frosting in spiral motions away from the centre while slowly turning the cake,

Once the top of the cake is fully covered, you could work your way to the sides. (We did not)

Using a fork, gently press in a criss-cross pattern on the frosting.

Chill till the frosting sets.

Enjoy the slice, with family and friends.
Notes
I have used freshly grated carrots. It took 4 large carrots to get 4 cups of them.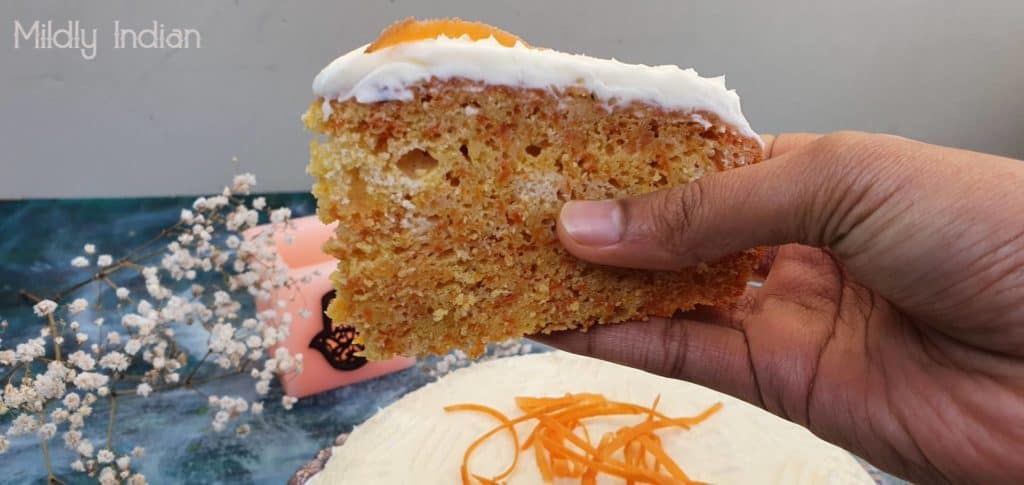 Will this carrot cake freeze well?
Absolutely. Don't hesitate, cool and freeze the cake. It will thaw delightfully. Somehow, don't like freezing with the cream cheese frosting so I freeze only the cake. Once I defrost the cake, I make a fresh cream cheese frosting for it.
Decorating the carrot cake for Easter
A few carrots slither is what I love to just top the delightfully tasty zero oil cake. Come Easter time, if I am baking the cake to share, Pipe up some small rosettes and top them with a small chocolate egg or those tiny decorative carrot candies that you get in the baking aisle.
Collaborations
I bake this cake every Easter. Each time I do, I think of updating the recipe content, but rarely do. With the gently nudge from Foodies redoing old posts I am so glad I got it together to make changes and bring better version to you. Hope you like it!
Stay connected
I hope you have subscribed to our blog to receive regular updates. We thank you for staying with us and encouraging us at every step. We would love to have you visit the Youtube channel that we recently updated. Please subscribe, like and share these videos and let us know what you like and dislike about them. Stay with us on the blog as we attempt new recipes or try some traditional ones. Peek over to our travel section to see what we are up to at times.
See you in the next post!!