Festivals are great. I have to say there are a few secret cravings that get satisfied during this time. I may not nr super proud of it but it is incredibly satisfying. what we are talking about today is the crunchy makai chivda. We make it rarely so it becomes even more precious. So, this weekend I have set my deep fryer out for a batch of yummy crispy satisfying cornflakes mixture or makai poha chivda.
What is makai poha chivda?
The makai poha chivda or cornflakes mixture is a deep-fried savoury snack with nuts and flavoured with curry leaves. With a sweet and savoury mix of flavour, this is most satisfying with tulsi chai.
The chivda is made with makai poha, flattened thin flakes of corn. This is not ready to eat cornflakes rather a raw version of the flakes. This makai poha is essentially flattened corn. You can roast it multiple different ways to make this mixture (scroll below the recipe card for more ways to make it)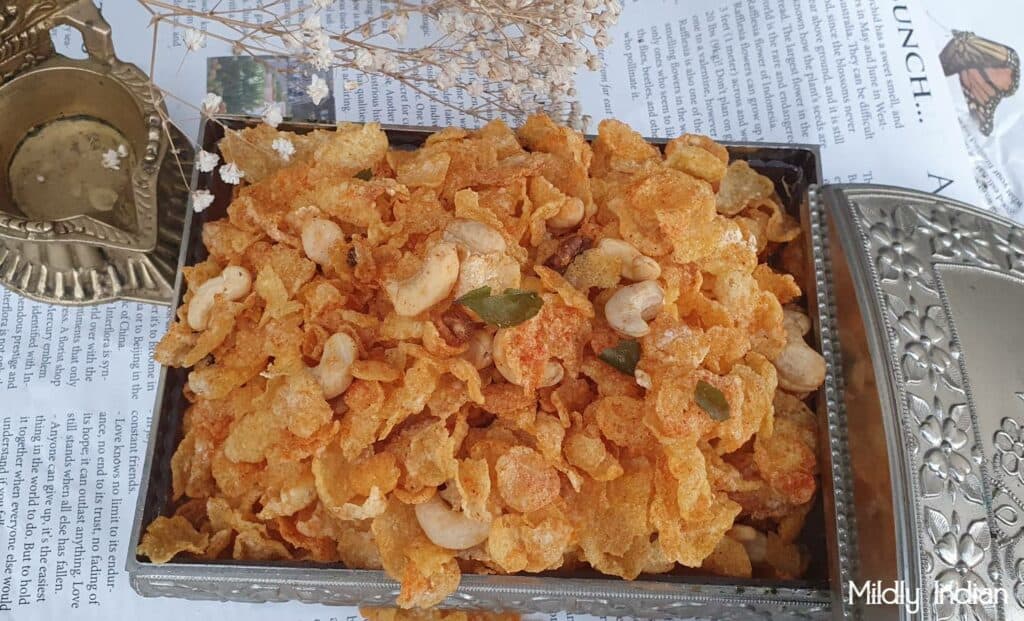 The detailed ingredient list and the step by step recipe for the deep-fried cornflakes mixture are in this recipe card below. Save it up from here on to your Pinboard or print a copy to share with friends and family.
Makai poha chivda
Makai poha chivda or cornflakes mixture is an easy to prepare savory snack that is tasty and addictive that tastes amazing with a cup of tea.
Ingredients
4

cups

makai poha

1/4

cup

cashew nuts

1/4

cup

peanuts

2-3

sprigs

curry leaves

1

teaspoon

red chilli powder

1/4

teaspoon

salt to taste

1/4

teaspoon

Asafoetida

1/4

teaspoon

powdered sugar

( optional)
Instructions
Set the deep fryer to heat up to 180 degrees.

Once the oil is ready fry 1/4 cup of makai poha at a time.

When the poha puffs up and crisps, remove and drain the excess oil.

Add the fried makai poha into a mixing bowl and sprinkle some salt and red chilli powder on it.

Fry the rest of the batches of poha and repeat the same.

Fry the peanuts and cashewnuts till crisp.

Drain and add to the mixing bowl, sprinkle, salt, chillipowder and asafoetida on it.

Fry the curry leaves and set them aside to cool.

Once cool, crush them and add to the mixture.

Add the powdered sugar and toss the whole mix together.

The chivda is ready to eat.
Making it in a microwave for a low oil version. 
Roast the corn poha in the microwave, a handful for 20 seconds at a time do they crunch up. Then do the same to roast the nuts and curry leaves. In a microwave-safe bowl add a tablespoon of oil and heat for 20 seconds. Once the oil is hot, add the masala and salt and mix well. Add all the nuts, crushed curry leaves and poha into a large mixing bowl. Spoon in the masala oil and toss as you go to add flavour to it.
Store this makai poha chivda in an airtight container.
Few more ideas for Diwali munches
Here are a few Diwali munches you want to add to make a Diwali gift box. 
Halwa- Most of my diwali prep starts with a halwa. YOu could try the chewy karachi halwa or soft and creamy papaya halwa.  Ladoo collection – here is a collection of ladoos that you can use while making that Diwali gift box ready. Add up some Kaju Kaltlis to the sweet section of the box and then move on to these two namkeens ( salty treats). Matri – Namkeen methi matri is a must for the season. So once you set the fryer try some of these too.
We love to experiment with recipes for the festivals so stay on with us by subscribing to this website. We will love to hear from you about what you like to see on the site as well.
Stay connected.
The makai poha chivda is an addictive snack. Hope you enjoy making some and snack up with some fruits or veggie cuts on the side. Let us know how much you like making our recipes for Diwali. Share your thoughts in the comments.
Check out our YouTube channel too for simple vegetarian recipe ideas. as we have revamped the space and added some easy recipes.
Stay safe, Happy Diwali !!