When it comes to upma, my household is divided. Any type of upma for breakfast still has a few noses turned up. This is not a new case. It is the same story that most tambhram houses have seen for generations. Some like it and some don't. Perhaps that's why my grandmother made kozhakattai more often for her large family.  I have no reason to give, but to say the dumpling shaped steamed upma mix is far more appealing than the upma.
Best tips that get the softest upma kozhukattai
The rice rava- Freshly made rice rava, like the one we made for Rava payasam is the best to get the most fragrant upma kozhakattai. Store-bought idly rava or idly kurnai works well too. I don't have a brand that I am fond of, so none to recommend. 
Water ratio in the upma – The water ratio is usually 1 cup of rice rava is to 2.5 cups of water. This will vary if you are using store-bought idly rava as they are a bit drier. So watch the water to adjust the quantity needed. 
Coconut – I prefer to use freshly grated coconut. If using desiccated coconut, soak it in a bit of hot water to soften it before adding.
Red chillies or green chillies – this entirely depends on you or whatever you have at hand.
Steam cooking – it takes about 15 minutes of steam. You can do this in an idly steamer, a bamboo steamer with a liner, an instant pot or a pressure cooker ( don't use the whistle).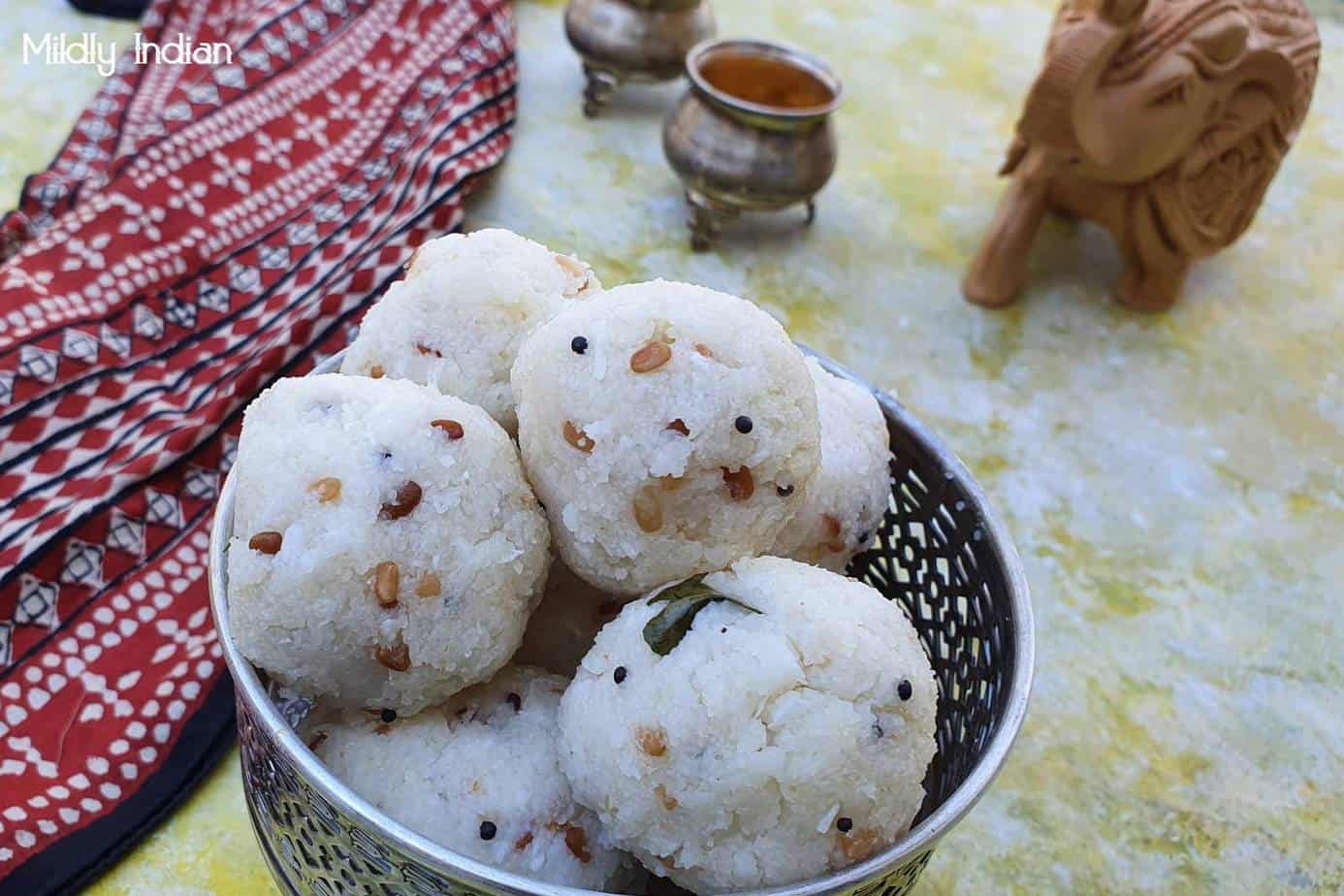 Upma Kozhakattai
Steamed rice dumpling is a gluten free, vegan, nut free, savory dishes from the Indian cuisine.
Ingredients
For tempering.
1

tablespoon

cooking oil

(I prefer coconut oil)

1

teaspoon

mustard seeds

1

teaspoon

Urad Dal

1

teaspoon

Channa Dal

2-3

dry red chilli

( or green chilli)

10-15

curry leaves

1

pinch

Asafoetida
For cooking the upma.
1

cup

rice rava

2.5

cups

drinking water

salt to taste
For garnish.
2

tbsp

grated coconut

( use Fresh)
For steaming the kozhakattai
Instructions
In a large deep seasoned wok ( the rice rava tends to stick , use well seasoned wok) add the oil and slowly bring it up to warmth.  

Add the mustard seeds. When it splutters add the urad dal and channa dal.

As they turn golden add in the chillies and curry leaves followed by a pinch of asafoetida.

Add in the 2,5 cups of water, approximate amount of salt and bring to a rolling boil.

Reduce the heat to a simmr and slowly stir in the rice rava. Make sure no lumps are formed. Keep stirring.

Cover and simmer for three minutes. The water gets absorbed very fast.

Once the water is absorbed mix well and sprinkle the grated coconut.

Remove the cooked upma onto a large plate and spread it out so it can cool.

Once cool to handle, shape the mixture into balls or ovals.

This mixture will approximately yield 10 medium sized balls

Set water in a steamer and add the balls on a steamer tray. Do not overcrowd.

Serve hot with chutney and grated jaggery.
Nutrition
Serving:
70
g
Calories:
129
kcal
Carbohydrates:
21
g
Protein:
3
g
Fat:
3
g
Saturated Fat:
2
g
Polyunsaturated Fat:
1
g
Monounsaturated Fat:
1
g
Cholesterol:
0.04
mg
Sodium:
264
mg
Potassium:
52
mg
Fiber:
1
g
Sugar:
1
g
Variations to this upma kozhukattai.
We have a different version of the kozhukattai on this blog, the quinoa kozhakattai. They are one of the best uses of quinoa.
Sambha rava upma kozhukattai – the leftover vegetable mixed samba rava upma certainly gets transformed into delicious kozhakattais.
When it comes to the methi millet flakes upma I prefer to roast the kozhakattais than steam them.
Serving the upma kozhukattai.
We make these kozhukattais for breakfast which also spills over into our lunch boxes. For breakfast or snacks we serve it with coconut pudina chutney and steamed plantain banana. The other time the kozhukattais appear is for Ganesha Chaturthi alongside the modakams.
The upma kozhukattai is perfect if you are going on an outdoor picnic. Pack it with some icepack if you are in a tropical climate.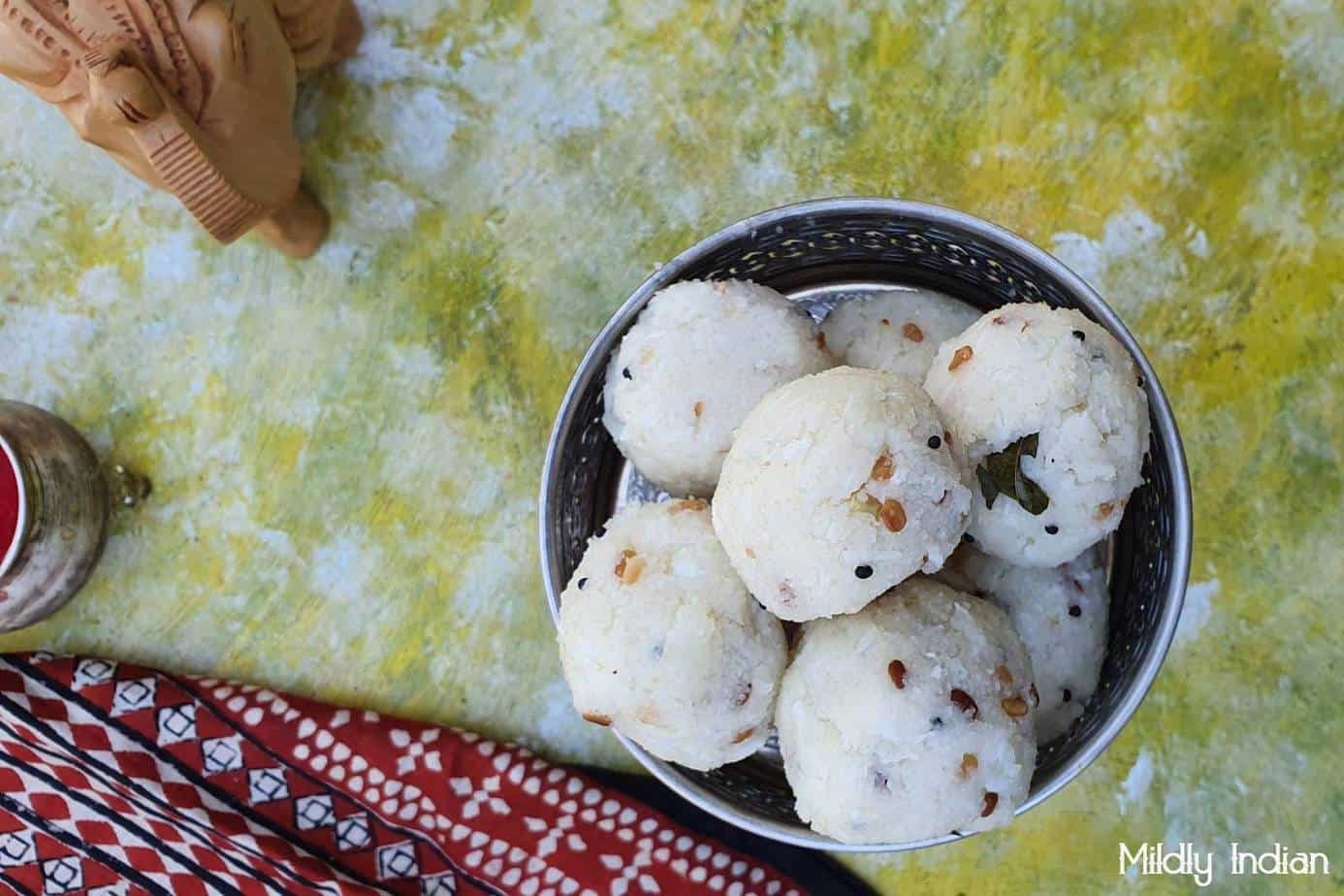 Hope you like and enjoy reading through our posts. Leave us a comment on how you made the recipe if it was successful or not if you like to offer any modifications or we could try and sort out the difficulties with the kozhakattai. Subscribe to our blog to receive regular updates on our new recipes and adventures. Stay for a while and check a few more ideas too.
See you at the next post, stay safe.