Easter holidays, no travel and social distancing. Together these three spell trouble in the house as the just speed dial to boredom. Keep in my kids occupied with brain-eating activities is as challenging as it is for any other mother. Hence, we opened up a page on the blog so the kids can share some stuff they have been working in from time to time.
Introducing cool brain
This activity combines their effort to research, work on-camera skills and simple basic cooking and clean up. For me, this means a good two hours that I don't have to shoo them off the tv or endless gaming. But it does take some effort on my part too. Ideas are not that spontaneous and I don't give them easily. But I leave enough clues for them to start up and provide even more yo get the materials for them to work with.
Introducing ideas
Unicorns are no longer valid we are well past that age group, yet in my house, they still are cute (not yet reached gross) so I have a plan. That colour changing pasta should spark some interest today. Since they are naturally coloured, easiest dinner plan ever, I am game for it.
The natural colouring from the purple cabbages is the key to this success.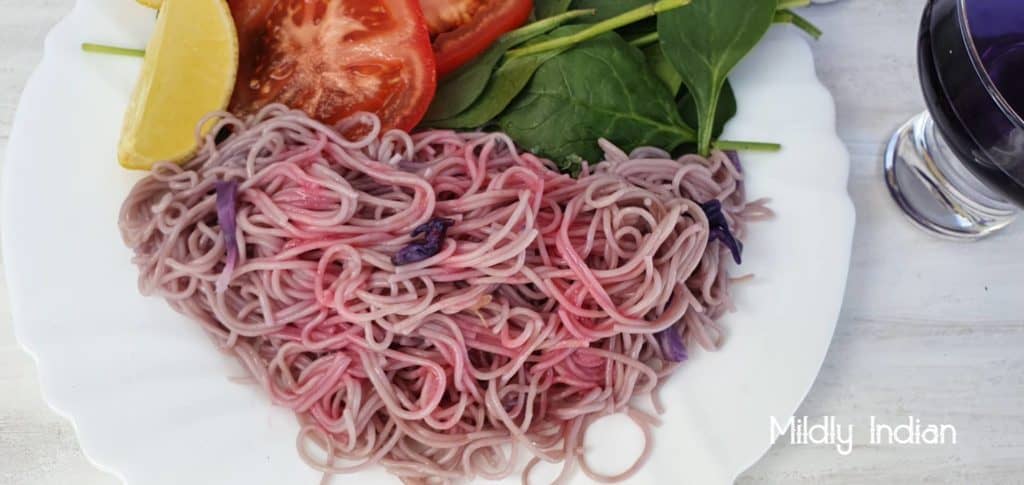 Keep your cameras ready as the best part if this recipe is when they squeeze the lemon on their pasta.
The recipe is based off a basic olive oil pasta with generous garlic (perfect for the weather) and some herbs. The cool colour change brought some excitement to the table and indeed a healthy dose of conversation.
Here is the recipe for you to try and let us know if you caught those wide-eyed jaw-dropping images while the kids get the colour change going on. Tag us if you like this idea.
If you like some more pasta recipes, try these
Spaghetti with garlic, basil and chilli
Lemon macaroni- a delicious Indo Italian twist
Keep us posted on how you are keeping busy and working on.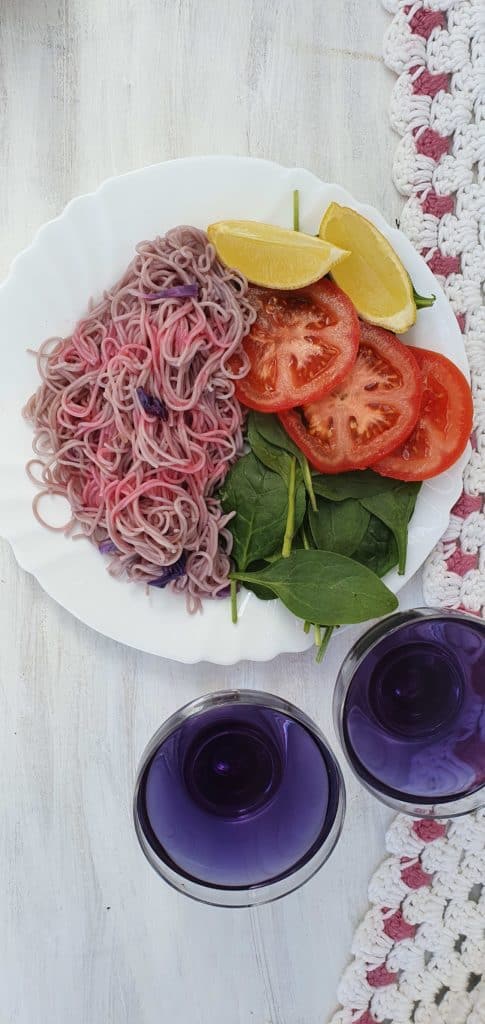 Following a tummy full of unicorn pasta, the next day this little author woke up to some magic. Here is what happened.
Print Recipe
Unicorn colour changing pasta
Yum
Bring the water to a boil and add the shredded the cabbage

Bring this to a rolling boil and the colour from the purple cabbage will leach into the pasta and make it quite deep purple- blue

remove the cabbage bits and add salt to the liquid.

As it boils add the spaghetti and cook till aldente

Heat a pan and add the olive oil

Add the crushed garlic and quickly toss in the cooked pasta in the oil.

Toss in the parmesan and the parsley and serve with lemon wedges.