As toddlers both my kids loved anything babycorn. I guess it was because it is crunchy, easy to hold in the hand and neutral in taste. One if the dishes they liked to have in a restaurant in Bengaluru was called golden babycorn fry. Since then trying out various flavours for babycorn recipes to get to this successful version that got the stamp of approval from my now teenagers is this delicately flavoured one. 
Ingredients for this golden babycorn stirfry.
This will be by far the easiest babycorn recipe you have tried. It just takes a few 
Babycorn
 the immature corn heads that are harvested much before they are fully grown are the crunchy babycorn. This is a very easy vegetable to stirfry,  boil or steam. Since the cob is succulent it cooks really fast and can be totally edible. So save up on chopping and extracting the kernels. Here is a cool fact, there are just 3 calories in one baby corn, so as long as you move a bit the steamed babycorn will keep you healthy.
Breadcrumbs
Bread crumbs are certainly an unusual ingredient for stirfry. It is super flavorful and gives the familiar crusty crumb feeling. For this recipe doesn't matter if you use panko or just crushed bread of any sort will work. I use the ends of the sourdough loaf with a tsp of chia seeds and flax blended into it this adds the nutritional value without altering the flavours.
Seasonings and flavourants
The golden colour comes from the turmeric that is added while stirfrying. You can use grated fresh turmeric which gives a subtle colour or turmeric powder, which makes a brighter in this dish.
The herbs are the real flavour providers for this recipe. I have used a mix of thyme and oregano to flavour these. The original version from the restaurant had crispy curry leaves on them. Believe me, that is a fantastic Indian-inspired flavour. If you get curry leaves, try them for sure.
Don't forget to season as needed with salt and black pepper. Keep in mind the salt in the bread too. Once you have gathered the ingredients let's use this recipe card for the step-by-step instructions. Once you perfect this, use the star rating to let us know or save it to your pinboard.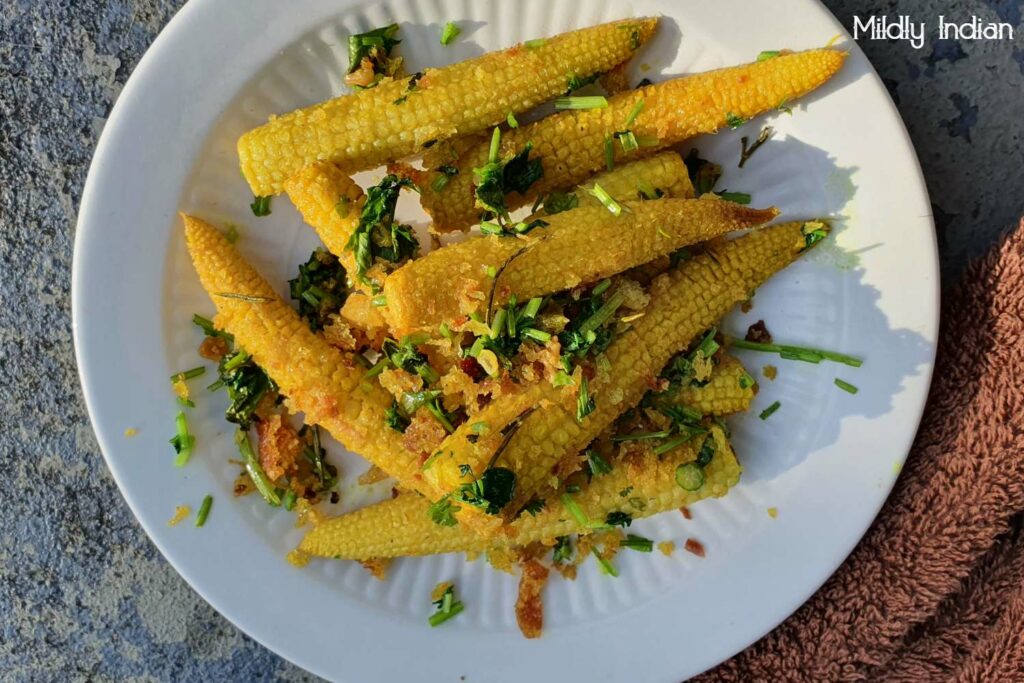 Golden babycorn fry
Ingredients
12

babycorn

2

cups

drinking water

1/2

tsp

salt to taste

1/4

tsp

turmeric powder
To make the fry
1

tsp

cooking oil

2

tbsp

breadcrumbs

1/4

tsp

crushed black pepper

1/4

tsp

oregano

1/4

tsp

chives

1/4

tsp

thyme
Instructions
Clean the outer leaves and remove the silk from the babycorn.

Add these into a saucepan with turmeric, salt and water.

Set this to boil just till the babycorn is cooked.

After about 2 to 3 minutes on a rolling boil, the corn will be cooked, yet crisp.

Drain and set the babycorn aside.

Into a saucepan, add a tsp of oil and let it heat up.

add the bread crumbs and the aromatics and let them roast gently.

Toss in the babycorn and let that fry along with the flavours coating it.

saute this for 2 to 3 minutes.

Remove from heat and add chopped chives, oregano and thyme.

Stir well and the baby corn is ready to be served.
Planning golden babycorn fry with other appetizers.
If you are taking this idea to add to your appetizer section, try a few more from our blog that you can use to create variety. One of the easiest bulk-up ideas is to serve this with shredded lettuce salad. The creaminess and crunch of the lettuce salad work well with this golden babycorn. Serve these with a few picks on a platter next to a velvety blended soup. The crunch bite of the golden babycorn fry pairs well here. You can try beets and carrot soup for winter or raw tomato soup for summer.
Here is another idea,  chopped babycorn stirfry made this way with curry leaves is an exciting topper for masala papads.
Stay connected
You will be amazed at how easy it is to get this dish from start to finish. Now, let me also tell you it finishes as quick as it is to make it. Don't forget to get some extra packs of babycorn if you are planning it for a game night or a family gathering. I hope you have subscribed to our blog to receive regular updates. We thank you for staying with us and encouraging us at every step. We would love to have you visit the Youtube channel that we recently updated. Please subscribe, like and share these videos and recipes and let us know what you like and dislike about them. Stay with us on the blog as we attempt new recipes or try some traditional ones. Peek over to our travel section to see what we are up to at times.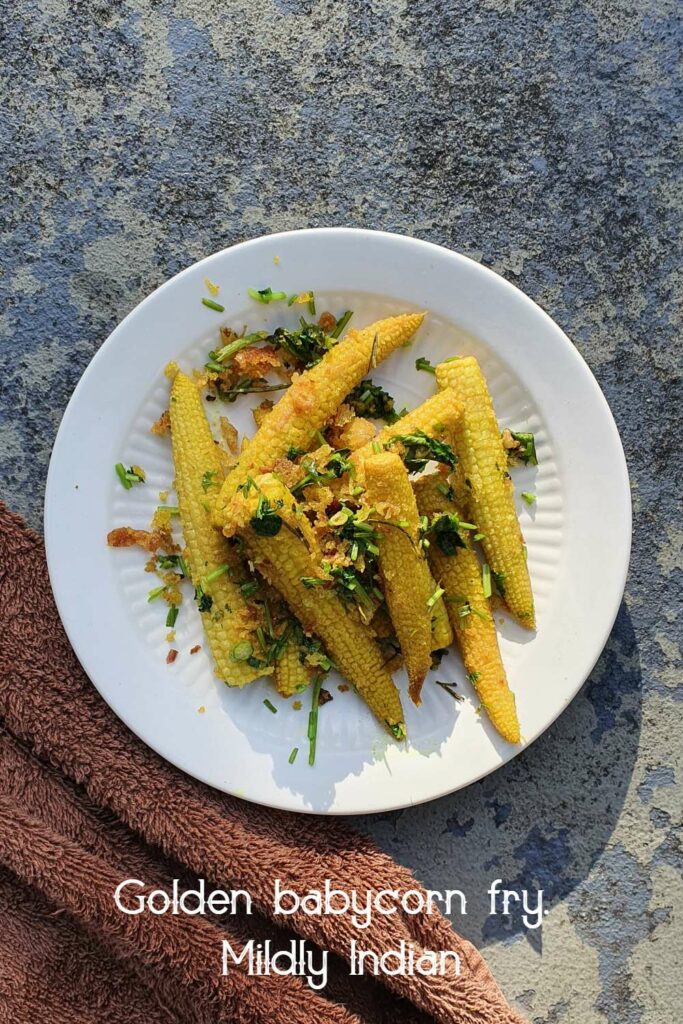 See you at the next blog.