We love getting the long spiny ridge gourd all the time. One is not enough for us as we use it as the main vegetable in stews and curries. When it cooked it is literally reduced to a few spoonfuls, so we do buy a few of them.
True to tradition the fridge gourd peel gets ground into thogayal. Let's be honest how much thogayal can we have ?? This us a vegetable where I feel the peel is so much that you need to find ways to use it better. So, the thogayal alone will not help these peel, which then ends up in the compost.
Digressing
Look at the ridge gourd, it does look alien. The spiny crusty skin is the protection to the soft inside. This pretty much sums up a few people I know. They have formed a don't come near me shell around them. Once they know you well, yo uh experience the soft vulnerable person who you will love to have for the company. I am sure each of us has a few trusty friends in that category.
Cleaning the ridge gourd peel
I do end up with so much peel that there had to be a better way. After all, the ridge gourd thogayal seemed just barely fitting in my ideas. After a few trial and errors, we seemed yo like this recipe. Give it a try.
The spiny fridges of the ridge gourd are inedible and it is best to remove them first. Then thinly sliced off the peel. You can check the images below to see more details of the cleaning process. Now that you have a bunch of the peel it is easy to work up this sabji. Here is a key point. cut the ridge gourd peel thinly so it is easier to stirfry it. 
While you are here, here are a couple more ideas to use up some of those easily discarded unused parts of the vegetables. 
Kidney bean and water melon curry – rajma stew
Watermelon rind thogayal – vegetable chutney
Varuth aracha kootu curry with watermelon rind.
For using the soft white part of the Ridgegourd after you extract the peel, try this
Dudh Shukto – Bengali mixed vegetable curry
It is a great idea to try and see what we can reduce from tossing into that bin. In fact, there are so many vegetables we can use which just needs a bit of thought and creativity. When you find an idea don't miss to share with us too. Stay in touch by following us on our social media portals or subscribe to receive these tips and tricks to your inbox. Keep visiting and stay safe.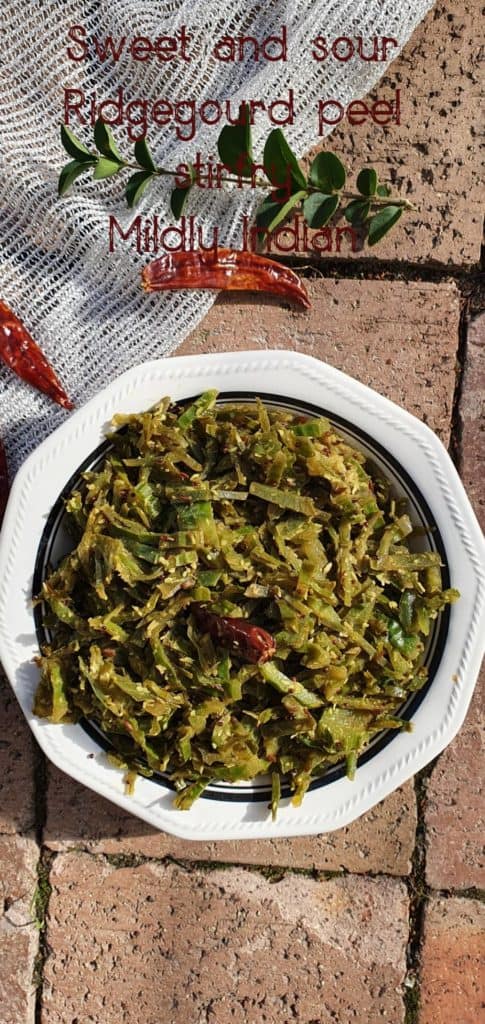 Print Recipe
Sweet and sour ridge gourd peel sabji
Yum
Waste not, want not a recipe.
Wash and pat dry the ridge gourd and cut it into manageable 2-3 inch pieces

Finely chop this part of the peel and set aside for cooking
In a pan add the oil and set to medium heat.

Mix well to saute for a minute and then cover and cook for 4-5 minutes

Taste test for the sweet and sour balance.
You can add 1/2 tsp of  red chilli powder along with the turmeric and salt if you like it spicy.