This lockdown time, I am sure we all looked at our stocks of fresh produce and said is the I way I can use this too? Or ask how can I stretch this s bit more, just to make stocks last a bit longer. This is the time when j gave that keerai thandu a serious look.
Amaranthus at my parents
My parents have a large terrace garden which they have pretty much scaled-down as per what they can maintain now with their ages advancing. But for all the years, sprouting that amaranth seed and growing that batch of amaranth has never stopped. Micro amaranth greens to the mature plant, they all get cooked and added to the meal. The batches also vary depending on the seeds they have. The red leaf ones, the green thick-stemmed ones, the arakeerai, the varigated ones, they all had their own recipes in mums kitchen. Then comes the stems.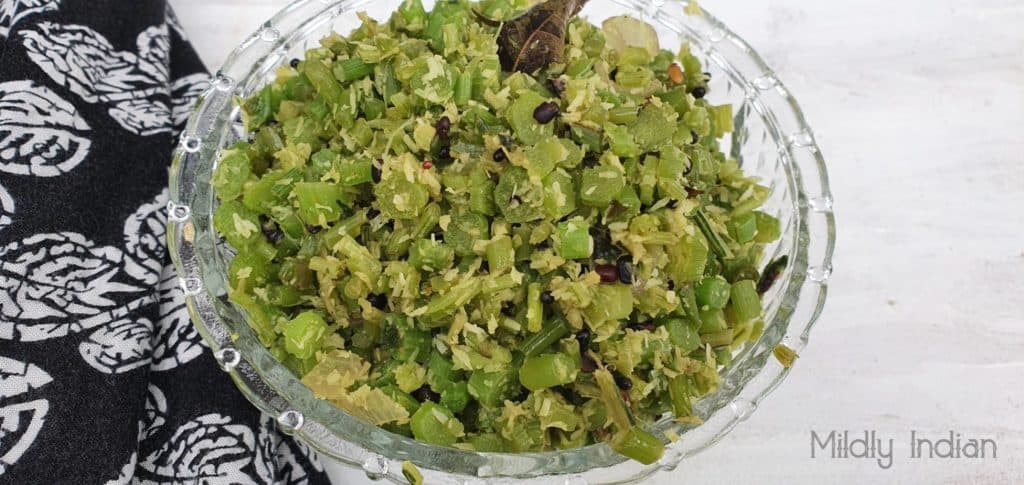 Mums keerai thandu recipes
Being homegrown, these stems were as valuable as the leaves. Dad is so fond of those keerai kuchis, they are a staple for him. So they are classified as well, the stubborn stems or the keerai kuchis the tender ones or the keerai thandu are separated. Actually they both are the same, just different names that we refer to helps us know how to cook them.
The stubborn ones go in the gravy replacing drumsticks and the tender ones get finely chopped up.
Mum does have an amazing knack when it comes to making the ordinary keerai feel so different each day. That thinly sliced keerai thandu gets reformed as poriyal. This is her recipe.
Why did I think of it now?
Getting a handful of fresh greens is becoming a difficulty now and the tiny backyard gardens we keep are quite insufficient to supply us with the greens. So every bit we get is so valuable and makes me think of these keerai thandu recipes and bring it forth. For me,  it is one of the automatic jobs I do to use these stems. I realised there are many who may like to have a recipe as they have not grown with it. So here we are with mums keerai thandu poriyal. Incase, you have not decided what to do with the leaves here is another recipe from my mum
Keerai molagutal- spinach stew from the Tambrahm cuisine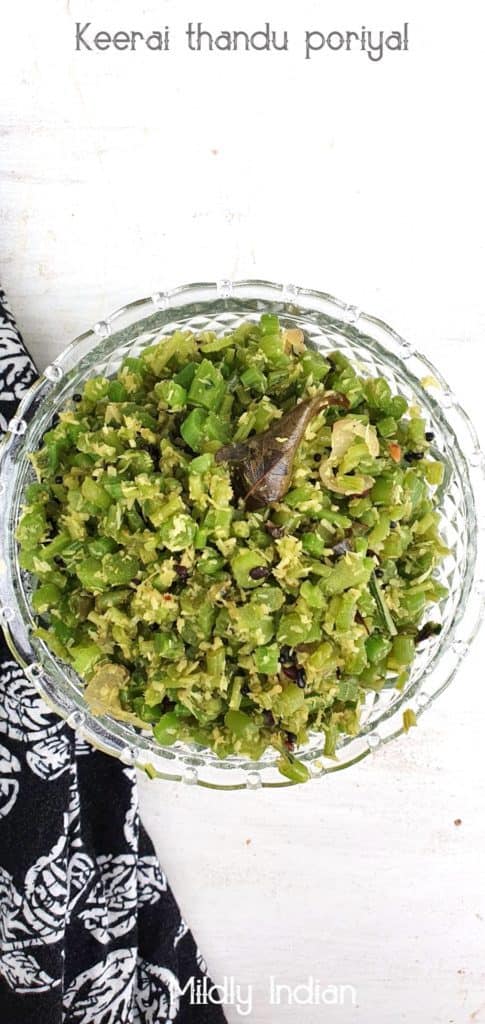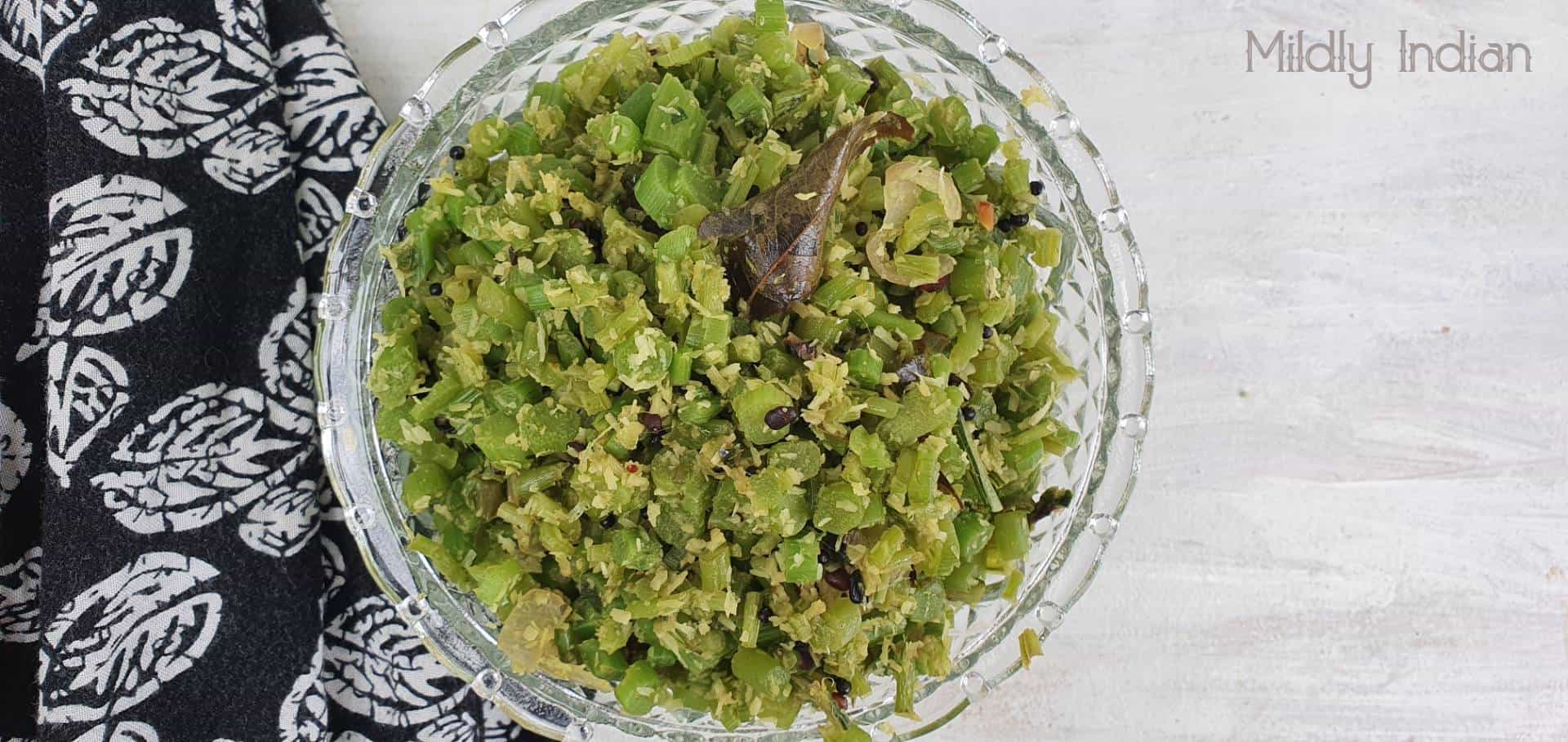 Keerai thandu poriyal
waste not those amaranthus stem.
Ingredients
the vegetable needed
1

bunch

amaranthus greens

(save the stems)
for tempering
1

tsp

coconut oil

( use any cooking oil you use)

1/4

tsp

mustard seeds

1/4

tsp

Urad Dal

1/4

tsp

cumin seeds

1-2

dry red chillies

5-8

curry leaves

1-2

shallots

( sliced thin)

1

pinch

turmeric powder

salt to taste

1/2

cup

drinking water

( use as needed)
Instructions
Clean out the leaves of the amaranthus bunch ( large bunch) and remove the stalks.

Snap the tender portion off the sturdier stalks. Save the sturdier portion and read the post above how to use it.

String the outer fibres of the tender portion. Wash the stalks and clean them.

Slice them thin and keep aside

Heat a pan ( wok or kadai) and add the oil, mustard seeds, urad dal and cumin seeds and allow them to sizzle

Add the thinly sliced shallots, curry leaves and red chilli and saute till the shallots are golden.

Now add the stem sliced and saute.

Sprinkle water to make it moist, add salt, turmeric and cover and steam till the stalk is tender. takes about 4-6 minutes

Add the grated coconut, saute well.

once the cooking liquid is all dry, it is ready to serve.
Notes
you can do the same process with broccoli stems, cauliflower stems, sweet potato stems, chinese broccoli etc.