What's up for this Christmas?
This is an email sitting in my blog account currently to which my favourite answer this year would actually be " lots and lots of work! " if you are also working in an industry that goes on a peak season during Christmas, well,the Christmas-based posts are practically non-existent. There is no energy to make all those lovely goodies. Literally running on dal tadka for most nights.
At the same time, you want to make the season a bit special. So finally took a few minutes off on a quick day to pop something in the oven. Guess what the sweetest smelling whole orange cake loaf with dried cranberries.
Why are blender cakes successful?
Baking certainly gives us a lot of joy. It is the whole process that makes it special. However, when you are pressed for time, there is nothing better than having some appliances that will help you through. The blender gives a smooth paste of the liquid ingredients to which you can add the flour and pulse to mix. When baked, the blender cakes are a bit springier than the ones where you have whisked each ingredient. I love using the blender as it is one simple wash-up and not many parts.
Ingredients for this cranberry orange cake
Oranges: I swear by the navel oranges for this recipe and the orange muffins. In fact though the navel oranges are not the best when you want to have fresh, they taste best in baked goods. In fact, there is no bitterness with these navel oranges when you bake with them.
Eggs: the fluffiness of the blender cake comes from the eggs. Bring the eggs to room temperature to use. OK! There is nothing wrong with cold eggs, but the blend is better with eggs that have stayed on your countertop for atleast 2 hours or more. This whisks much better than cold eggs.
Sugar: cakes are sweet, so just granulated sugar will do perfectly.
Oil/butter: I use one tablespoon of oil just to emulsify the batter. For this recipe, olive oil or coconut oil is fantastic. If using butter, make sure it is just melted, so can mix well.
Flour: self-raising whole wheat flour is what I have used. To make your own self-raising flour that is good for cakes and muffins is actually simple. 2 teaspoons of baking soda for a cup of plain flour, is the proportion to mix for self-raising flour. You can use whole wheat flour too, if using the Indian whole wheat atta, sift it a couple of times before adding the baking soda.
Cranberry: I would love to add fresh tart cranberries to this recipe. However, I have not found any this year. The dried cranberries are what I have used, they are slightly sweetened and added as a layer in between by coating them in flour.
The recipe card below the image has step-by-step instructions to make this easy blender cake. Hope you like it and will share your feedback in the comments.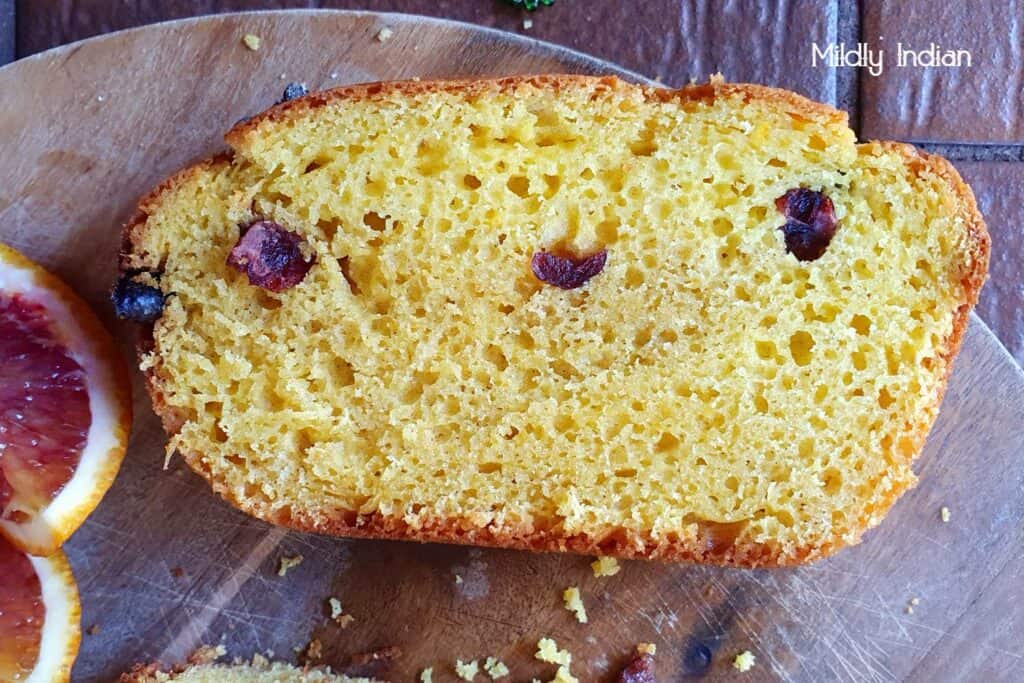 Whole orange cake with cranberries
Make a quick blender based cake loaf to celebrate any occasion. Here is the oil free recipe to get this nut free cake loaf.
Equipment
loaf tin

blender

Fruit Knife

Cutting board

spatula
Ingredients
1

medium

orange

navel oranges or blood orange preffered.

3

small

eggs

room temperature

1

tsp

coconut oil

omit if it is a juicy orange.

0.75

cup

unrefined sugar

adjust based on the sourness or the orange used.
Dry ingredient
1.5

cup

self raising flour

check the post to see how you can make your own.
toppings
2

tbsp

cranberries

sweetened dried ones.
Instructions
preheat the oven at 180 degrees for 10 minutes.

Measure the cranberries and dust them with flour.

Wash and cut the orange into pieces. Remove the seeds.

Add the pieces to the blender.

Crack the eggs and add to the blender.

Add the sugar and if using, add the coconut oil to the mix in the blender.

Blend this to a smooth mix.

To this add the self raising flour to this wet mix.

Pulse the mix till it is smooth, but not for long.

Grease a loaf tin and pour half the blended mix into the tin.

Spread most of the flour dusted cranberries on the loaf.

Pour the rest off the batter, evenly on the loaf.

Bake at 170 degree celciius, fan-forced oven for 25 minutes.

Once the top looks cracked and golden, insert a skewer.

When you pull out the skewer if it comes clean the cake is cooked through

Remove from the oven and let it rest for 10 minutes.

Remove from the loaf tin and let the cake cool.

Slice into even pieces to serve.
Can I bake this in other shapes?
Yes, the cake batter will give you the best in a round tin and as a sheet cake.
Make sure you have a little above the halfway mark to get a lovely rise for the cake in a round tin. If using a sheet pan, reduce the timings and check for doneness using a skewer. 
Decorating the orange loaf
If you are celebrating something special with this loaf cake you will need to jazz it up to look better than a loaf cake. The simplest is to dust some icing sugar. To make a glaze, mix the icing sugar with a bit of orange juice and pour over the whole orange cake loaf. Sprinkle golden sugar or something edible or decorative to bring up the cake.  This heightens the orange feel and the festive spirit.
Stay connected
So this slightly lazy cake, the best cranberry orange cake,  is what we have for Christmas plans. However, if you are looking for that spiced plum cake, try this eggless version we made earlier. There are also some fun cookies (I highly recommend roasted almond cookies) and bakery-style funfetti cake. At any cost, enjoy the festive season, have lots of fun and go check out the Christmas decorations whenever possible (check out our Instagram as we bring you Christmas decor from Sydney).
Wish you all a fantastic festive season.