Ready to sink your teeth into some ultra-moist, supergalactic-looking, sweet eggless carrot muffins? You should try these fluffy black carrot muffins that are perfect for grab-and-go days.
Our garden rewarded us with carrots. Though these were not the straight-looking, perfect carrots like the ones that you would have seen in the markets, they were homegrown. It is the effort behind it all that made it super special. So under no circumstances were we wasting the imperfect batch of twisted, and tiny carrots. The orange carrots went into making the spicy carrot cheese bites we posted earlier. Now for the black ones (purple). The flavour of these was a bit more intense than the regular ones. Much less sweet, but beautiful colour when peeled. The first thing that came to my mind was Kaligajar ka halwa. Soon, we dismissed the idea looking at how few we had. The next option is muffins. To be honest,  I guess I wanted this more! So here we are with ultra-moist eggless carrot muffins with these black carrots.
Is black carrot natural?
Black carrots are natural. Carrots come in a variety of colours each slightly different in flavour and black carrots really are just a normal variety. The whole reason we think only orange carrots are normal is that it was selectively propagated as it is more eye-pleasing.
The black carrots attain the colouration due to the natural anthocyanins (colouring pigment seen in plants). Depending on the deepness of the colouring the carrots appear as purple to black. The core does show lighter colouration or sometimes bright orange too (one of our plants did).
Ingredients take these eggless carrot muffins.
Carrots: You can make this recipe with any colour of carrot. I have made this with black carrots as I had them! Wash and give a quick peel to clean them. grate or mince the carrots to add to this muffin.
Wholewheat flour: For a long time, I have stopped using APF and have had success with different flours in muffins. To be honest, muffins are really forgiving that way. In this case, I have used self-raising whole wheat flour.
Yogurt: creamy natural Greek yogurt keeps that soft muffin so delicious. For those who are not a huge fan of yogurt like me, no it doesn't leave any flavour or feeling of yogurt in the muffin.
Oil: though you can use butter, I have used avocado oil in this muffin. The muffins with oil are generally fluffier and softer. 
Sugar: you need some sugar for this muffin. The same muffin recipe will work with piloncillo or jaggery
Vanilla: mmm that fragrance while baking muffins comes from the most basic ingredient, Vanilla. Try our vanilla cupcakes to really appreciate the vanilla flavour.
Let's make some black carrot muffins
Luckily this eggless carrot muffins recipe is not one that calls for fancy equipment. As long as you have a mixing bowl, measuring cups, a whisk, a muffin tray and an oven you can easily get black carrot muffin ready.
Grate the carrots: Just like any other carrot cake recipe, the grated carrots are key to giving colour,  flavour and texture to this muffin. Instead, you can give a quick mince to attain a crushed texture. Don't add water as you don't want a paste.
For the wet ingredients: Since we are making an eggless batter the oil and full cream yogurt is key to making the smooth base. Into the mixing bowl add the measured quantities of oil, sugar and yogurt. Scrape in the vanilla beans to add that inviting flavour. Now cream together this mix till the sugar is well incorporated. The mix is smooth you can see the difference from where it started.
For the complete batter: Add the whole wheat flour, baking soda and baking powder along with the grated black carrots. Fold this into the wet batter. You don't have to whisk it in.
Let's get baking: Line and spray the muffin cups. Spraying the muffin cups ensures the batter doesn't stick to it upon baking. Scoop the batter halfway up into the muffin cups. The batter doesn't rise up much. Bake in a preheated oven for approximately 20 minutes. Check if the skewer inserted comes out clean and then the baking is done. Cool on a rack and then store.
Tips: fresh carrots that are from the market tend to be juicier. Hence you may need to adjust the baking time as the carrots will release the juice as they bake causing the batter to be more wet.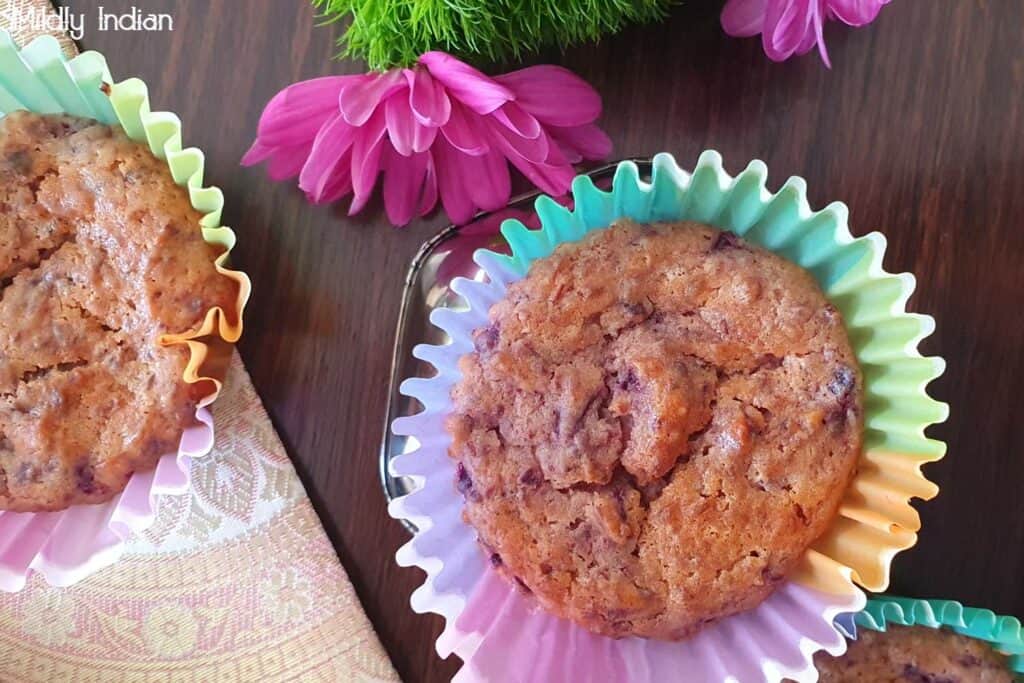 Black carrot Muffin
Equipment
Muffin tin

Whisk

mixing bowls and spoons.

measuring cups and spoons

grater
Ingredients
Wet ingredients
0.75

cup

yogurt

greek, natural

0.25

cup

cooking oil

avocado oil

0.75

cup

sugar

unrefined

1

pinch

salt

1

pinch

vanilla pod

extract the seed scraping
Dry ingredients
1.25

cup

whole wheat flour

self raising

0.75

cup

carrots

blck carrots, grated
Instructions
Wash peel and grate the black carrots. Set them aside till needed.

Preheat the oven at 180 degrees for 10 minutes

Into a mixing bowl measure and add the oil, yogurt, sugar, vanilla and salt.

Whisk wll till the sugar dissolves and combines well.

The oil and the yogurt will now be smooth and airy too.

Add the flour and carrots and combine well without over mixing.

Once it forms a smooth batter set it aside.

Line your muffin tray ( about 10 liners) and spray a bit of oil on the liners.

Scoop the muffin batter halfway up the muffin liner

Once all the liners are filled, tap the tray to releas any air trapped in the batter.

Bake at 180 degrees for 20 minutes.

Once baked check with a skewer that comes out clean when inserted in the centre of the muffin.

Let the muffins cool and can be stored.
Black carrot recipes you don't want to miss
Though we don't have a huge collection of black carrot recipes, all our carrot recipes can be made with black carrots too. Here are a couple we made exclusively with black carrots 
Quick Black carrot payasam
Microwave Kaligajar halwa
Roasted black carrots with thyme honey
Kosambari with purple carrots
Blended beet and carrot soup
Black carrot pachadi
Stay connected
Black carrots may not be one you regularly think of yet if you have a chance to grow them or get some from your farmers market don't miss to experiment with them. They have an unusual colour and are delightful to have. We sure are going to plant some more for the upcoming season as we are totally in love with it. I hope you get a chance to try out these muffins with regular or rainbow carrots based on what you have. They have the right amount of hidden veggies for that kid's snack box and that morning when you run to catch the bus with a million things in your hand. Have a bite and sink into the moment, this is what a black carrot muffin can do. Hope you will make some and rate the recipe in the comments. 
See you in the next post and stay in touch. 
Pin for later