Are you pro eggplant or anti-eggplant? Well, I am totally a pro eggplant person. Bring it to me in purple white green or any other colour, bring it long, short, thick or thin, I guess I have a huge stack of recipes I have to make with each variety. Lets start with this kathrikka podi varuval.
Why do I love eggplant/brinjal?
The primary reason for the love towards the brinjal (aubergine) is nothing but the fact that I have seen them grow in all sorts of shapes and colours on our terrace garden all through my childhood. Mom will plant white ones, long green ones or plump purple ones and dad tends to them as if they were his babies, checking every leaf and watering them with care. They both get extremely excited when the first batch comes and come up with their own list of brinjal recipes to make through the season.  Finally, they will agree upon one for the day and it repeats with the next batch they harvest.
What do you need to make this Chettinad karthrikka podi varuval?
This kathrikka podi  varuval is one of the recipes from my parents collection.  This is also the easiest brinjal fry recipe.  The recipe is perfect to be prepped ahead for the week, but not so great if frozen.
Brinjal/ eggplant: eggplants are often called brinjal in India. Among the varieties of eggplant that you will use for this recipe the best is the small round purple or Variegated variety ( often called Asian eggplants). You can easily adapt this to the long Lebanese eggplants too. The regular large eggplants tend to absorb more oil and strain a bit softer so not the best suited for this recipe.
The prep for these brinjals is very simple. Wash, pat dry and slice as wedges. If you are slicing ahead, you will have to keep them soaked in water as they turn brown.
The varuval masala podi –
the varuval masala podi used for this recipe is the one that gives the classic Chettinad flavour.  Infact, we make this powder in larger quantities to use for other vegetable fry as well. You can add this podi to beans upperi or cabbage thoran to create varieties. You could also swap out the podi to the dhania podi we had made earlier.
Ingredients for tempering – Typical to most south Indian temperings, the mustard seeds, the black gram dal and the channa dal makes the tempering along with chillies and curry leaves.
Other optional additions-
You can add sliced onion and chopped garlic if you like. Add this to right after the tempering, saute till they are translucent and then add the sliced brinjal.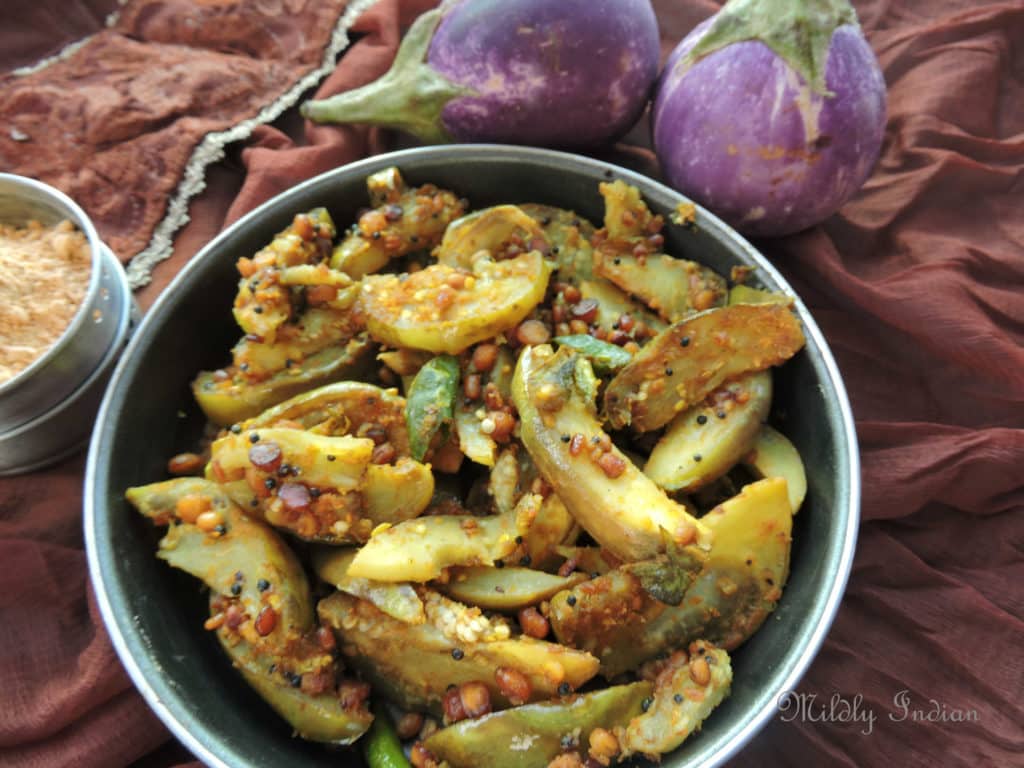 Chettinad kathrikkai podi varuval.
Kathrikka podi varuval is a unique brinjal fry recipe made with a variegated small variety of brinjal and delicious varuval masala podi recipe. Here are both the recipes that you can use to create an easy south Indian meal.
Equipment
1 Cutting board

1 Knife

1 frying pan
Ingredients
vegetables and essentials
8

small

eggplant

round or long ones

salt to taste

1/4

tsp

turmeric powder
for the spice mix
3

tbsp

Channa Dal

bengal gram dal

1/4

tsp

turmeric powder

2-3

slithers

tamarind

1

tbsp

peanut

1

tbsp

coriander seeds

2

tsp

sesame seeds

black

5

dry red chillies

5

Black pepper

10

curry leaves

1/4

cup

coconut

grated
for tempering
4

tbsp

cooking oil

1/2

tsp

mustard seeds

1

tsp

Urad Dal

black gram dal

1

tsp

Channa Dal

bengal gram dal

10

curry leaves
Instructions
To make the spice mix
In a flat pan, dry roast the dals for the spice mix. roast till golden brown and set aside on a plate to cool.

On top of the roasted dals, add the turmeric and the tamarind slithers.

In the same pan add the peanuts and roast them till crisp, add to the dal mix.

Roast the grated coconuts on a gentle flame till aromatic and golden brown and add to the dal mix.

Follow the dry roast with coriander, dry red chillies,curry leaves, sesame seeds and black pepper.

Allow all the spice mix to cool and then powder it to a fine texture.
To make the roast.
Wash and slice the eggplants ad long thin wedges.

In a pan add oil and as it warms add mustard seeds, urad dal and channa dal.

When the mustard splutters and the dals turn golden, add crushed curry leaves.

Now add the eggplant wedges and saute well.

Once the eggplants are seared sprinkle a bit of salt and turmeric powder and set on a low heat to roast gently.

Cover and cook for about 5 minutes

Now sprinkle the prepared spice mix and toss well

Simmer further and let each wedge roast, absorbing the flavours of the spice mix.

Takes about 10 minutes

Now the eggplants are well done and ready to serve.
Notes
Use a heavy pan to do the roasting as you will get perfect crisp slices then. Once sauteed you can even bake these mixes in spices.
What to pair with this brinjal fry?
The kathrikka podi varuval is a lovely addition to the south Indian thali meal. In fact, a simple rasam, a beetroot salad, steamed rice or millet, some avalakki sandige and this brinjal fry is an ultimate home combo. Make a bit more while you make this brinjal fry as it is a fantastic topper to make an Indian inspired bruschetta. Pick up some crusty sour dough bread or focaccia. 
Collaborations
This recipe has been added to two lovely blogger associations. 
Since the recipe is from my mum's collection cookbook it is a part of Cooking from a cookbook. I love the old notebook she passed on to me that is a treasure trove of her best-trusted recipes.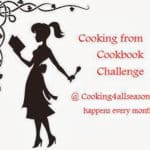 The recipe was added just in time for the A-Z challenge as we are doing ingredients based on the letter E. Eggplant surely is the best choice for this group of ingredients and having grown up with plenty of eggplant varieties, I cannot miss this opportunity.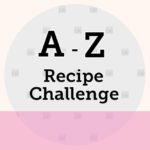 Stay Connected
As usual share, your thoughts and experiences with this recipe in the comments below. If you happen to make this recipe, don't forget to rate it.
Sign up for the free updates on new posts that come directly to your inbox. Don't forget, you can always stay in touch with us with our Facebook, Instagram or YouTube account.
Here is the latest from our YouTube account.
Hope you have a great summer, stay safe and see you again.