Sink your teeth into these delicious squares of Indian mithai, doodh barfi ( milkpowder barfi). It transforms any day to a festival with minimal effort. Enjoy your festival with a share of milkpowder fudge that takes less than 5 ingredients and under 30 minutes
The milk-based Indian sweets are mostly a labour of love. Condensing the milk and evaporating it to create a thick mix of the milk solids and then flavouring them is a time-consuming effort, like the basundi we made. However, if most of your days are on a run and you still want to share a bite of Diwali, you need something special. This is where the doodh barfi comes to play. It is not many ingredients in the milkpowder barfi is all about looking out for the right texture of the mix. It is an easy gluten-free Indian sweet you can share.
Understanding a barfi
The fudge-like milk solid-based sweet component from the mithaiwalas is barfi. Also called burfee, burfi, the word comes from Persian origin, " barf "meaning snow. It is fudge like preparation that comes in various versions and colours, like pista barfi, kesar barfee, mango barfi etc. This is one of the preferred sweets to share during festivals like Diwali, Holi, Dasshera etc. Decorated with silver foil or nuts the dessert is hugely popular in the Indian subcontinent.
Ingredients needed for the barfi
Among the various barfi, this milkpowder one is the simplest recipe. Just a handful of ingredients will get you to the milkpowder fudge. Still, follow the tips and tricks to get the right texture.
Milkpowder – though called doodh barfi, the main ingredient for this fudge is milkpowder. Unsweetened freeze-dried milk powder is what I have used here. There will be slight variation in flavour if you are using whey-based milkpowder if you are using them. 
Ghee– the fudge-like consistency is from the ghee, so it is absolutely essential as an ingredient. I am sorry there are no swaps I have tried for ghee.
Milk- Even though milkpowder is the key ingredient, a bit of milk to start the process is needed. Water will do the trick too. 
Cardamom – the mithai smells perfect with the cardamom flavour. You could try vanilla or cinnamon as well.
Sugar – it is a sweet treat so sugar rules this fudge. 
Nuts and seeds – I have used melon seeds in this recipe. Crushed almonds, cashews or pistachios all taste amazing adding a crunch to the soft barfi.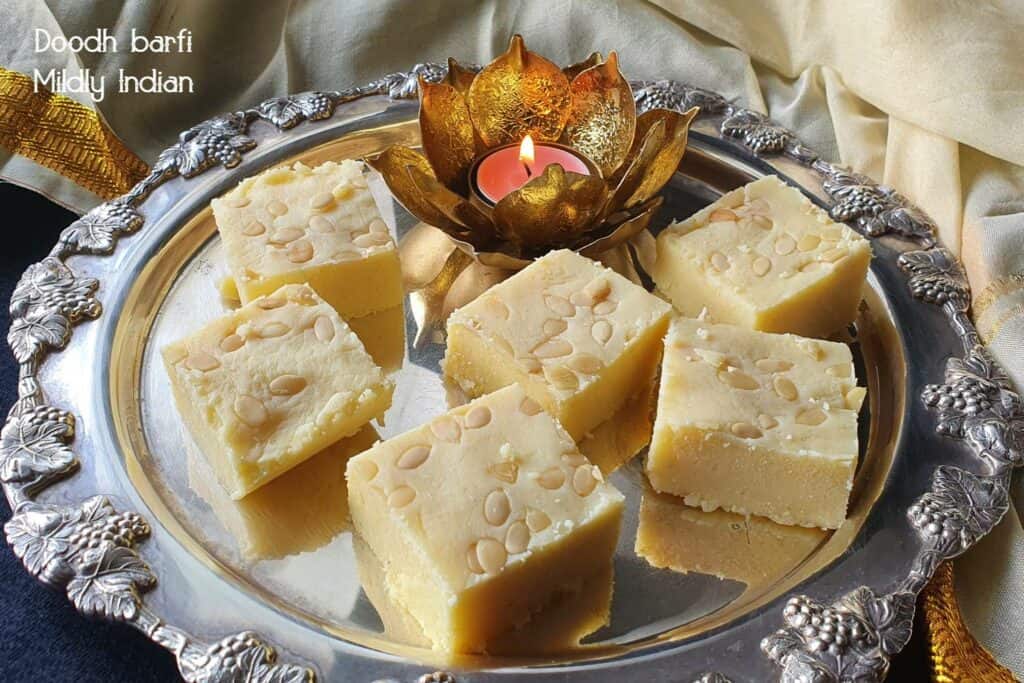 Let's make some doodh barfi
The step-by-step guide below with take you through this recipe. If you are making it later, pin it to your board.
Doodh barfi
Equipment
measuring cups and spoons

ladle
Ingredients
0. 25

cup

ghee / clarified butter

0.75

cup

milk

2.5

cup

milkpowder

0.5

cup

sugar

1/4

tsp

green cardamom powder
toppers
2

tbsp

melon seeds

use crush almonds or other nuts to replace.
Instructions
Heat the pan on low heat and add ghee to the pan.

As the ghee melts add the milk and let them come to warmth.

Add the milk powder to this mix and make a smooth paste.

Cook down the milkpowder mix to thicken a bit.

As the mixture mixes and thickens, it will start leaving the sides and forming a soft dough like consistency.

Add the sugar and cardamom powder at this stage, this loosens the mix with the melting sugar.

Thicken the mix again on low heat.

As the mixture starts moving with the ladle, take a small bit and see it if rolls into a smooth ball.

At this stage remove from the heat and transfer it into a prepared plate or bowl.

Sprinkle the melon seeds and press it down gently.

Smooth the surface of the mix so as to get about a 2cm thickness.

Set aside for 15 to 30 minutes and let it cool.

Using a greased knife cut into squares or diamonds.

With the help of a flat ladle, remove the pieces and place them in a flat box.

Serve the doodh barfi at room temperature.
How to check the doneness of the milkpowder fudge?
The key point while making this barfi is to keep it on low heat to cook. As the mix comes together, remove a small pinch of the mix. Roll it into a ball. If it holds shape, the barfi mix is ready. Remember the mix is hot, so be careful with your hands.
Tips to make the perfect barfi
Colour -the colour of the barfi depends on the milkpowder colour and the sugar colour. It can range from pure white to light brown. You can add some saffron mixed in milk to the cooking mix if you want a pleasant yellow colour for the barfi. You can also create layers by using colours or chocolate.
Not setting into shape- if the mix is undercooked, it will not set into shape and cannot be cut into shape. If you put the mix back and cook it a bit longer the mix sets well. Check the doneness test before you proceed to fix it in the tray.
Chewy- if the mix has been overcooked, ut ends up being chewy. This is an unpleasant feeling for a barfi. Unfortunately, it has no fix.
Tray size – the thickness of the barfi usually is about 1 to 1.5 cm when cut into shape. I have used a 21cmX21cm square dish to make this barfi quantity. 
Can I make doodh barfi without the milkpowder?
 If you want to start from scratch, use whole milk and reduce it till you reach the slow thickness of mawa and proceed. The time consumed is however immense in this process. Another starting point would be the mawa (khoya itself) with evaporated milk. However, these cannot be done with the recipe above.
Can I make it without sugar?
I haven't tried barfi without sugar. Powdered stevia will be my suggestion however, the measurements need to be recalculated to get the proper barfi. Let us know if you had success with it in the comments below 
Make-ahead barfis
Barfis stay well in the refrigerator for up to a month. Keep the sealed and the layers separate with a bit of parchment paper so they don't dry out.
Put a Diwali mithai box together
Edible gifts are the most precious ones. That too homemade ones mean love and care. Here are some more ideas that you can put in a box to make one to share. Most mithai boxes have Indian sweets and a small pack of savoury munches. Try out these combinations to get your box ready.
Ladoo
Halwa
Chocolate
Namkeen
Stay connected
Barfi, halwa, peda,  ladoo and all the other Indian mithai just call out for festivities. I serve Indian mithais at dinners coz there is no better way to end a meal. If you are making this milkpowder barfi for Diwali, rate the recipe and leave a comment about your experience or tag us #mildlyindian in your post
Stay on and enjoy more posts from us. Subscribe to get new recipes to you as we post them.
Happy Diwali!