The spring season has begun after the rainy monsoon months. This transformation in seasons marks the begins the celebration in the Indian calendar. This means we will need a  quick lot of sweets, naivedyams and snacks to share apart from the main meals. Among these sweet treats payasams and kheers are the choicest for these joyous occasions. Some payasams are made in elaborate ways and are a bit time-consuming, like the Kerala pink payasam or the paalada prathaman. Others are quick and most suitable when the celebrations are on a weekday sbd you have to rush off to work, like the vermicelli payasam or Aval Payasam.
This rice rava payasam is a quick and easy way to get desserts for the festive season ready in 20 minutes time and with the least effort. It is a soothing milk pudding that is gluten-free and perfect to serve warm or cold.  
How to make rice rava at home?
The rice rava is broken rice bits. To make it at home you can soak a cup of raw rice in water for about an hour. Then drain and dry (on a kitchen towel) this rice till the excess moisture is removed. Pulse this semi-dry rice in a spice mill or the Indian mixie to get the rice rava. You can sieve the fine powder out and use it as rice flour and the coarsely broken rice bits that stay on the sieve as rice rava.
To store, roast this on low heat till completely dry and then store in an airtight container. This is how to make rice rava at home easily.
Rice rava is also available pre-packaged, often labelled as idly rava and that is perfectly suitable to make this recipe.
Which to use – milk, evaporated milk or condensed milk in rice rava payasam?
Generally, full cream milk is used in payasams. This is to get the desired creaminess without excess cream addition. If you like the taste of evaporated milk, you can use that along with milk. Evaporated milk alone will not be able to cook the rice rava in this payasam hence you need the milk. If making in a saucepan you can use 1 cup of milk and 1 can of evaporated milk to get the desired flavour. If using condensed milk, cook the rice rava in milk and use the condensed milk to add sweetness and thickness to the payasam. To adjust the sugar in the sweetened condensed milk, use 1/4 cup sugar and the rest as condensed milk.  Of late. I find myself avoiding this totally and just liking the lighter taste of the milk.
To make it vegan I would advise using the second thinner extract of fresh coconut milk to cook the rice and then adding the first extract towards the end. This prevents the splitting of coconut milk.
Should I add Nuts and dry fruits to this payasam? 
It is totally up to you to use nuts like cashews, almonds or pistachios in this dessert. Raisins, chopped dates, dry figs etc also taste great in this recipe. Add them towards the end. You can also roast them in ghee before adding them to give an excellent flavour. I have used roasted almonds slightly crushed in this payasam.
Rice rava payasam
Coarsely ground rice made into a pudding with milk is a sweet is a dessert idea under 20 minutes that is perfect with an south Indian meal.
Ingredients
1/2

cup

rice rava

2

cups

full cream milk / plant based milks

3/4

cup

unrefined sugar

See measurements for condensed milk and evaporated milk above in the post.

1

tsp

green cardamom powder

1

pinch

nutmeg

(optional)

5-6

almonds

( optional, see other suggesions in the post above)
Instructions
In a heavy bottomed pan, brin the milk to warmth.

Add the rice rava and stir till there are no lumps.

Increase the heat to medium and cook the rice rava till it turns glassy.

This step takes about 10 minutes with constant stirring.

Add crushed almonds ( or nuts and dry fruits), nutmeg and cardamom powder.

Now add the sugar, evaporated or condensed milk based on your choice.

Stir and remove from heat.

Serve warm or cold based on your preference. Check post below for more details.
Notes
In the pressure cooker.
Add the milk and rice rava with 1/2 cup water.
Stir without any lumps and set for 2 whistles. 
Once pressure releases, stir in the sugar (or condensed milk) the cardamom and nutmeg.
Serve based on the suggestions in the post below.
In the instant pot
Mix the rice rava, 1/2 cup water and 2 cups milk without any lumps.
Add this to the pot and secure the lid and set for pressure mode for 4 minutes. 
Let the pressure release naturally. 
Open and add the sugar, cardamom and nutmeg. stir it in well. 
The payasam is now ready to serve. 
Serving it Warm or cold?
Usually, payasams are served warm on the banana leaf meal. This payasam in fact tastes perfect when chilled. It thickens a bit upon cooling and form a pudding consistency than the pouring consistency that was when warm. So make ahead or leftover still tastes amazing. During peak summer this rice rava payasam can be frozen to make ice popsicles and they taste divine. So serve it based on the season.
From start to finish this payasam takes about 20 minutes (with pre-made rice rava). It therefore one of the quick options to have a dessert ready to go with the sadhya. Try it out and let us know if you like it.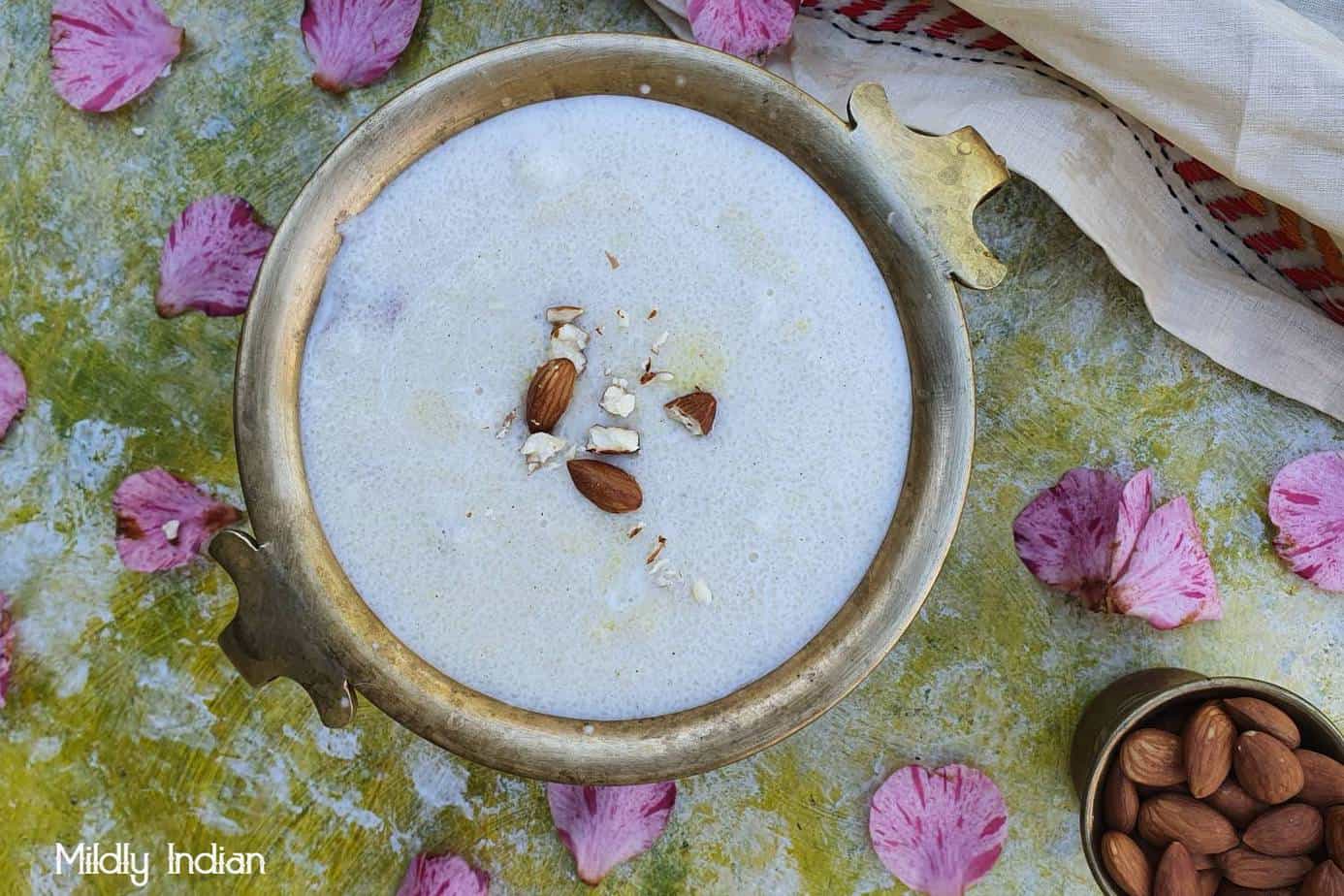 Stay connected
Stay on with us by subscribing to our site. Please leave your thoughts and comments in the discussion below. If you have tried out this recipe, do let us know the adaptations you made. Check out the tips and tricks to a great sadhya – here or that essential South Indian meal you can serve to celebrate the upcoming Indian festival season. We would love to hear from you in our discussions. 
Stay safe and keep visiting us.