Ellu bella sweet trail mix made during the Makar Sankranthi festival. Shared with friends and family, this easy gluten-free dry mix provides a good form of jar snack.
Walking through the now back to bustling markets of Bengaluru there is sugarcane, ellu bella packs, achu sharkare etc lining the shelves. It is nearing Makar Sankarnthi. The ellu bella packs attracted my attention. This trail mix is one I am particularly fond of and loved munching on. Here is the recipe to make this simple ellu bella and a bit about it.
What is makar sankrathi?
The transition into the Zodiac of capricon is Makar Sankranthi. It marks the beginning of summer and teh end of winter. During this time the winter harvest is plenty and is a celbartion for the farming communities, thanking the natural forces for the abundance. Across indian states, these three days are celebrated as Pongal ( Read more here), Sankranthi, Magi, Makara villaku or Sokran. Each regions celebarates the local produce which is showcased in the festival foods. In Karnataka, this celebartion time is all about bonding, sharing and happiness. Kite flying, decorated animals and carts are a common site during thsi time. The family is in their best attire (new ones ofcourse) and visiting friends and fanily with ellu bella and a sankranthi thali.
Why is ellu bella shared?
"Ellu bella thindu olle maathadi".
The Kannada saying above translates to eat ellu bella and speak no evil. It is one of the recipes (not much if it) meant purely for sharing. The actual highlight of the day is the sharing of the ellu bella with neighbours and friends. This is an excitement for the kids who are entrusted with the job. The idea of sharing this winter trail mix is to enhance the bonding between the families.
Ingredients for ellu bella
Ellu bella is not a huge deal of a recipe, but rather a simple mix of ingredients that make it a perfect winter munch. Here is what goes into making ellu bella.
Roasted groundnut: as a locally grown crop, grounds form a huge part of Karnataka cuisine. Roasted to perfection, peeled and split the groundnut anyway form the favourite munch. Added the trail mix it offers a delicious nutty feel.
Sesame seeds: the toasted white sesame seeds are used to make this recipe. The nutty flavour with a faint after-taste along with the jaggery tastes fantastic.
Roasted chickpea dal: huri kadle or roasted gram is added to the mix. This gives a powdery mouthful when bitten into.
Jaggery: traditionally jaggery or bella is the sweetness factor in this dry mix. If not sugar or rock sugar pieces will work in their place.
Dry coconut: Kobri is mature coconut that has its kernel completely dried. This is either grated or cut into small cubes. It has a slightly sweet flavour with abundant coconut oil and fibre.
Utensils for the Ellu bella
The roasting of the ingredients is done on a cast iron wok called banali. This thick-bottomed wok is perfect for roasting nuts and seeds without getting them burnt. Usually, this is a hand-me-down. I got mine from my mother.
The Kobra or dry coconut is cut into squares using a nutcracker or an arumamanai. The arumamanai is a small wooden stool or plank fitted with a bent sharp blade. Sitting on the plank placed on the floor, the kobri (even vegetables) are diced into pieces. This is actually an art in itself. Sitting on that plank needs practice.
How long to keep ellu bella?
Ellu bella is a dry mix. If kept in airtight containers it stays good for up to 3 months on the shelf. However, a handful of the mix is actually a wonderful snack, so it never lasts so long in my house.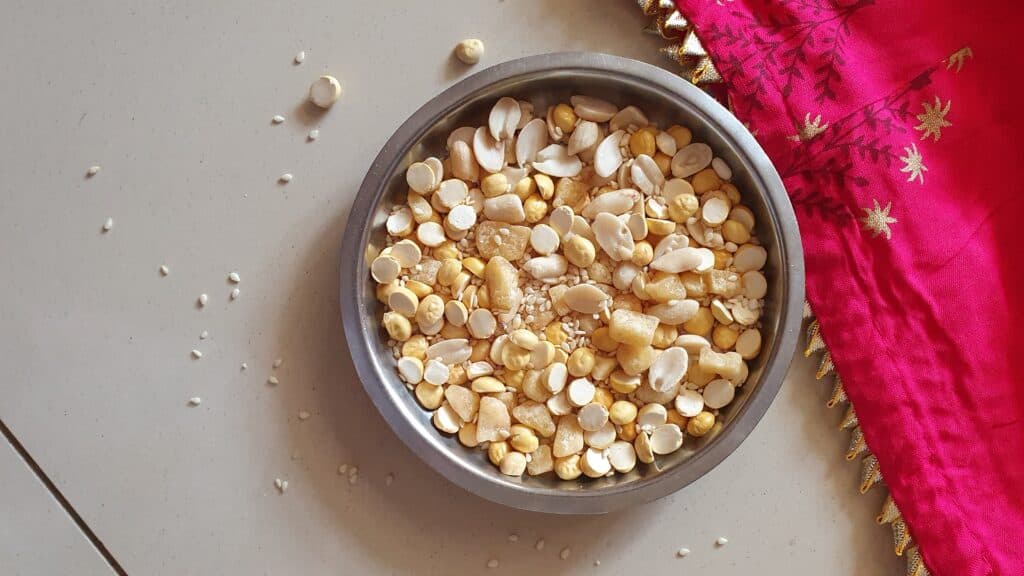 Ellu bella
Ellu bella sweet trail mix made during the Makar Sankranthi festival. Shared with friends and family, this easy gluten-free dry mix provides a good form of jar snack.
Ingredients
1

cup

roasted chickpea

porikadale, hurikadale

1

cup

peanuts

peeled and split

1

cup

dry coconut

kobri

1

cup

jaggery

cubed

1/2

cup

sesame seeds
Instructions
Cut the kobri into 1/2 cm cubes. If preferred can remove the outer brown cover using a peeler.

Cut the jaggery ball into small pieces to add to the mix.

Set these two aside till needed.

Set the kadai (banali) on medium heat.

Roast the peanut with constant stirring.

Once the peanut is slightly golden and crunchy, Add to a mixing bowl.

Next, into the kadai add the dry coconut pieces and roast them.

Remove this also into the mixing bowl.

Add the sesame seeds and let them pop.

As they crackle and pop, add this to the mixing bowl.

Remove the kadai from heat and add the roasted chickpeas just to warm up by the heat of the vessel.

Into the mixing bowl add the jaggery pieces and the roasted gram.

Give the trail mix a good stir.

Now the ellu bella is ready.
Setting up the sankranthi thali.
The Sankranthi thali is one of the simplest to set up. It is all about the seasonal local produce. This is an easy idea to set it up. Here are some things you want to gather
Ellu bella
Sugarcane
Mango leaves or betel leaves
Achhu sharkare (candy sugar figurines)
Banana
Ber or indian jujubes
Flowers
Additional adds
Steamed groundnut
Steamed sweet potatoes
A steel or metal platter is preferred to set this mix. Wash clean and dry the leaves. On the platter plate the leaves and arrange the other elements around them. You can keep the ellu bella in a bowl or add it directly onto the plate. Add the sugar candy last and decorate with flowers. This is your sankranthi thali.
Food served for Sankrathi
Since it is a seasonal abundance, newly harvested rice, yams, sweet potatoes,hyacinth beans, groundnuts, sugarcane etc are the main produce you see during this time. Commonly, Sweet pongal, steamed groundnuts, payasa, lemon rice, avrekalu uppitu,steamed sweet potato, ellu unde are made during this time.
If you are looking for a naivedyam thali, try this -click here for the link.
Stay connected
Learning about traditional cuisine takes time and guidance. Simple recipes like these are more fun to put together and bring about the festival spirit. So dress up and celebrate. Tell us about your way of celebrating with ellu bella or how you celebrate makar Sankranthi in the comments. If you are making ellu bella at home, share with us the little twists and turns. Don't miss to subscribe and keep connected.
Happy Sankranthi!