The elaborate details to which many Indian festivals and the foods associated with these festivals go can be quite stressful. Though smiling, I have seen my mother and my mother in law go through these rituals and traditions year after year and put themselves through a lot of stress to try and align to the strict customs. Though they don't tend to show it (typical as mothers)  you could see the change in their faces.
Festivals are supposed to be fun for all. It is meant to reduce the stress of regular life, isn't it? This comes up to my mind every festival season. I don't believe that just my sacrifice makes the festival better, so simplify the requirement and rather spend the day happily (coz I can get pretty grumpy when stressed). That is a win coz we all have time for wishing the best to the other without being grumpy. That's is how we figured this prasadam platter that is a one fit solution for most festivals.
Components of this naivedyam thali
Lemon rice -the most favoured among the variety rice that we make for festivals is Lemon rice. The yellow hue, the spicy tadka and the lemon flavour put this the first on most naivedyam platters. Alternatively, you can do pulisaadam or puliohare to suit your family.
Bagalabath -most South Indian meals end with a soft-cooked combo of tempered yogurt with a grain. This bagalabath used oats and adds up the flavour with some veggies and fruits added to it. It is mild tasting and filling.
Sundal – sundals appear in most South Indian festivals. Basically, it is a bean-based salad with added coconut or podi. Prep the podi much earlier to make your day easier. Then it is only the cooking of the beans and the spice mix to complete. Choose easier to cook ones, canned ones or sprouts to complete this. At times we do, frozen peas one too to add colour and freshness to the prasadam platter.
Paanakam– the drink that accompanies the meal is jaggery lemonade. Make it early and chill the drink for better results. Usually, the kids make a huge pitcher of this as it keeps well in the fridge and we have some for later.
Payasam– the epitome of prasadam is payasam. If making nothing elaborate, just make payasam as an offering. Keep this a  real simple one. I choose to go with semiya payasam or varaguarisi payasam as they are quick to make. You could also swap it over for Panchamritham or Trimadhuram.
Click on each of these highlighted words to access the recipes.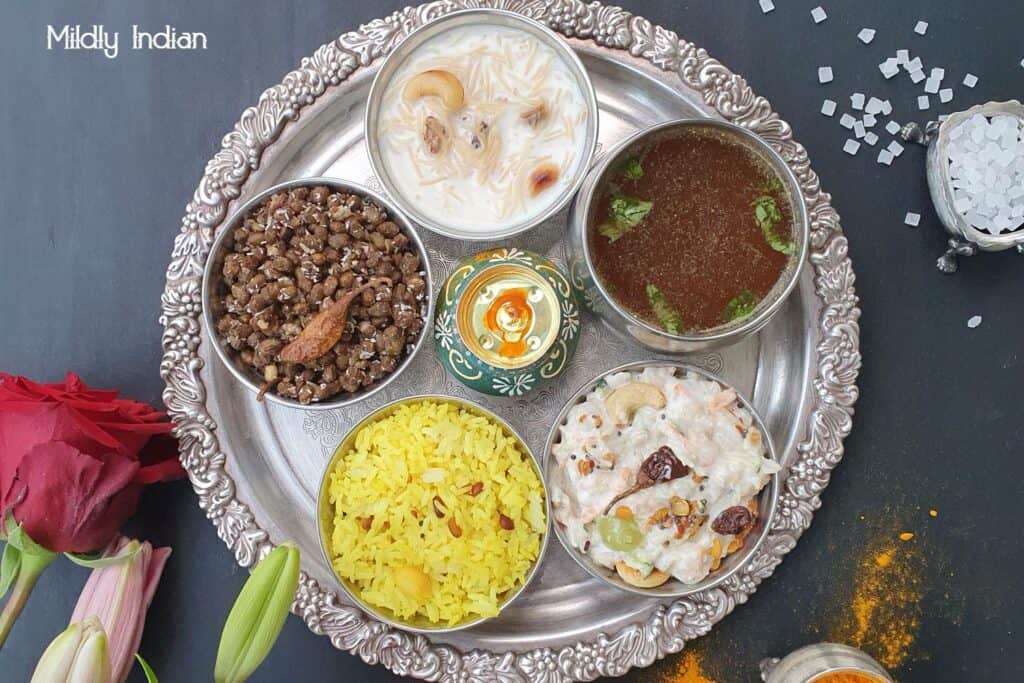 How much time does this naivedyam thali take to make?
If you are multitasking on a 4 point stove this thali takes roughly an hour and a half (4 people). I have used a pressure cooker (instant pot) to cook rice and the beans together, this saves time. There are not many vegetables to tackle, just a bit of grated carrots, grapes and zucchini for the bagalabath. The podi was ready to go as well. Outsource the panakam making to the kids as they have fun with it. Reuse as many pots and pans as you can to save up on the washing.
Making this prasadam platter vegan.
Swapping out a few ingredients will give you a perfect vegan prasadam platter. First, let's get the dairy out. Swap the yogurt in the bagalabath for coconut yogurt (tried and tested). The next one to change us the milk for the payasam. I would anytime recommend coconut milk for the varagu payasam , if not make this Godhambu nurukku payasam or aval payasam. Both these recipes use coconut milk. Roast the nuts and raisins in coconut oil too. Now that makes this platter easily vegan.
This naivedyam thali may not conform to the strict guidelines of the festivals. However, it fits most of the festivals like Ganesha Chaturthi, Diwali, Navratri, Ugadi etc. It is perfect if you are inviting for "vettalai paaku" or "haldi kumkum".It is one that is easy to tackle, sumptuous and well received. It covers all the basics and together tastes great. Hope you enjoy this basic prasadam platter.
Have you checked out our Youtube channel?     
We are working on getting our youtube channel with more recipes and learning experiences. Here is one of our latest videos. Kindly encourage us by subscribing, liking and sharing the videos as well. Stay safe and keep in touch.
Do tag us #mildlyindian when you make this finger millet soup recipe and leave your thoughts in the discussion below. We love to hear about your experience of making this recipe. Don't forget to share and subscribe to this blog.
Stay safe and keep in touch.