The asthma flare-up last weekend left me with zero energy to do anything the worse was it was difficult to talk hence so hard to let my family know all I wanted was just some soothing-based thinned food.. like soup. It actually reminded me of a recipe Amma taught me last time we had covid the godhambu kanji. Now, that I am slowly regaining my energy, I find that I still need to eat smaller meals per day to keep up my strength. Hence, this ayurvedic monsoon recipe came about as perfect with the chill in the weather.
What is broken wheat?
The wheat grain is broken into smaller pieces and used as broken wheat. This can be made from regular wheat or from farro. In Indian cuisine, we use these broken wheat grams in both savoury and dessert-style recipes. Since it cooks faster than regular wheat it is a much preferred ingredient. To store for a longer time, lightly dry roast the nurukku goshambu. Store in an airtight bottle after cooling
How does broken wheat porridge help when you are recovering?
As you are recovering you need a lighter sort of food that is nourishing. The energy-giving complex carbohydrates help you to sustain well without upsetting your tummy. Since it is whole wheat you don't have to worry about the processed food being used here. The broken wheat is much faster to cook, so really works almost as instant food. This is also one of the solos used a lot as an ayurvedic monsoon recipe.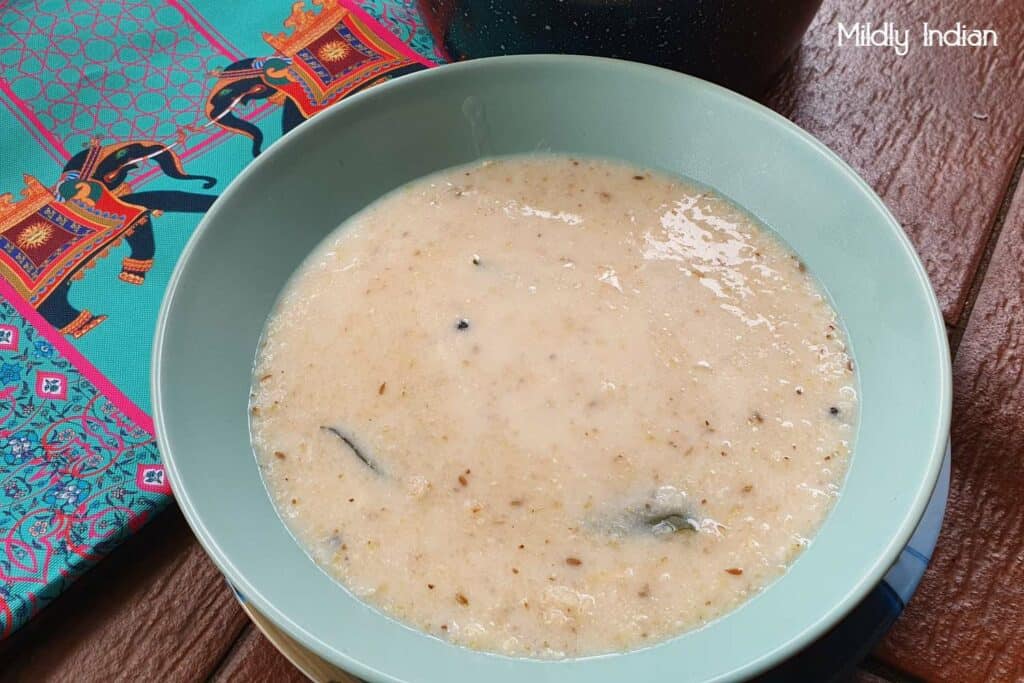 Ingredients and substitutions for this recipe
Broken wheat: this Kerala-style kanji recipe relies on nurukku godhambu. This is a fast-cooking whole grain that has not been pretreated but broken into bits. You will get both regular wheat and emmer wheat.
Coconut milk: since kanji is a thin gruel or soup the flavour of just the grain cooked in water is not going to suffice.
Salt and spices: the regular kanji recipe is often spiced gently with a couple of needed spices. This godhambu kanji has crushed cumin and black pepper to gently flavour this ayurvedic monsoon recipe. Along with salt, these spices make a soothing and caring recipe.
Let's make godhambu kanji
The recipe card below has step-by-step guidance to help you make this easy kanji recipe. Hope you enjoy this recipe and save it pinned to your board from here.
Godhambu kanji
Equipment
mixing bowls and spoons.

saucepan

ladle
Ingredients
1.5

cup

broken wheat

1

cup

coconut milk

thick

3

cups

water
Spices and flavorings
salt to taste

1/4

tsp

cumin seeds

1/2

tsp

Black pepper

5-10

curry leaves

2-3

shallots

1/2

tsp

coconut oil
Instructions
Wash and soak the broken wheat in the water.

Set a saucepan to heat on a medium stove.

To this add the coconut oil, shallots, curry leaves, cumin seeds and peppercorns.

Let this roast till the shallots turn translucent.

Now add the soaked broken wheat along with the water.

Cover and cook till the broken wheat turns tender and soft.

Add the coconut milk and stir well.

Once they are well mixed let the kanji simmer.

After about 7 to 10 minutes, remove from heat.

The godhambu kanji is ready to serve.
Make ahead
Nah! this recipe is under 15 minutes with store-bought coconut milk. So I won't bother making it ahead and storing it. So let's skip to the good part…. eating it.
Ayurvedic monsoon recipes that will come in handy
The monsoon season is perhaps one that brings in a lot of waterborne diseases and respiratory illnesses due to temperature changes and humidity. Often the simplest of the recipes are the ones that are most useful in an Ayurvedic diet. Here are a few on our blog.
Fenugreek porridge
Venpongal
Pickled ginger
Golden buttermilk curry
Dal tadka
Neer moru
Kichadi
Panagam
Paal kanji
Stay connected
I hope you will like this recipe as much as I enjoy bringing them forth for you. These simple recipes for the mainstay of our blog. Hope you like them and enjoy them. Let us know in the comments how you liked making this godhambu kanji or if you have any questions about this recipe, so we can do a better job at it.
Don't forget to follow us on Instagram or Facebook to be updated more often.
See you in the next post.