Growing up with parents who hammered in the belief that food is medicine it is like a deep emotion etched in my brain. So as soon as the weather begins cooling down I get my home remedy supplies ready. Ginger, turmeric, long pepper, liquorice, cumin, black pepper yes I gathered them all. I felt like that peaceful ant who got ready for winter.
The age of the ginger
Asian cuisines use the age of ginger as the estimate of the intensity of the flavour. We use old ginger (spicier) to cook curries (like potato curry or the inji kichadi) This is pungent and fibrous. The dried one is not so spicy yet creates a deep feeling of warmth and we use this in our spice mixes ( like this chai masala). Then comes the young one.
The young ginger, however, is very mild in spiciness. It also has no fibrous bits. This we use for pickling. Pretty much like the gari, the Japanese sushi pickle. It is also s a bit more floral in flavour. Best of all, it creates a beautiful pink colour when an acidic base is added to it.
By far this pickled ginger is one of the easiest pickle recipes you can try. This pickle is best with Indian dinner or on top of that winter bean burger and of course, keep that avo sushi going.
Don't miss to get some this winter as you will always hear we Asian mums say that the ginger gives you warmth.
Here are a collection of my favourite pickles
Keep warm, stay safe and share your thoughts in comments
Save it for later, here is the pin for your board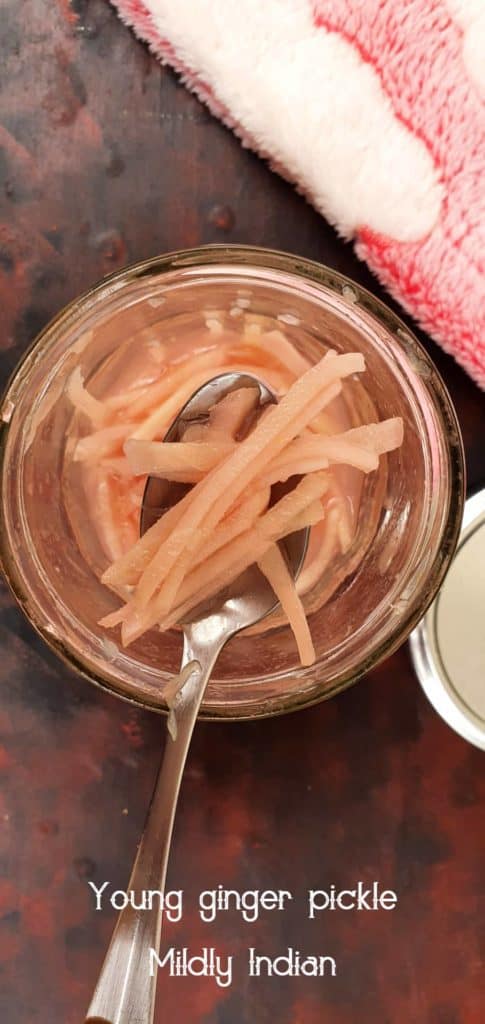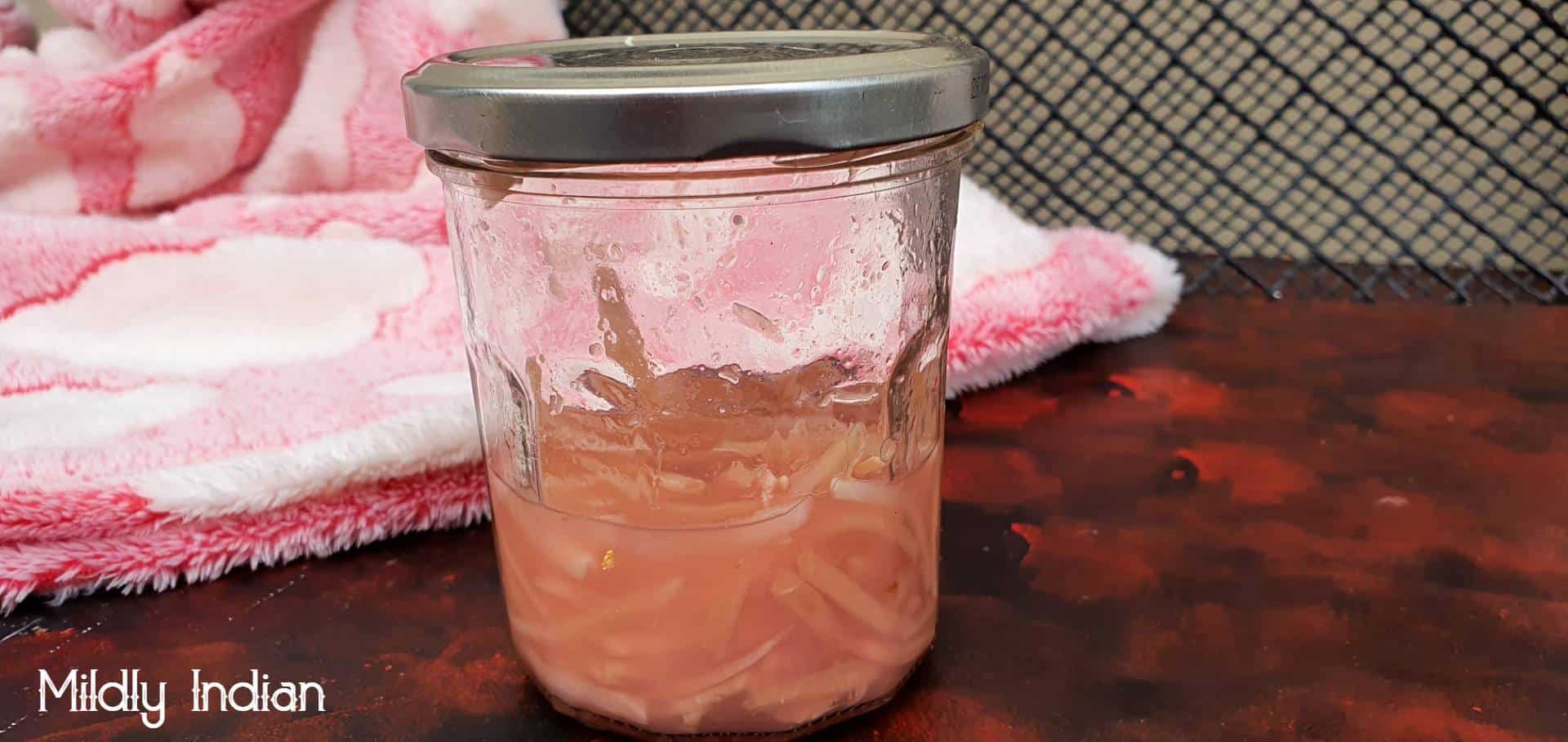 Young ginger pickle
Pink ginger pickle
Ingredients
250

grams

fresh ginger root

( use young ginger)

1.5

cup

Lemon juice

( use freshly squeezed)

salt to taste

( i prefer using crystalline salt)
Instructions
Wash and clean the ginger. Pat dry and set aside.

With a spoon scrape off the tender skin on top and clean it again.

Slice them thin and then julliene the ginger.

Add to a clean sundried mixing bowl. ( to make sure no traces of water as water will bring in mould)

Now add the salt and mix well

Squeeze the lemons and extract the fresh juice

Add this to the ginger kept ready. Mix well.

Transfer to sundried or oven-dried glass bottles.

Shake the pickle a couple of times each day for about three days and you will notice the colour change.

Once the colours are changed and the pickle is ready to use. Store in the refigerator and use a clean dry spoon t take the pickle
Notes
Use lime juice if lemons are not available. still the flavours are phenomenal.
Use slit green chillies if you like it really spicy.