When you have been to an Indian restaurant I am sure you have nibbled on the papad and chutney combo offered as soon as you take a seat. Interesting there is a better one – the Masala papad. The combination of thin cracker with a salad and then topped with all those tongue-tickling masalas is the one you need to try.  This is a very quick appetizer to put together even at home.
In saying that, I assume, every Indian home literally will have a few packs of papad for the crispy side to fo on the plate. With the Kachumber salad, some chaat masala, some store-bought sev, the appetizer is ready. Best of all you can make this oil-free.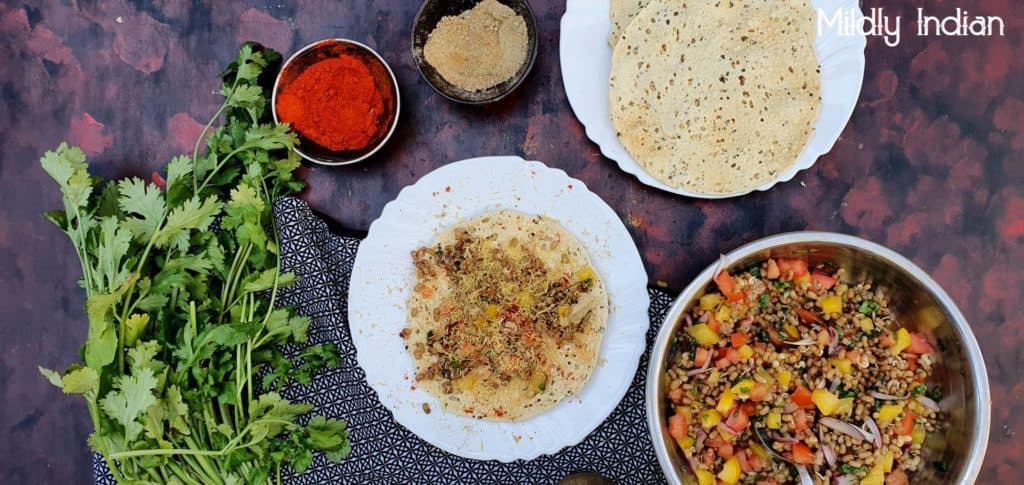 Papad or papadam
The papad is a thin rolled out lentil cracker that every Indian pantry will store. The lentil flour(urad dal or black gram) is kneaded with oil, baking soda, salt and water. This is rolled thin into circles and left to dry in the sun. The papad made in different regions of India has flavours and flours slightly different. For masala papad we prefer the north Indian variety with cumin or black pepper. To keep this oil-free I prefer to microwave or roast the papad. 
The salad topping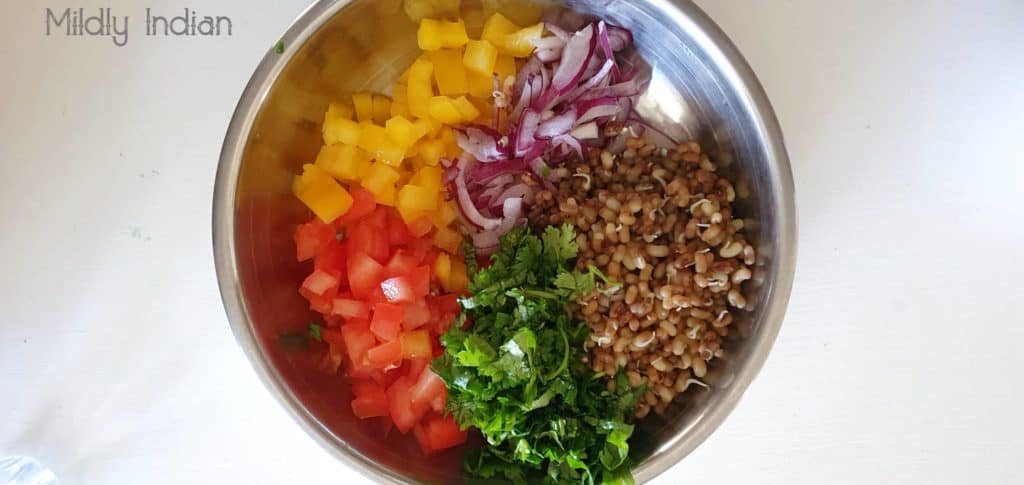 A mixed medley of tomato, cucumber and onions with a oil-free lemon-lime dressing that we call kachumber is the go-to one for the masala papad. Here is what I prefer, an oil-free sprout salad with the same lemon-lime dressing. The recipe is given below. If you prefer the Kachumer, click here for the recipe.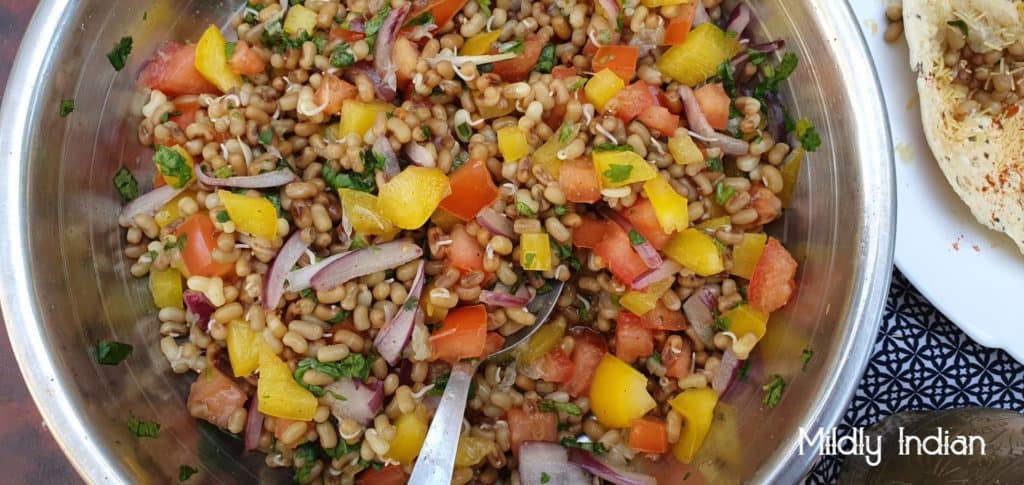 The masalas here.
The common masala powders used are chaat masala and chilli powder.  Depending in the papad you use you can add roast cumin or pepper powder as well.
The recipe, no doubt is addictive. However be mindful that papad at still is a preserved snack and contains additives, preservatives and salt.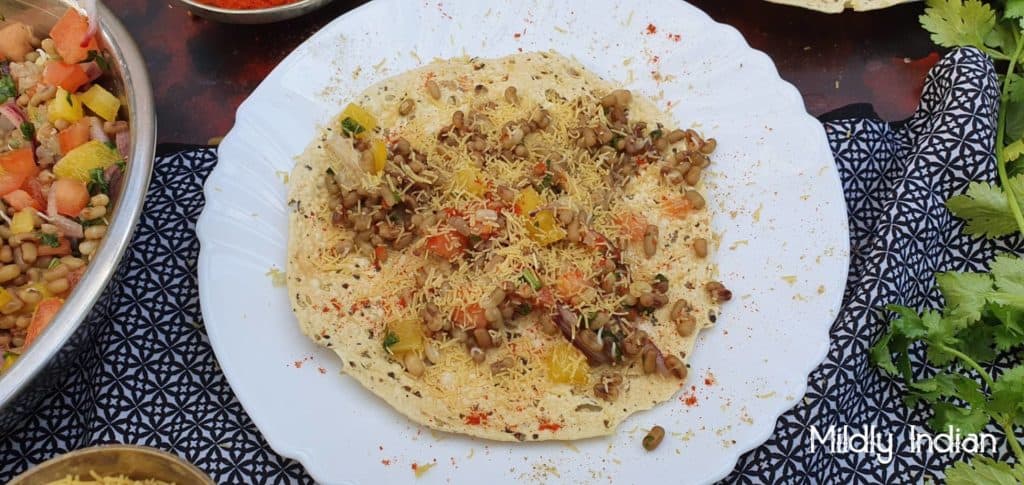 Have no papad?
No worries, roast the rice paper wrapper or fry up some wonton wrappers and continue with the recipe. It will not be exactly the same, yet both these versions have the approval from my kids.  Try the papad roasts with curried avocado dip too they make a huge impression on my guests, hope yours will love them too.
Here is the link to – Curried avocado dip
Do write to us how you enjoy these recipes. We love reading your comments and emails. Keep in touch and stay safe.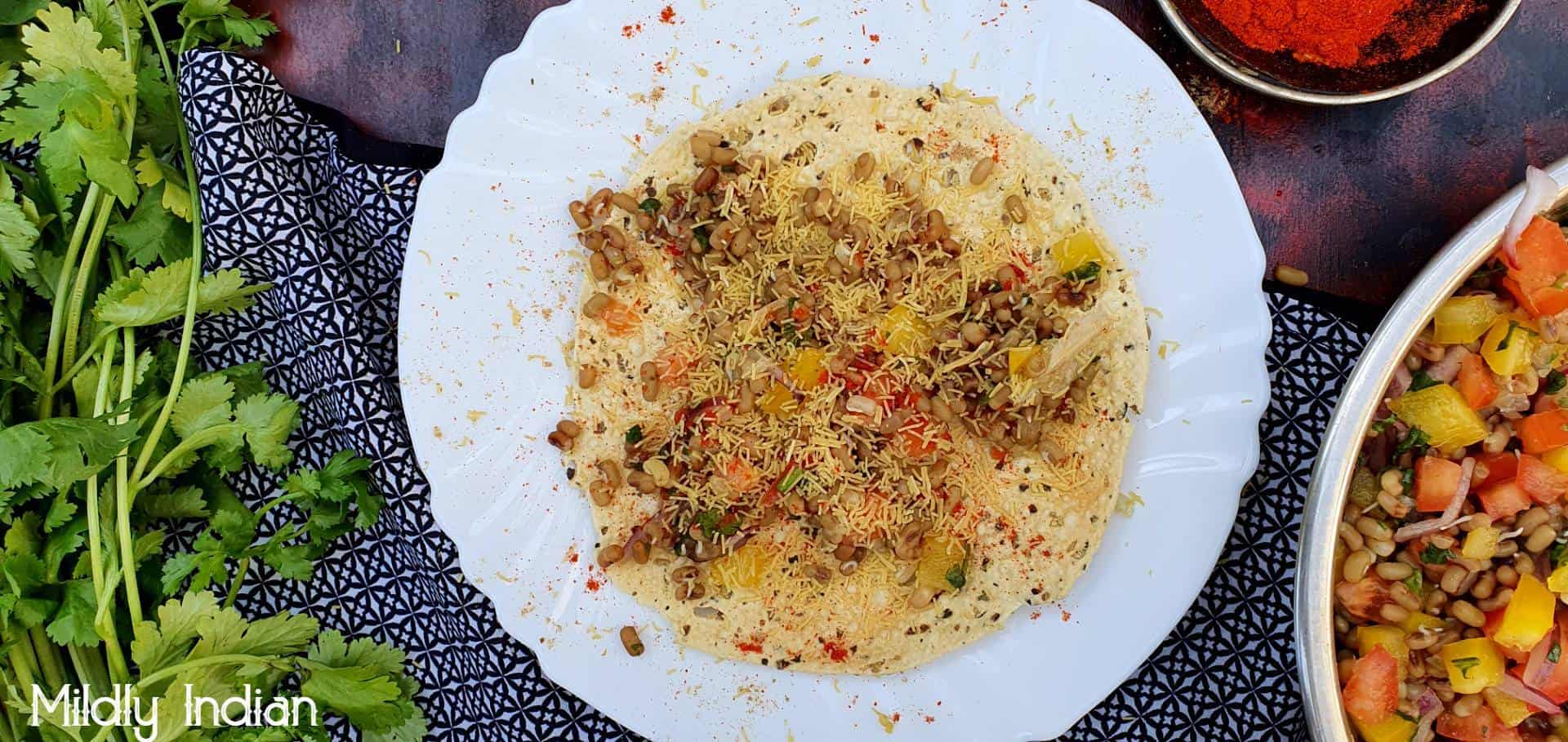 Masala papad
with oil free, sprouted moth bean chaat.
Ingredients
for moth bean salad
1/2

cup

sprouts

( i have used short tongue, moth bean sprout)

1/2

cup

yellow bell pepper

use green or red if you like, chopped small

1/2

cup

red onion

chopped small

1/2

cup

Tomato

chopped

2

tbsp

coriander leaves

1

small

green chill

chopped

1

pinch

black salt

2

pinch

chaat masala

2

tbsp

Lemon juice
for roasted papad
1

pack

papad

Store bought, I used pepper spiced one.
to assemble the masala papad
1/2

cup

sev

1

tsp

Kashmiri chilli powder

1

tsp

chaat masala

1

tsp

roasted cumin powder
Instructions
Moth bean salad
Wash the moth bean sprout under running water and set aside to drain.

Into a mixing bowl add the chopped tomatoes, green chillies, bell pepper, onion, coriander and moth beans.

Add chaat masala, black salt and lemon juice and mix the salad well.

Set the salad aside till the papad is ready. IF assembling the salad earlier, add the chaat masala and black salt just before serving and keep the salad chilled.

The salad is perfect to be served as such too.
to assemble the masala papad
Microwave the papad for 30 seconds each. Some papad take lesser time based on the thickness and the power of the microwave. So adjust time accordingly.

Keep this in an airtight box till needed, without crushing.

When ready to assemble. Place the papad on the plate and top with 2 to 3 tbsp of salad.

Sprinkle a pinch of the red chilli powder, a pinch of cumin seed powder and a pinch of chaat masala.

Top it with a tbsp or more of thin sev.

Serve immediately, to retain the crunch of the papad.
Notes
To sprout moth beans
Soak moth beans in Excess of water for 4-6 hours. Drain and warp the beans in a clean cheesecloth and keep in a dark walled container. The sprouting will happen in 8-10 hours. .Once sprouted store in the refrigerator. Wash the sprouts well before use.