The recent India trip was fantastic. As much as we had fun, there are a couple of things that this India trip ruined for me. One was bread the other was rose milk. That was my simple pleasure which the milk booths used to keep in plenty. During this trip, I searched high a low for some but found none. As soon as we got back and the jet lag faded off,  I had to make some myself. Since it has become a kind of rarity, I guess it is best if it is on our blog too.
What is rose milk?
The gorgeous, pale pink, milk-based drink is a gentle lightly sweetened drink popular in summer. With the juicy crunchy basil seeds added, this summer drink is a popular one for the heat and humidity of the tropics. With flavours of extract of rose and the same as its fragrance, the cold, frothy milk drink is a relief from the heat. The drink Bandung in Malaysia and Thai Nom Yen are all versions of the same. However in this recipe today we have not used the rose syrup that gets utilized in most recipes, rather have gone in to create a natural alternate with fresh rose flower petals. 
Ingredients to make the rose milk
Milk : boiled and chilled milk is what we use traditionally for this recipe. However, over a  period of time, I find Evaporated milk gives a full-bodied thick frothy milk moustache-making consistency. You can use half-and-half or low-fat milk too.
Rose petals: nothing beats that fresh rose petal that gets blended in. Use known sources of pesticides free fresh rose petals or edible grade dried ones. The actual variety that we look for with its fragrance is the panneer rose, the one from which rose water is extracted. Make sure your source is from the edible roses as there are plenty that is just ornamental.
Rose water: since the rose petals may not be fragrant enough, edible-grade rose water is required. If you have plenty of rose petals you can avoid using this.
Red food colour: the pink colour is characteristic of this drink. A small drop or two of natural red food colour will do the job. You can use natural dried beet powder in its place too.
Sweetener:  is totally optional. Use honey or sugar to flavour if needed. Since the milk in Australia is much sweeter, I have not used any here.
Sweet basil seeds: this is the exciting part of this drink. Basil seeds are small black seeds often sold in Indian spice aisles as Sabja. This when added to water swells into small jelly globes. They add a lovely touch to the drink and also promote gut health. These are not chia seeds, however, if you cannot get there you can use some chia here.
How to make this drink?
Soak the basil seeds in about 3 times water. Once you gather the ingredients it is as simple as blending them together all except the basil seeds. Once frothy pour into tall glasses and top with the bloomed basil seeds. Check the recipe card below for detailed instructions and exact measurements. YOu can pin the same from th recipe card on to your board if saving for later.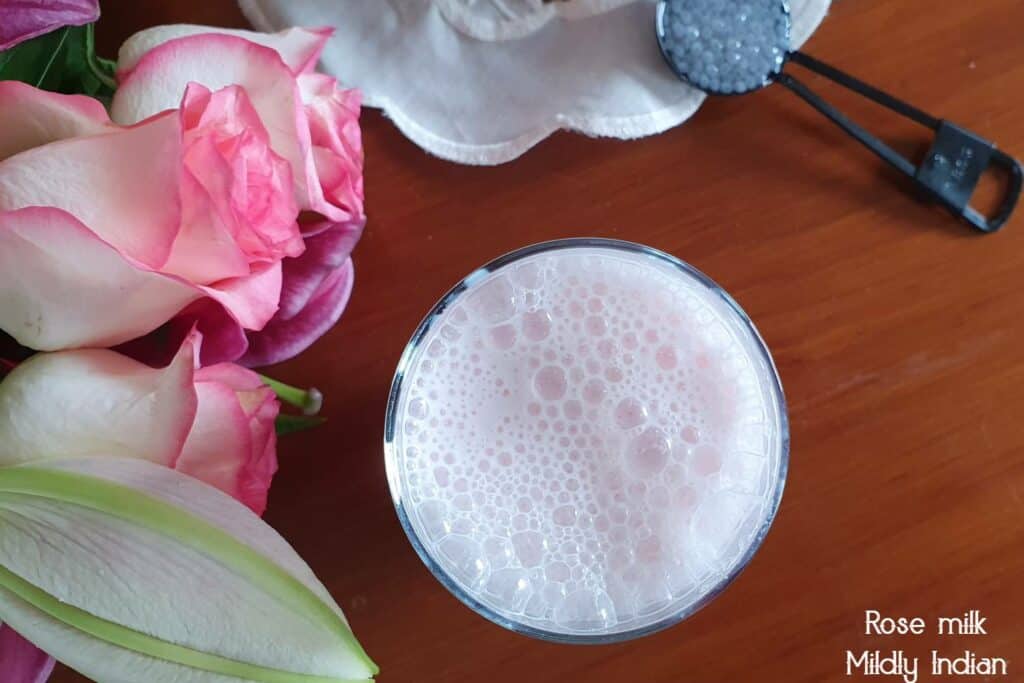 Natural Rose milk
With the juicy crunchy basil seeds added, this summer drink is a popular one for the heat and humidity of the tropics. With flavours of extract of rose and the same as its fragrance, the cold, frothy milk drink is a relief from the heat.
Equipment
blender

measuring cups and spoons
Ingredients
2

cups

milk

chilled

10-15

Rose petals

1

pinch

Red food coulor

or dried beet powder

1

tsp

Rose essence

sweetener

optional
for the topping
1

tbsp

sweet basil seeds

1/4

cup

drinking water
Instructions
Soak the basil seeds to bloom.

Set this aside while you prepare for the rose shake.

Into the blender add all the other ingredients and sweetenerif required.

Blend smooth for 2 minutes till it is frothy.

Pour this into tall glasses.

Top with the bloomed sweet basil (sabja) seeds
Notes
The basil seeds when added initially will sink to the bottom. Then they will slowly rise up to the top for a few hours. 
Can this be a vegan drink?
It is a milk-based drink, however, using soy or almond milk gives a delicious vegan pink milk without a huge change in flavour. In fact, I love to use soy milk as my choice for the vegan version. The rest of the ingredients are the same.
Make ahead and storage
The freshly blended rose milk is certainly frothy. However, it is an easy drink to make and store in the refrigerator. It stays good for upto 3 days with regular milk and about 7 days with Evaporated milk. Keep it in a sealed bottle or a small covered pitcher to have on hot days. You can mix in the basil seeds too. They stay at the bottom, so stir well before pouring out the drink for yourself.
Easy summer thirst quenchers on this blog
Apple celery green juice
Nectarine fizz
Fresh fig milkshake
Strawberry lassi
Cherry watermelon smoothie
Stay connected
If you have spent your childhood in the tropics, I am sure you would have also had a version of this. Pink milk as it is fondly called us now revived for me. Try out this caffeine-free, afternoon pick-up and rate us using the star system below. Share in the comments your childhood experiences with the easy thirst quencher. Subscribe to us for new recipes or visit us often.
Enjoy your glass while I get some more.