We take so many things for granted. One of the vegetables I never thought I will not have much to miss was the winter melon or ash gourd. The long-distance travels needed to procure a pricey piece of the winter melon makes me think of it differently nowadays. I get to see it only at times in the Indian store or the Asian grocery.  This was an everyday vegetable when I was growing up. Now a rarity.
Changing trends
All those teen years when mum kept repeating waste nothing, you will want less again it made no sense. It surely does now! Following 2020 the entire food scene shifted. We all cooked many more meals at home than we ever had done. These were the times we realised it is minimal that you need to discard if you work with vegetables thoughtfully. One such vegetable surely does justice to this thought – the winter melon. The white flesh I love to have as the simple tang qua soup and poricha kozhambu. The winter melon peel surely had to be saved.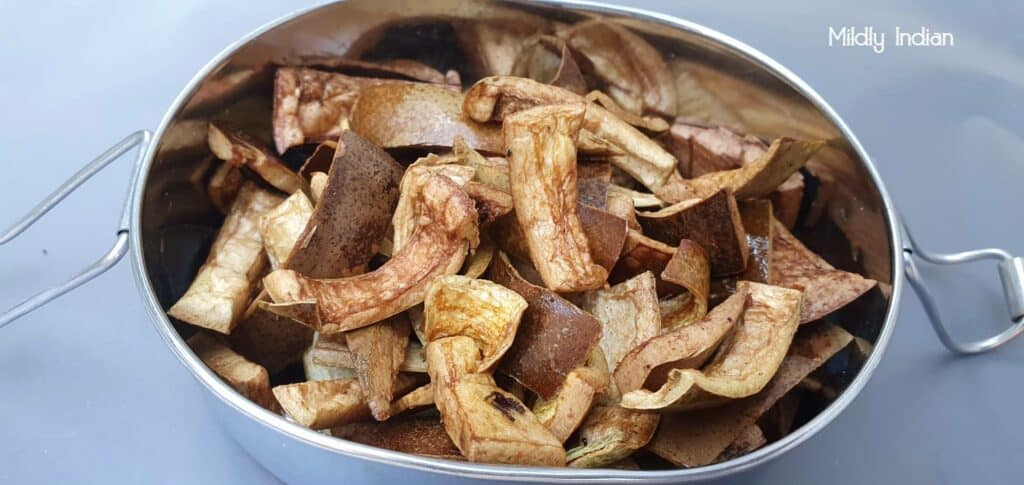 Kumbalanga vattal kondatam
One of these conversations with mum, made me realise,  these spongy rectangular kondattam vattal she made that we loved with rasam saadam was nothing but Ashgourd peels. This certainly caught my attention. Use the winter melon to make curries or soup. Save the peel for a simple, salted, sundried kondattam. Save up the peels, and add them to the vattal kozhambu. Serve these vattals with kumblakayi huli and rice, they taste phenomenal. Either way, you waste nothing and use solar power.
Hope you are enjoying reading this blog. We certainly love sharing these ideas with you. If you have more tell us, we will love to try them too. 
Kumbalanga vattal kondattam
Sundried spiced Ash gourd or Wintermelon peels.
Ingredients
2

cups

wintermelon

diced peels.

1/2

tsp

Sea salt

1/4

tsp

red chili powder
Instructions
Wash the winter melon, remove the peel.

Dice the peel and add to a medium mixing bowl.

Add the salt, the red chilli powder and the wintermelon peel and mix well.

Spread this a single alyer on a few plates and sundry them for approximately two to three days.

After day 1 the peels will curl up.

Dry till the peels move freely and snap when tried to open up the curls.

Store in an airtight jar till use.
To use the sundried peels.
Deep fry a few of the peels at at time till they are crisp.

Drain on to an adsorbent papers.

Serve with lunch or with a cup of tea as namkeen.