Bite into a soft, salty ball of the tiny eggplant-like berry that promotes your gut health in the most natural way. This is the lacto-fermented pickling of neer sundakkai or pickled turkey berries that taste amazing with your lunches. Try this traditional recipe and let us know how much you like it. 
Turkey berry memories
There are a lot of memories I carry from my grandmother's kitchen. Now, I was that kid that hated anything given to eat. If it was any of the yogurt or milk-based stuffed I certainly kicked this tantrum to a notch higher. Needless to say, my grandmother knew the way around. In her collection of pickle "bharanis", there was one at the far corner that no one touched. She will bring it down as we have nothing and sat for lunch. She will hardly say a word, but put some rice on my plate and hers. With a long spoon fetched a few pickled turkey berries from this untouched "Bharani" and place it on the side of my plate. It worked like magic beans. I will eat anything that was served for lunch without a fuss all for an extra few golden, salty berries that she gives at the end of the meal.
Now you know why I am so fond of these turkey berries and other things I foraged with her.
What are turkey berries?
Known as devils fig, Thai eggplants or pea eggplant, turkey berries are the fruit of Solanum torvum. The shrub that looks like a brinjal plant produces clusters of green fruit. The fruit is valued a lot in alternate medicine and extensively used in South East Asian, Indian and Srilankan cooking. Usually, the berries are added to curries and cooked like the sundakkai thengarachu kozhambu or stir-fried like the thibattu mallung we made earlier. Considered a bitter food variety in Ayurveda, the berries are rich in iron and Vit A and C and are recommended as home remedies for anemia.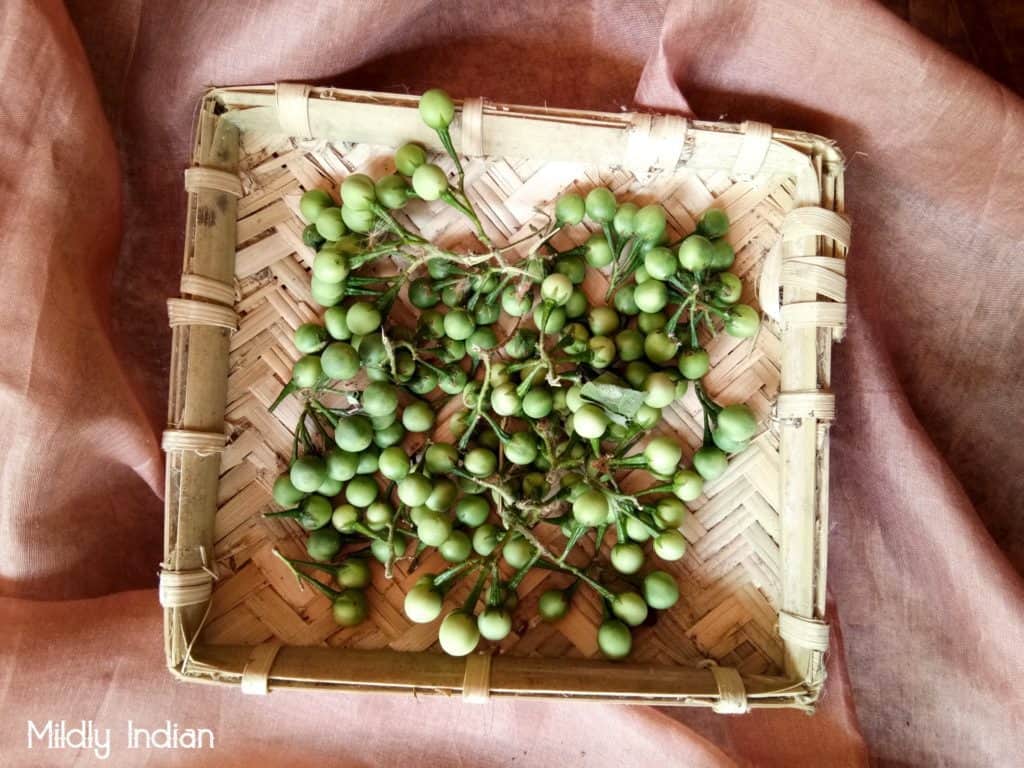 Lacto-fermented pickling
While pickling you have quick ones that use an acid to preserve them or the ones that are soaked in brine and allowed to be preserved with the slow protection from the airborne lactobacillus. This is pure alchemy of time with salt as the preservative and the slow action of gut-friendly lactobacilli. Now here is a fact, lactobacillus does not just live in milk, the gut-friendly ones thrive happily in brine. This property along with the sale for preservation is what makes lacto-fermented pickles a success. Lacto bacilli slowly acts on the carbohydrates in the food breaking it down to alcohol or carbon dioxide depending on the oxygen levels. In a sealed contained environment it is this oxygen level that is being controlled. this leads to a slow removal of the oxygen available and increase in the acid levels of the brine. This inhibits the growth of other types of airborne bacteria and promotes the conditions ideal for the growth of lactobacilli. Months later, we have the perfectly made pickle to add to our meals.
This method of preservation is what we use to pickle young green peppers, saurekrat, kimchi or the Mediterranean style of salted lemons. In addition to the flavour distinct to pickles that you feel in these, these preserved foods are more digestible. The micronutrient availability is improved and the pickles are suggested to have anti-inflammatory properties. 
Ingredients for the pickle
The pickled turkey berries do not require a lot of ingredients but a bit of time and patience as the pickle matures.
Turkey berries: Fresh green sundakkai is one that we are looking for. These are firm to a bit of pressure and bright green in colour. Usually, these are in bunches and the stalk snaps off easily. Wash and place the berries on a kitchen cloth so the water dries off.
Water: Clean water to make the brine is essential to make this pickle. Boil the water to prepare the brine.
Salt: Sea salt or Rock salt not just adds saltiness but also minerals to improve the flavour and health benefits of the pickle.
Turmeric powder: The berries in the pickle acquire a brownish colour when being lactofermented. It is not the most appealing colour and hence my mother adds a bit of turmeric to it. The resulting pickled turkey berries had a delightful golden-yellow colour to them. This is not n essential step but more for asethetics.
Preserving it right
Jars: tight-lidded glass bottles or pickle bharanis are the ones that are used to make and store these pickles. these are washed thoroughly by hand and sundried before use. However, unlike canning, you need aerobic bacteria to do the fermentation. Hence sundried is better. 
Lets make neer sundakkai
Making neer sundakkai is perhaps one of the easiest ways to make pickles.
First, it is the brine. For every cup of berries, you need at least 2 cups of brine. To make the brine, it is a proportion of 1/8 cup of salt to 1 cup of water. Now this is a bit tricky as my and grandmother taste the salt first to see its intensity of saltiness and then slightly vary the amount to be added. It will make sense when you are a seasoned pickled maker, but not  beginner. So, bear with it, please. the water quantity is estimated and boiled with the salt added. This is cooled to room temperature before adding to the sundakkai berries. 
The washed, cleaned sundakkai berries, with their stalk snapped off are dried on a clean kitchen towel.  These are placed in the bharani or bottle of choice. The cooled brine is added and the lid is sealed. For the whole of next week, the bottles are gently shaken every day. Initially, the berries will be floating and as they start the pickling process will start sinking into the bottom of the bottle. once the berries have sunk leave the pickle untouched for about fifteen to twenty days. The pickle is then ready for consumption.
Serving the pickle
This pickle was the only way I will have a bit of curd rice ever! The pickle pairs well to give a salty touch to meals. The key point to keep this pickle longer is to use a cleaned dried spoon and avoid putting back any of the berries once removed. This maintains the right equilibrium for the good bacteria to grow.
Since it tastes a bit like capers, it is fun to add it to some pasta and see how that goes. The drained, washed pickle can be sauteed to add to vattal kuzhambu, Thai curries or sambhar too.
Here is an interesting preparation that I see my mother making often. She washes off the excess salt and drains these pickled turkey berries and then sautees them in sesame oil. Further, this is added to thick buttermilk or yogurt to make one-of-a-kind raita.
Neer sundakkai
Equipment
saucepan

measuring cups and spoons
Ingredients
For the brine
1

cup

drinking water

1/8

cup

Sea salt
Instructions
Wash and destalk the berries

Place them to dry on a kitchen towel.

Into the saucepan add the salt and water and bring it to a rolling boil.

Pat dry and plce the berries into the bottle

Now, pour the cooled brine over the berries.

Add the turmeric powder and mix well.

Seal the bottle and set it aside to pickle.

Shake the bottle each day till it starts changing colour.

In about 10 to 15 days the pickle will be ready
Stay connected
The pickled turkey berry is not a recipe that you will find ready to pick up when you walk into an Indian grocery. It is added to this blog as an attempt to preserve those recipes which are far forgotten, yet are the true ones where food was indeed medicine. I am sure every one of us has such memories that we learnt from our grandparents. Share these with us as we relive and rejig and collectively make an attempt to revive these tips and flavour treasures. If you are able to make this recipe, share with us how you used this pickle in the comments and rate the recipe. Share this content or connect with us on Instagram or Facebook to know what we are up to next.
Stay safe and eat healthy.