The berry season has begun. The juicy red berries are perched perfectly to get casually added to our currently rare expedition (grocery shopping trips). The first batch of strawberries we bought was juicy and sweet. With these thoughts in mind, picked a few boxes more than usual.
The first batch we nibbled on when back home (of course washed!)  was really sour. Biting into a sour strawberry actually reminded me of fresh raw mangoes. I knew my greedy grab is not going to be eaten up anytime soon if something was done to them. Serves me right for all that Greed!! The sour strawberry batch certainly will need tons of sugar added to sweeten them up to make some strawberry preserve, so not that way I would like to go.
Bhelpuri from the memories
The bhelpuri that migrated to the South of India has a cool touch to it.  At least the ones we lived on in Manipal (during college days) had finely chopped raw mangoes and a touch of coconut oil added to the mix. This gave an unusual twist to the crispy puffed rice snack. This memory certainly opened up my ideas to the sour strawberries, go the savoury way.
The bhelpuri mix ( fondly called Bhel)
The basic fresh ingredients for this strawberry bhelpuri are certainly red onions, cilantro and green chillies. The swaps in this inspired bhelpuri are certainly sour strawberry and the creamy bites from the avocados. The strawberry replaces both the raw mango and tomatoes. Sounds good so far!! Scoop up some roasted puffed rice, added in some store-bought papdis (totally optional), roasted cashews, green chutney and sweet tamarind chutney with the dry masalas – chaat masala, chilli, black salt, roasted cumin powder etc. Get them all mixed up and have them straight out of a paper cone ( check the pin image)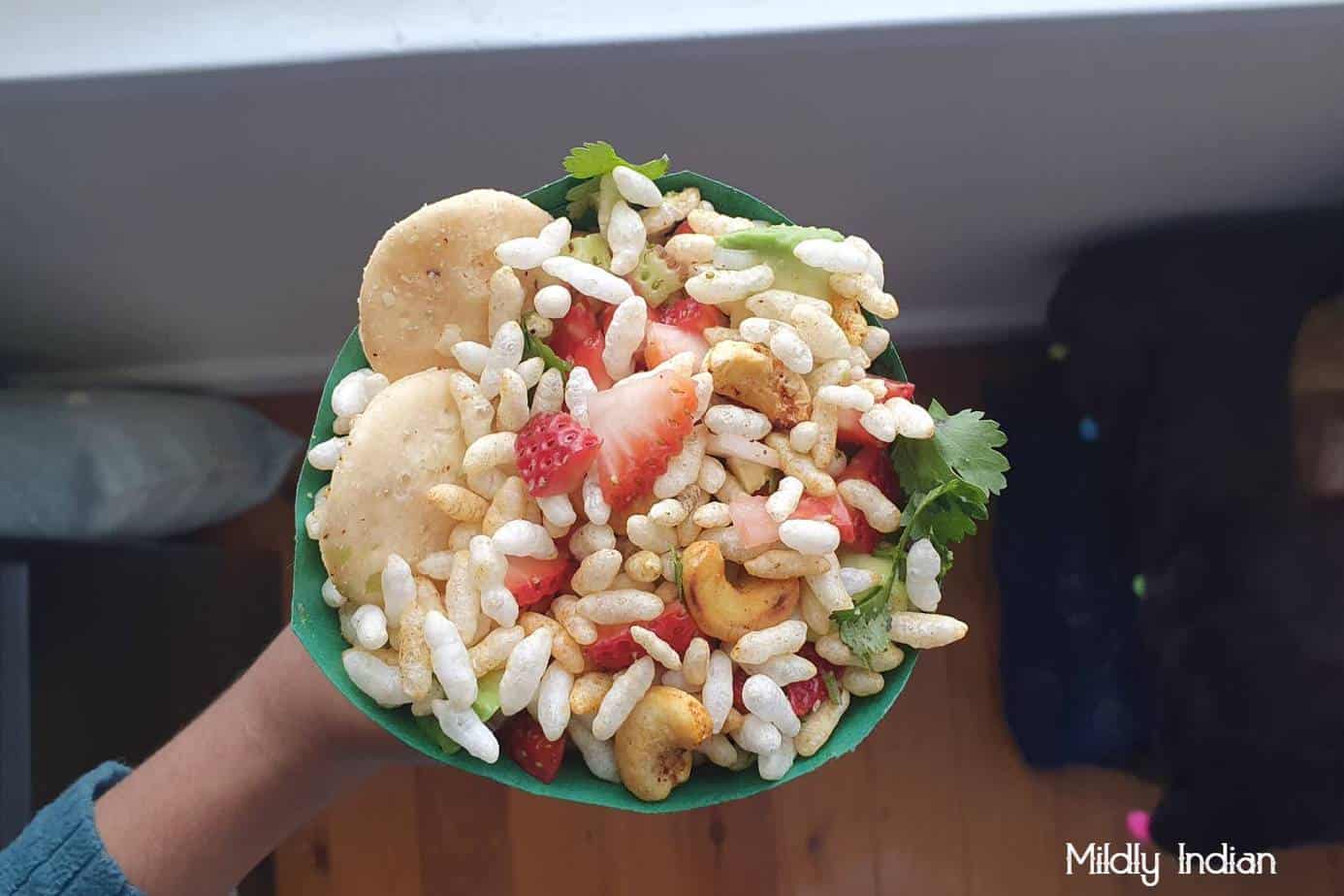 Strawberry Bhelpuri with avocado, chaat chutneys and puffed rice.
Sour strawberry bhelpuri is a quick and easy snack that puts a spin on the classic street snack -bhelpuri
Ingredients
1

cup

strawberry

diced.

1/2

medium

red onion

diced

1/2

avocado

diced

2

tbsp

coriander leaves

chopped

1

small

green chilli
for the bhelpuri mix
3

cups

rice bubbles

(murmura)

1/4

cup

sev

10-15

papdi

( crispy round crackers)

1/2

cup

cashewnuts

roasted
Dry masalas
1/4

tsp

anardhana powder

dried pomegranate seed powder

1

tbsp

chaat masala

1/4

tsp

roasted cumin powder

black salt

To adjust to taste
Chaat chutneys
1-2

tbsp

green chutney

1-2

tbsp

tamarind chutney

1/4

tsp

lime juice
Instructions
Wash clean and dice the starwberries, onion and chillies

Chop the coriander leaves, acoop out the avocado flesh and dice it too.

Add these into the mixing bowl, Sprinkle the dry masalas and chutneys with the lime juice.

Mix it all well together without mashing the avocados much.

Add the puffed rice, sev, papdi and the roasted cashewnuts.

Sprinkle the coriander leaves and give it another good toss.

Serve the bhelpuri immediately.
Notes
To serve the bhel in cones.
We have used green parchment paper to make our cones. Cut out a 3/4 of a circle and roll it out to form a come. Secure with some tape and fill in the bhelpuri.
Crispy puffed rice hack
If the rice bubbles ( puffed rice) is not crispy slightly roast them on low heat in a heavyweight pan. they turn out crispy. You can use a low heat oven to do the same, spreading it out on a sheet pan. 
The first batch of the strawberry bhelpuri was passed around so quick. I am so glad a lot of those strawberries have found a good use. That's two boxes done a few more to go. Hope you find this recipe interesting and will check out a few more of the chaat recipes we have on the blog
Pineapple  chaat
Masala papad with sprouted moth bean chaat.
Masala papad with sprouted moth bean chaat.
Stay on with us by subscribing to our site. Please leave your thoughts and comments in the discussion below. If you have tried out this recipe, do let us know the adaptations you made. We would love to hear from you.