Kondakadalai sundal or stir-fried chickpeas is a traditional spicy, vegan, South Indian recipe. Often prepared as a prasadam this sundal is made with tempered spices and fresh coconut to flavour the boiled chickpeas.
Inseparable Sundals and Navratri golu
Arranged in steps, the traditional figurines are mostly handed down from one generation to the next for bommaigolu. Each day a set of sundal, mixed rice and sweets are made to offer to the gods, then to the visitors.
There are a few reasons attributed to adding the sundal to the list of offerings.
First is the simplest form of stirfry that involves minimal cutting and chopping.
Secondly, Nutritionally superior lentils and beans as a snack are welcomed by the women and children who walk a long distance to visit these households.
The third is more interesting.
The nine celestial elements are together worshipped as navagraha. This, astronomical advancement of understanding the existence of the unknown baffles the common folks in an era where this could not be visualized. Hence they were introduced as deities. As a part of feeding the deities, the rich were encouraged to provide the charity with grains and beans that fed the poor and needy, through the temple. This attached certain local crops to the deity they worshipped. So by worshipping, the society devised a way to feed and look after all its members.
When putting the platter together for Navrathri, the sundals are often paired with flavoured rice and a dessert. Here is a useful Thali that you can easily put together– Naivedyam thali
Here is the list of navagrahas and their favourite beans and grains.
Sun – godhumbu, gehun ( wheat)
Moon –  arisi, chawal ( rice)
Mars -thovaram parippu, tur dal (pigeon pea)
Mercury- pasi parippu, mong(greengram)
Jupiter – kondakadali, channa (chickpeas)
Venus – mochai,  ( field beans)
Saturn-  ellu, till (sesame seeds)
Neptune (rahu) –  kollu ( horse gram )
Pluto – ulundhu, urad dal ( black gram)
With stories woven around these deities and food served to attach to the memories it was easier for the people to digest these complex, unimaginable ideas of space and time. When festivals revolve around these ideas, it becomes more joyous and less intimidating. Hence simple spiced sundals and sweets created with these made these festival gatherings exciting venues to exchange stories and theories woven into them.
The chickpeas for this  kondakadali sundal
Among all the popular sundals, stir-fried chickpeas always reign supreme. Earlier we had done the Andhra style Gugillu with Kabuli channa. When it comes to chickpea sundal in I prefer using the brown chickpeas ( kala channa). The skin is a little bit more firm than the thinner skin of the white large variety. Hence these chickpeas do not mash easily when cooked.
There are a couple of good recipes using this brown chickpea on this blog. Leaving the links here for your exploration
Kala channa chaat – Meal prep the chickpeas and a quick tasty chaat snack are ready in minimal time.
Sooka kala channa sabji – A dry sidedish preparation of spicy chickpeas coated in masala and with spinach.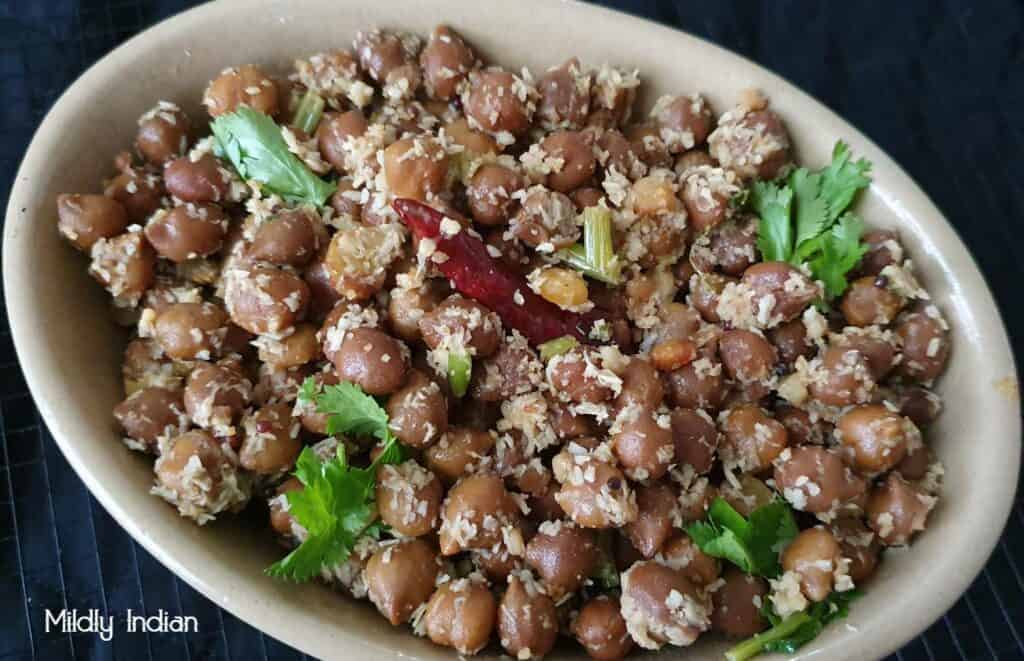 Kondakadalai sundal
Stirfried chickpeas with tempered spices and coconut is a delightful and healthy snack. Though not quite a looker, this recipe is vegan, glutenfree, protein rich and minimal oil.
Ingredients
For soaking the chickpeas
2

cups

drinking water

1/2

cup

chickpea

Brown chickpeas
To cook the chickpeas
2

cups

drinking water

1/2

teaspoon

salt
To make the sundal
1

tbsp

cooking oil

1/2

tsp

mustard

2

tablespoon

sundal podi

1/4

cup

grated coconut

1

dry red chilli
Instructions
Wash and soak the chickpeas for 8 hours.

Once soaked, drain the water and add fresh water.

Pressure cook ( or instant pot under high pressure) the chickpeas for 17 minutes.

Let the pressure release naturally.

Drain the cooked chickpeas and set it aside.

Into a frying pan add the oil and set on medium heat.

As the oil warms up add the mustard seeds, the urad dal, channa dal and the red chilli.

When the mustard crackles, add the cooked chickpeas and torn curry leaves.

Stirfry for a minute and add the grated coconut

Mix well and add the sundal podi and coriander leaves.

Transfer to a serving dish and serve warm.
Cooking hacks
Forgot to soak – Many times that last-minute thought doesn't work when you are planning to make sundals. This is because you will need to hydrate the beans and allow them to swell before cooking them. In case, you forgot to soak these chickpeas, here is something you can do. Pressure cook them for 10  minutes extra. This hack usually works if the channa is fresh. If slightly older the chickpea will be firmer and will need another round of pressure cooking ( 20 minutes )
More sundal recipes
Try out the whole variety of sundal recipes we have here for you when you are celebrating Navarathri.
Rajma sundal -This kidney bean salad recipe spiced with sundal podi has been a family favourite. 
Vellam payar sundal – Sweet sundal made with jaggery and adzuki bean is a nourishing dessert.
Guggillu – Spicy white chickpea cooked to the perfect softness and tempered delicately.
Pachapattani sundal – Running short of time? check out this frozen peas sundal hack.
Soybean sundal – Explore the use of soybeans in Indian cuisine through this useful snack recipe.
Navarathna sundal – Now that you know about navadhanya, check out this variation of a 9 bean salad.
Checked out our Youtube channel?
We are working on getting our youtube channel with more recipes and learning experiences. Here is one of our latest videos. Kindly encourage us by subscribing, liking and sharing the videos as well. Stay safe and keep in touch.
Do tag us #mildlyindian when you make this kondakadali sundal recipe and leave your thoughts in the discussion below. Here are two useful recipe collections if you are celebrating Navrathri.
We love to hear about your experience of making this recipe. Don't forget to share and subscribe to this blog.
Stay safe and keep in touch.