The super seed amaranth (rajgira) shows up Indian cooking for all the fasting (vrat) days. In fact, I salute whoever came up with this plan of ritualistic fasting. If you look at it, it is a great plan to bring in a variety of ingredients into your diet. It is at these times, a lot of grains, tubers and seeds that are commonly not used, gets added up to your diet providing the necessary mineral balance. Very often you see buckwheat, arrowroot, tapioca, chestnut etc replacing the regular carbs (rice or wheat ) during this fasting time.  Today we are making a filling cutlet with one of this pseudocereal, aloo ramdhana tikki.
What is ramdhana?
Ramdhana, rajgira or amaranth seeds is a gluten-free pseudocereal that you can add to your diet. Rajgira translated royal grain and ramdhana,  translated as gods grain. These seeds are from the amaranth plant, the leaves of which we have stir-fried as cheera thoran.  These tiny quinoa like seeds is usually ranging in colour from white to reddish-brown. These are cooked in water or milk to make a wonderful porridge it is also roasted and powdered. This has a nutty aroma and has about 14 grams of proteins in uncooked form. These are often used in ritualistic fasting recipes in India and as flour or candy in Mexican recipes. You can procure this from health stores or much cheaper at the Indian groceries.
Other ingredients for aloo ramdhana tikki.
Potatoes -since the flour has no binding gluten and needs a bit of volume adding carbs to it, potatoes or tubers are a great addition. I have used a good all-rounder potato for this recipe. You can swap the potatoes for sweet potatoes, tapioca or raw plantains.
Fenugreek leaves -this is not an absolute necessity in this recipe. The methi leaves give a classic Indian fragrance to the ramdhana cutlets. Use dry or fresh depending on what you have at hand.
Coriander leaves-the fresh herbs to add a vibrant flavour to the cutlets.
Spices or masalas- the cutlets need a bit of basic gentle spices to pep the flavour. Cumin is the leading flavour here. The details for the quantity of ingredients and the step by step guide to making these are at the end of this post.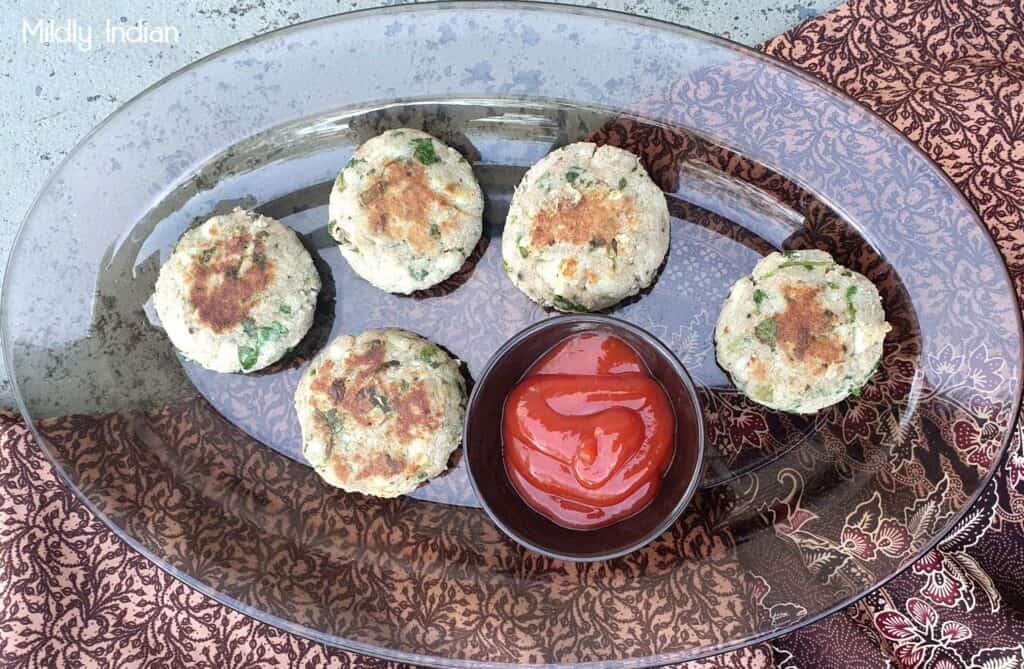 Cooking methods for these amaranth cutlets.
Roasting- the cutlets here have been roasted on a flat pan with minimal oil. It is a delicious way to crisp up the crumbs and ensure a soft centre. The roasted ones are perfect for the lunchbox too.
Baking- if you are making a large batch, it is far easier to bake the amaranth cutlets. It also ensures they are warm till it is time to serve.
Deep frying- if you are craving for extra crispy, dip these cutlets in a flour wash and a round of semolina, breadcrumbs or more ramdana flour. Then pat the excess off and deep fry in hot oil. It is best to serve these hot and fresh.
Serving ideas for these rajgira cutlets.
As cutlets – snacks, these amaranth cutlets are great healthy snacking ideas. With some dips, sliced salad veggies,  they transform into wholesome grazing platters.Add on the Kopra patties for a variation.
As chaat – break up these rajgira cutlets a bit and add to a bowl. Top it up with sweet chutney, green chutney and a tbsp of yogurt. then add on top, sev, chaat masala, black salt and red chilli powder. That I promise is a flavour bomb.
As a burger- use this aloo ramdhana tikki as the patty for your burger. Top up with lettuce and basic sauces to make the most sumptuous vegan burger. Often I swap out the cutlets for the kohlrabi in this schnitzel burger.
Chutneys and dips to pair the amaranth cutlets with.
Rajgira cutlets here are served with tomato ketchup. It actually tastes better with Indian style chutneys. Here are a few you can try. 
Aloo Amaranth tikki
Equipment
1 mixing bowls and spoons.

1 frying pan

1 turner

1 Knife

1 Cutting board
Ingredients
4

medium

potato

boiled

1

cup

amaranth flour

ramdhana / rajgira

2-3

tbsp

coriander leaves

(chopped fine ) dhaniya/ kothamalli

2-3

tbsp

fenugreek leaves

methi / menthiya keerai

1/2

tsp

Rock salt

sendha namak

1/2

tsp

roasted cumin powder

jeera powder

1/2

tsp

crushed black pepper

kali mirch
Instructions
Peel and mash the potatoes.

Add the amaranth flour, chopped methi, coriander leaves, cumin, black pepper and salt to the mashed potatoes.

Knead this mix into a smooth dough.

Divide lime sized portions of this dough and set it aside.

In a plate spread a bit more ramdhana flour.

Flatten the ball of dough between your palms and shape it a bit.

Dust this cutlet with the ramdhana flour.

Heat a flat pan and brush some oil on it.

Roast the cutlets a few at a time till they have brown specks on them and a delicious nutty aroma.

Serve warm with chutney or ketchup.
Collaborations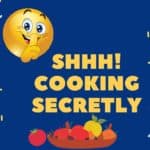 Stick to the seeds was the theme that Archana picked for us in the Shh cooking secretly challenge. The challenge sat perfectly in my zone of healthy eating. So when my partner Shobha, picked cumin and potatoes are the ingredients there was no looking back. The pack of ramdhana flour from my pantry had some good use with this recipe. If you haven't tried, Shobha's website, you absolutely should. It has a huge collection of fantastic recipes. 
Stay connected
As usual share your thoughts and experiences with this amaranth cutlets recipe in the comments below. If you happen to make this aloo ramdhana tikki recipe, don't forget to rate it.
Sign up for the free updates on new posts that come directly to your inbox. Don't forget, you can always stay in touch with us with our Facebook, Instagram, Twitter or YouTube accounts.
Stay safe and see you at the next post. Wish you a great holiday season with plenty of edible treats.