It hunted us down again!! We are set for another session of home iso, with lots of liquids and panadol. Coming to the rescue this time is barley water soup. It certainly caters for lots of liquids part providing just that nourishment during the time when the throat is sore.
What is barley water?
The strained liquid that results from cooking pearled barley in excess of water is barley water. This is an easily digestible refreshing source of hydration. Barley water is commonly consumed in humid Asian countries to beat the heat. It is also recommended to get relief from kidney stones, urinary tract infections and remove liver toxicity.
Which type of barley to use?
The barley grain is processed in stages. Based on how they are processed it is used in different cuisines.
Unhulled:  the whole barley grain, just cleaned and chaffed unhulled barley. To use this, you need to soak it for 24 hours to soften.
Pearled: the polished barley where the hull and the outer layer of the bran have been removed is pearled barley. This is easier to cook with no soaking needed.
I have used pearl barley to make barley water with a ratio of 1 part barley to 6 parts water.
Ingredients for this barley water soup
The barley water soup is a refreshing idea that I can up with as I am not a fan of lemon barley and needed to keep up the liquids for the iso.
Vegetables:  quick cooking vegetables that you can easily put together make this soup's flavour. I have used leeks, capsicum, spinach stalks and carrots here. You can add celery, shallots, cabbage, potatoes, swedes etc too to this soup.
Spices and seasoning:  salt and pepper is the only seasoning I have used here. Ginger would be nice in here too.
Barley water: the barley water was prepared using one part barley to 6 parts water. We used the barley to make a salad and the water to make soup.
The recipe card below has the images and step-by-step instructions to get the best-tasting barley water soup. hope you will like it. If you need to pin this for future use, do so directly onto your pin board from this recipe card.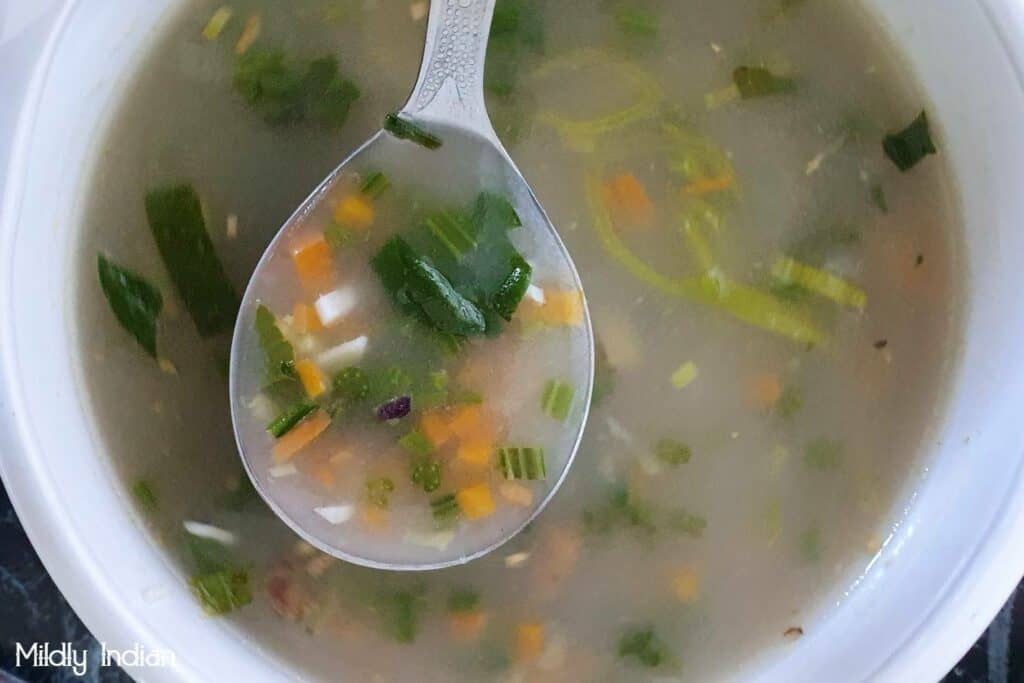 Barley water soup
A simple vegetable soup recipe made with barley water as the broth.
Ingredients
For barley water
1/2

cup

barley

pearl barley

3

cups

drinking water
for making the soup
1/2

tsp

coconut oil

2-3

cloves

garlic

crushed or chopped

2

inches

leeks

sliced thin ( if not use a bit of onion)

1/2

small

carrots

chopped small

1

handful

Spinach

palak, bok choy or any others that you may have .

salt to taste

crushed black pepper
Instructions
Wash and boil the barley with an excess of water.

Once the barley is cooked drain the barley grain and save the water.

Into the saucepan, add the coconut oil and crushed garlic.

Set this on low heat and saute till it is aromatic.

Now add the chopped vegetables and saute well.

When the vegetables soften, add the barley water and cook for 5 minutes.

Add salt and pepper to taste.

The soup is now ready to have.
What to serve with barley water soup?
Crusty bread at this moment when I have zero energy would do. If you feel lavish ghee croutons are what you should have with this. If you are a south Indian food lover, keep some vadam and vattal on the size as this soup will remind you of kanji a lot.
Other soups for the flu season
Flu busting soup   
Cabbage coconut soup
Corn quinoa soup
Broccoli peas soup
Cherry tomato soup
Barley water usage in other countries.
Roasted barley tea is a popular drink in Japanese culture. It is a robust flavour as the barley is dark roasted which is then steeped as tea.
Greek kykeon pounded barley (not powder) is cooked in excess of water and flavoured with penny royal. This is the post that I loved reading about this recipe.
Lemon barley is the British version of this drink, where there is a bit of lemon squeezed into the barley water to give it flavour. This is still recommended by doctors towards urinary tract infections.
Other grains are similarly used.
Kanji vellam the water drained from cooking matta rice in excess water is called kanji vellum. This is a household mid-morning drink in most south Indian houses (especially Kerala).  A pinch of salt is added and consumed warm. It functions like a light soup.
Soba soup while visiting Japan, a friend of mine introduced me to this. Freshly made soba noodles are cooked in water. The water gets thickened by the buckwheat and is then served as soup with some wasabi and bonito flakes. This was one of the most refreshing things to experience in Japanese cuisine without any hype attached to it.
Stay connected
If you are making this soup let us know if you liked it. Rate our recipe with a five-star rating along with your comment. We would love it if you would like to subscribe to the blog and enjoy and interact with us. Thank you for your continued support. See you in the next post.