Step away from the classic tomato soup and try out this creamy cherry tomato shorba. This no cream added tomato cashew soup, tamatar ka shorbha, is one that has us through tough days almost like giving us a warm hug.
This winter has decided not to be kind to us in any way. Back to back one of us is unwell. It certainly needs a relook at the immune system but for now, some nourishment is key. At present, the two who are not feeling great are both huge fans of tomato soup. This gives another opportunity to make a soothing warm familiar creamy tamatar ka shorba.
Ingredients to gather for this cherry tomato soup.
The shorba or soup is an aromatic flavourful classic Indian soup. Previously we had done a lauki shorba which was well received. Not so different, yet miles apart in flavour, this cherry tomato soup is soothing for cooler weather and sniffling noses.
Cherry tomatoes- in a nutshell, the cherry tomato is like a little burst of concentrated tomato flavour. At the same time, it is juicier and sweeter. This is why we choose cherry tomatoes when we are a bit unwell.
Cashews nuts- the creaminess of this soup comes from the cashews. You don't need a lot, but I won't advise skipping it. Soak them in water to swell and then blend them up for that creamy finish without any cream. There are a few swaps below in the FAQs you can try too.
Spices and herbs– classic to any Indian recipe are some spices. In this recipe, we use the bay leaf as the whole spice. In the powdered form, the classic garam masala, black pepper, and red chilli powder (optional) make most of the flavour. Just like any other soup, garlic and ginger give a familiar soup feeling. In the end, stir in the earthy fresh coriander leaves for balance and freshness.
Fats and oils– are not a huge bit but just a bit of ghee to fry the ingredients is needed. You can swap to any cooking oil to make a vegan version. if you don't have ghee, unsalted butter is fine to use for tamatar ka shorba.
How to make these cherry tomato soup?
The cherry tomato soup with Indian flavours is probably the easiest among blended soups.
Saute the aromatics- The key aromatics here are the spices and the ginger garlic paste. Und we lying all that is the ghee flavour. I use ghee for the shorba as it feels so comforting. Among the spices,  roast up the bay leaf to give fragrance to the soup. Then fry the ginger garlic paste. When you add cumin powder, black pepper, garam masala and a pinch of red chilli powder to this mix, the classic Indian aroma is guaranteed.
If you are looking to avoid garlic, no problem, use the ginger paste and add a pinch of asafoetida. There is anyway no onion used in this recipe.
Prep the soup base-The soup base is a quick blend of blanched cherry tomatoes and cashew nuts. Usually, I don't bother to remove the tomato peel. If you need to, it takes a few minutes extra, but so with the resultant creamy soup. The quicker other way is what I have done today. Blend the blanched cherry tomatoes and strain them first. Then add a small portion back and blend the cashews. Now mix them all together.
Serving the tamatar ka shorbha-  serve the cherry tomato soup topped with chopped coriander leaves. This adds yet another layer of classic Indian flavour.
The precise ingredient details and quantities are in this recipe card below. Don't forget to pin it for later use.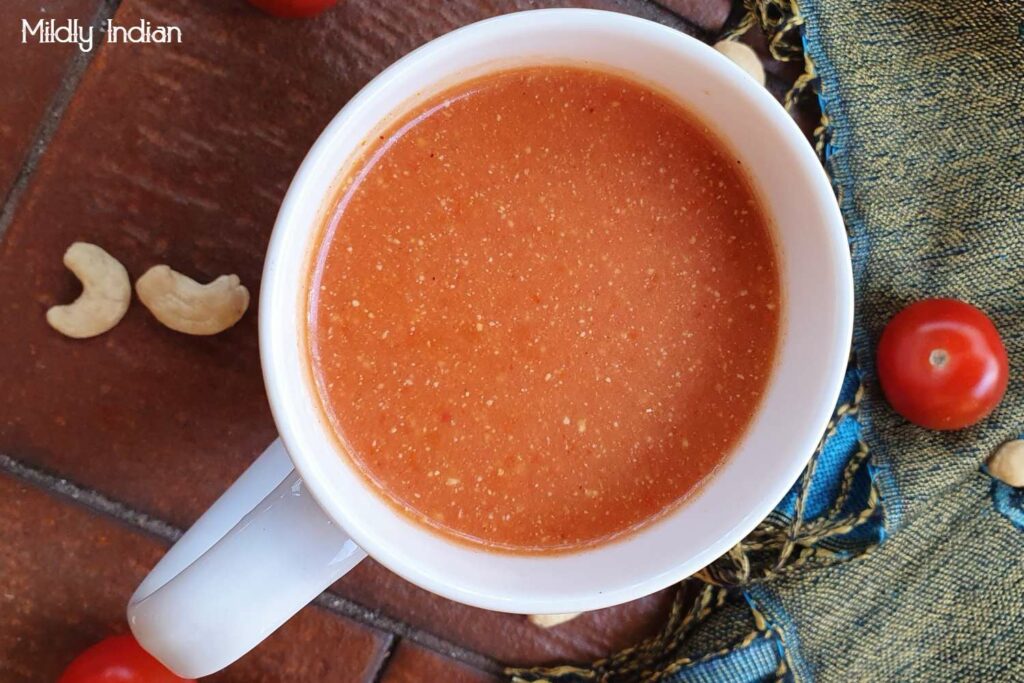 Cherry tomato Shorbha
Step away from the classic tomato soup and try out this creamy cherry tomato shorba. This no cream added tomato cashew soup is one that has us through tough days almost like giving us a warm hug.
Ingredients
for the spice mix.
1

tsp

ghee

1

bay leaf

1/2

tsp

roasted cumin powder

1/4

tsp

red chilli powder

1/4

tsp

garam masala

1/8

tsp

crushed black pepper
for soup base
1.5

cup

cherry tomatoes

10

cashew nuts

2

cup

water
to garnish
1

tbsp

coriander leaves

chopped
Instructions
Blend together the cherry tomatoes and cashewnuts to form a smooth paste. Use water to blend if necessary.

Set it aside till needed.

Into a deep pot, add the ghee, bayleaves, roasted cumin powder, red chilli powder, salt.

Set on medium heat and saute for a minute ( careful not to burn).

Add the blended soup mix and stir well.

Add enough water to thin out the soup and mix well.

Allow the soup to boil and thicken.

Stir in the coriander leaves and mix well.

Serve the soup hot with a slice of toast.
Frequently asked questions
Can we use canned tomatoes?
Oh yes, unflavoured canned tomatoes are perfectly OK. In this case, you can skip the blanching process and go directly to blending. Though the canned tomatoes have a distinct flavour the spices and the cashews make them taste far better. The colour of the soup is stronger with the canned than with the fresh cherry tomatoes.
What can we replace the cashews with?
If you don't have cashews, don't sweat, use a handful of any nuts you have at home. The taste will vary slightly, but overall, it will give the desired creaminess. So far,  I have tried macadamia nuts and almonds to replace the cashews. Let us know if you are trying other seeds or nuts. Earlier we had done a summertime no-cook tomato soup that used seeds to thicken. 
Do we need the stock to prep the soup base?
Tomato soups don't rely on a veg stock to flavour them. If you have some, you can add, I would rather keep it tomato!
What if the tomato soup is sour?
A small bit of jaggery or sugar helps you manage this situation. In our house, they like it a bit sour, so they can dunk in the toast! that takes off the sour feeling.
Serving ideas with the tamatar ka shorbha.
Paneer toast- this is our number one go with Indian shorbas. The flavour flows through and the soup- toast combo makes a filling winter night idea.
Cheese toastie- don't have paneer? go for a cheese toastie. You can add another layer of bread and make this a  sandwich perfect to dunk in too.
Croutons- need some crunch on the side? A few croutons will make the soup experience delightful or try the cheese straws.
What you serve with the soup is up to you. You can do the soup as an appetizer and follow up with the main course of biryani and sheek kebabs too.
Stay connected
Hope your soup experience is helpful for you either to get you better or to add up to a good meal. Let us know if this tamatar ka shorba recipe has been helpful for you in the comments. Rate the recipe as you make it, so we know what we can do better.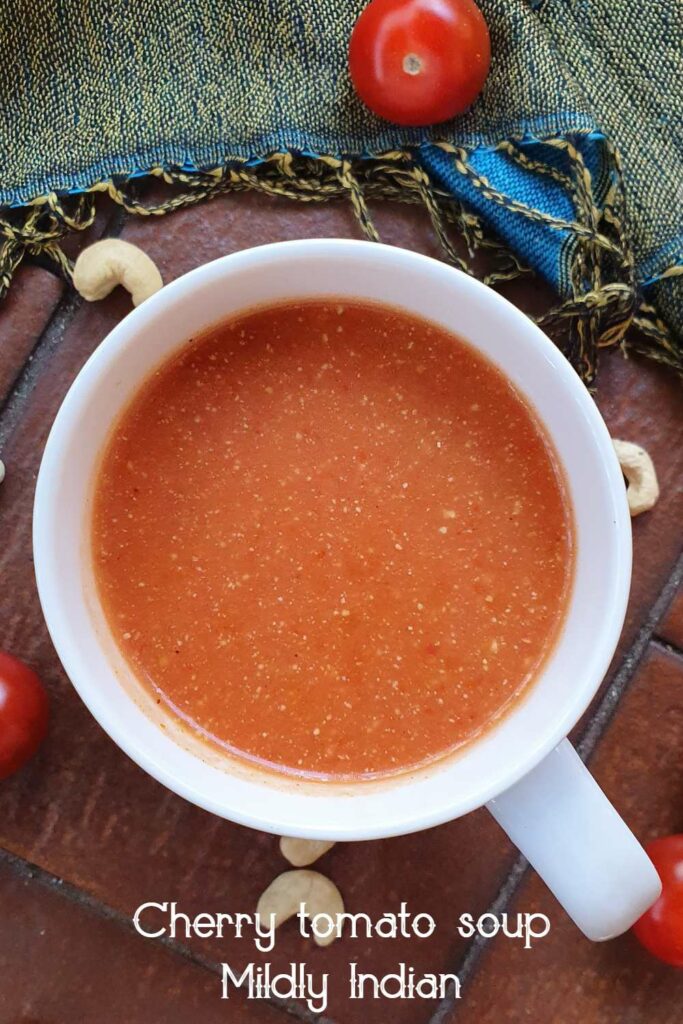 Since you have stopped by takeaway look at some other posts we have and our travel and cool brain ideas. We will be thrilled if you like to subscribe and receive our updates.
Thank you for being our support and see you back soon.