Enjoy a delightful yellow tomato salad bursting with summer flavour. Make it a celebration of your homegrown produce with this salad with the best citrus dressing. Make some, share some and enjoy the sun.
It certainly feels so special when your garden provides you with a few good summer produce. Since it is a rainy summer this year, we have planted a few tomatoes. One of the varieties we have is the yellow pear tomato instead of the cherry tomato. These are smaller and sweeter and sunshine yellow in colour. To our surprise, this started fruiting as most as soon as the first rains started. So here are showcasing this beautiful produce with summer fresh cabbages and cucumbers.
Ingredients for the easy summer salad
Yellow tomatoes: these are a variety of cherry tomatoes. They are sweet with a burst of that tomato flavour. You really don't have to go looking for these, cherry tomatoes or grape tomatoes will also do the job. If you have extra squishy ones, try our cherry tomato soup recipe.
Cabbage:  sweet and crunch cabbage forms the leafy base for this salad. It doesn't matter if it is the red cabbage or the sweet white one. You can swap this for lettuce, arugula or mesclun.
Cucumber: Lebanese cucumbers are the plain complement to yellow tomatoes. Since they are water laden, there are lovely to have during summer, especially in a salad.
Seeds: mix the crunch part is the one that makes the salads more appetising. My go-to mix is flax, chia, sesame seeds and hemp. Depending on what you have at hand, just go with the flow. Popped quinoa tastes brilliant in this salad.
Herbs: Herbs add a good freshness to any salad. Since we are picking up some from the garden we have spring onions, gotugola ( Brahmi) and mint from the garden. So today's batch pick-up goes right into the salad. You can add what you have at hand to brighten up the flavours. 
For the citrus vinaigrette.
Summer certainly is for those strong citrus flavours. This basic citrus vinaigrette has lemon zest, lemon juice, whole grain mustard, grated garlic and grated ginger along with salt. It has no oil added, you can add a teaspoon of olive oil if you like. Do you really need a dressing for this salad, maybe just lemon and salt will do, but it is far nicer with this basic lemon vinaigrette. Since we are using sweet tomatoes,  I have not added sugar or date syrup to them. If you are using this dressing for, say, coleslaw or basic garden salad mix, add a tsp of date syrup.
Putting together a meal
Option 1: The salad is actually a fantastic idea to serve at a BBQ or lunch. Make some crusty toast, and creamy cheese to add to a platter. Don't forget to keep some chocolate crackles for desserts
Option 2: Pop some vegetable sheek kebabs on the barbecue. Toast up some flatbreads. Whip up some cacik sauce and roll up a kind of Greek gyros.
Option 3: Keep light to follow up with a cold drink, like berry kombucha and then serve some chocolate dessert brownies to make it up.
The recipe card below carries step-by-step guidance to make this easy summer salad. You can directly pin this onto your board to make during the tomato season. Share with us how you feel making this recipe in the comments below with a rating of upto 5 stars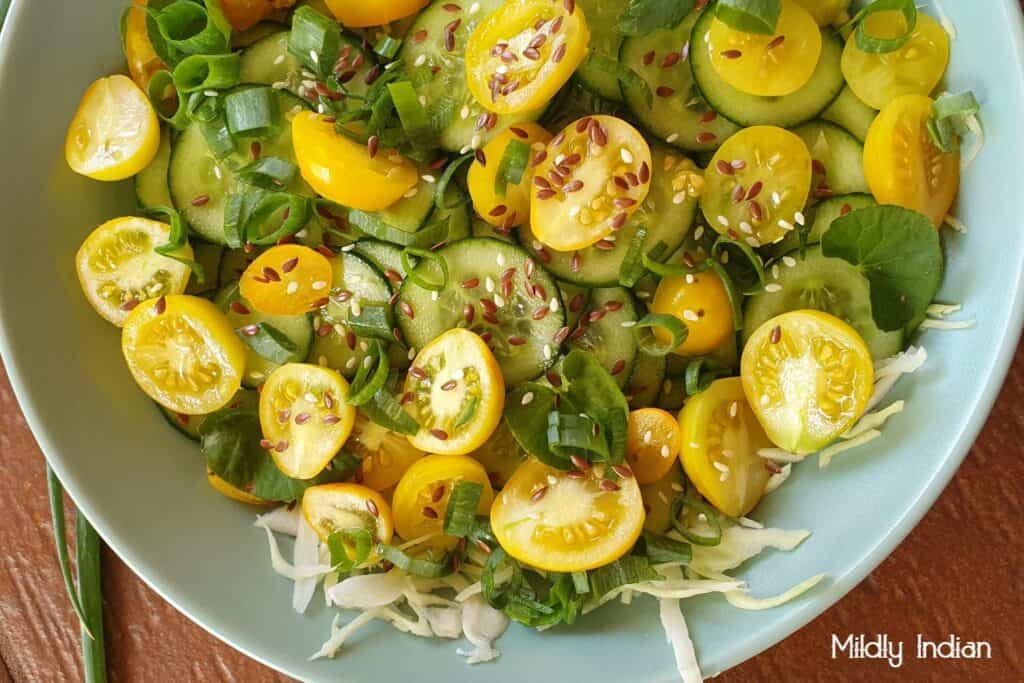 Yellow tomato salad
Enjoy a delightful yellow tomato salad bursting with summer flavour. Make it a celebration of your homegrown produce with this salad with the best citrus dressing. Make some, share some and enjoy the sun.
Equipment
Cutting board

Knife

mandolin slicer

mixing bowls and spoons.
Ingredients
15

small

cherry tomatoes

yellow or red.

1

cup

cabbage

shredded

2

mdium

cucumber

sliced

2-3

spring onions

10

leaves

indian pennywort

brahmi ( optional)

10

leaves

mint leaves

(optional)
seed mix
1

tbsp

flax seeds

1

tsp

Toasted sesame seeds

1

tsp

Hemp seeds
Instructions
Wash and slice the tomatoes.

Add it to the mixing bowl with shredded cabbage.

Slice the cucumber and add to the bowl.

Chop the herbs and add to the mixing bowl.

Add the citrus dressing and toss well.

Transfer to a serving dish and sprinkle the seed mix.

The salad is now ready to be served.
Stay connected
As a home gardener, I get very excited when I see produce come up and the garden active with bees and butterflies. These have an emotional connection to the fruits kind of a sense of joy in their own way. Try your green thumb, you didn't always have to get it right, but don't give up.
When you make this yellow tomato salad, whatever type of tomato hope you enjoy the experience. Let us know in the comments how you feel about it and rate the recipe. Don't forget the citrus dressing is perfect for kidney bean salad or edamame salad.
Stay with us for more, enjoy reading the blog and stay subscribed.