Be whatever season if you have fruit salad, you will find me there. Some summer the colourful fruit salad with lime mint dressing is a must.
As you would have noticed most salads on this blog also have an element of fruit in them which brings in a natural sweeter balance to them. In fact, I enjoy the sweet bite while having that lunch salad.
Between the rain-fed El Nino days and hot summer days, summer fruits seem the best option and currently fills up my fridge. So here it is the refreshingly simple summer fruit salad with lime mint dressing.
Key ingredients to a summer fruit salad
Fresh fruits the freshest best is what you need for this recipe.
Berries summer is full of yummy colourful berries. Try blackberries, strawberries, blueberries, raspberries, mulberries etc Add them in and enjoy the pop of flavour as you bite into it.
Stone fruits this is the season for peaches, nectarines, fresh apricots. They add colour and crunch to this recipe.
Citrus adds a few wedges of tangerines or mandarins. It is fun to bite into citrus in a summer fruit salad.
Don't forget honeydews, mangoes, melons, would all taste great. Simply wash, pat dry, remove skin if needed and chop them up. Have a free hand in this medley, mix and match the fruits to keep the fun going.
Let's make the honey mint glaze
Fruit salads really don't need much dressing up. Yet, the touch of lime, honey and mint coats them up to create a familiar yet complex nature to these simple fruit mixes. This honey mint glaze sets this summer fruit salad apart.
Lime
The juice and zest from half a lime are perfect to balance the sweet taste and the much-needed ingredient in any dressing.
Honey
Honey bring in the sweetness that coats the fruits and protects them from browning. If vegan uses agave nectar as it tastes best with this dressing.
Mint
Crushed mint leaves provide the summer fragrance to the dressing.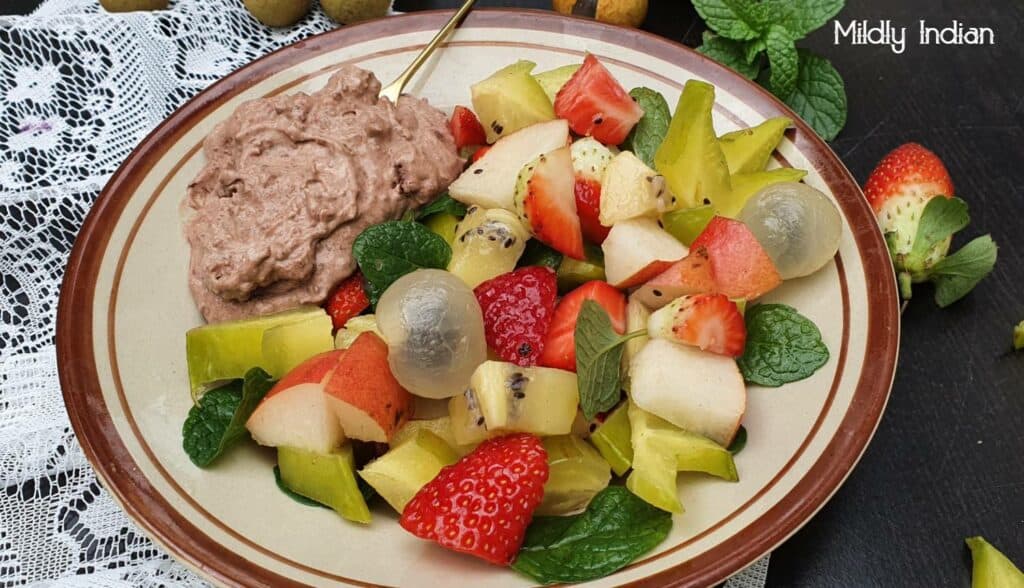 Summer fruit salad with honey mint glaze
Summer fruit salad with honey mint glaze is a refreshing idea for a BBQ, picnic or a simple summer eat. Enjoy the rainbow eating that is perfectly fresh and healthy.
Equipment
mixing bowls and spoons.

Knife

Cutting board
Ingredients
8

cups

fruits

mixed seasonal fruits, see the recipe notes for what I have I have used.
For the honey mint glaze
1

small

lime

zest and juice the lime.

1/4

cup

mint leaves

use chocolate mint or ornage mint if you can get some, they taste amazing.

3

tbsp

honey

locally sourced wild honey.
Instructions
Cut the fruits and add them to a mixing bowl.

Into a small bowl chop and add the chopped mint leaves, honey, zest of the lime and lime juice.

Pour this glaze over the fruits and toss well.

Keep covered and chilled.

Serve with chocolate tofu whip.
Notes
In this recipe, I have used strawberries, carambola, pears, nectarine, dragon fruit, longan, apples, mandarin slices and kiwis. 
You can add a wide variety of fruits like peaches, melons, watermelon, banana, lychees, mangoes etc too to this recipe.
Making it in advance
If you are putting the fruit salad ready for a crowd it will be necessary to prep it a bit earlier. Prep the fruits and add a few drops of lime juice. Toss the fruits well cover and refrigerate. This is what I will highly recommend preventing browning. When ready to serve add the dressing and toss again.
Saving the leftovers
Once the fruit salad has been opened, I really don't prefer to save it for later. This is because the fruits go soft and the salad loses its crunch. If you happen to have made some extra, freeze. Use the frozen ones to blend as a smoothie.
Or blend and save as popsicles to get through a heatwave.
Summer fruit salad for a picnic or beach day.
Fruit salads add a lot of colour to any entertaining meal. It is literally eating the rainbow. Rain or shine,  BBQ or picnic this summer fruit salad with a honey mint glaze will make it all come together. Hope you love making this version from the recipe card and pairing it with chocolate tofu whip.
Stay connected
When you make the summer fruit salad with honey mint glaze, let us know what you like about them in the comments. We are always all ears to hear your reviews, twists and turns. While you are here, do subscribe to get updates as regular as we can post them for you. Tag us @mildlyindian or #mildlyindian with your version of these recipes on all your social media accounts.
Wish you a happy healthy and colourful 2022!!