Serve the South Indian-flavoured leftover chappati mixture with a cup of coffee or tea for afternoon tea. Enjoy the break as you munch through the crunch! 
Over the weekend we had guests and we made a lot of chappatis for lunch. However,  some were leftover! Even if we reheat and use a bit there was more that wouldn't have been useful. What we lacked for the week to roll was some snacks. So how about leftover chappati mixture
What is a mixture?
That South Indian favourite snack to serve with filter coffee is a mixture. This is usually a deep-fried crispy snack very similar to chivda. Essentially it is a mix of a few different types of deep-fried items like boondi, peanuts, poha, curry leaves, sev etc that are mixed in with spices like red chillies, salt and hing (asafoetida) transforming the crunchy mix into a delectable snack.
How does leftover chappati make this recipe?
The boondi and the sev form the major part of a South Indian mixture. The thinly sliced chapatis when roasted over low heat, crisp up to replace these. Along with the added nuts and spices the chappati transformation is complete.
How to make low-oil crispy snacks?
When you are trying to make a low-oil crunchy snack, it is a deliberate transformation and let me tell you ahead, that you will miss the oil that you are used to. However, you don't have to sacrifice the crunch if you roast the ingredients well on low heat. This helps in your low-oil journey.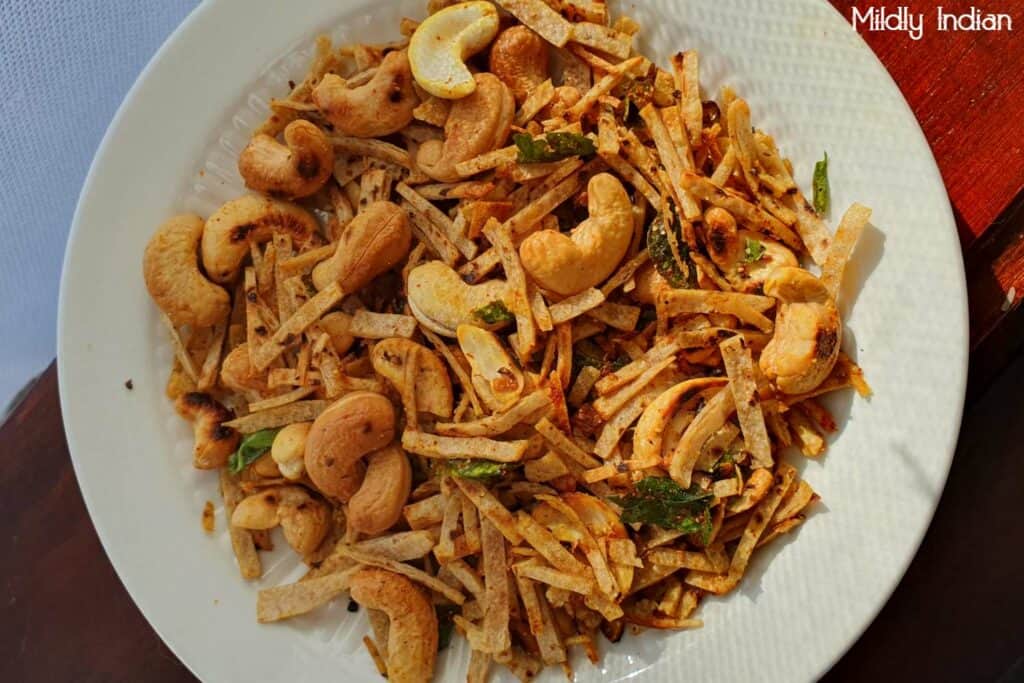 Ingredients for this mixture
Chapathi: Oil-free phulkas and chappatis are the ones that are best for this mixture. Thy crisp much faster and sy crisp than leaving any oil. You can use store-bought flour wraps or corn tortillas in place of chappati to make this recipe.
Nuts and seeds: You can add a variety of nuts and seeds to this mixture. We chose cashews, hemp seeds and flax seeds. You can have almonds, pecans, peanuts or pepitas in this too. 
Curry leaves: the flavour of the curry leaves is essential in the Indian mixture. Use the fresh ones if you have them, if not keep them dried as we have explained in the curry leaf tea recipe. 
Spices: along with salt, red chilli powder, and asafoetida bring that flavour to its best. the Chilli powder can be spicy or with Kashmiri chilli which is more like paprika. Check the variations in flavours we have discussed in the variations to the recipe to get more ideas.
Let's make a leftover chapati mixture
The recipe card below carries the step-by-step details to make this recipe, along with a click button to help you pin the recipe onto your board. Hope that comes in handy.
Leftover chappathi mixture
Equipment
frying pan

measuring cups and spoons
Ingredients
4

medium

chappati

1/4

cup

cashew nuts

2

tsp

flax seeds

2

tsp

Hemp seeds

salt to taste

1

tsp

cooking oil

cn use coconut oil

10

curry leaves

1

tsp

red chilli powder

1/4

tsp

Asafoetida
Instructions
Slice the chappathi into thin bits.

Dry roast them on a pan till crisp.

Remove and set aside and roast the cashews in the same pan.

Set aside and roast the flax seeds in the pan.

Remove the seeds from heat and to the pan add the oil to the pan.

Add hing to the pan along with curry leaves.

As they roast, add chilli powder.

Add the chappathi bits, seeds and nuts to the mix.

Sprinkle salt and mix well.

When cool store in an airtight container.
Variations to this recipe.
It is easy to create flavour variations with this mixture recipe
Mint flavour: while adding the spices to the teaspoon of oil, you can add dried mint instead of curry leaves to give a mint flavour to the chappathi mixture.
Garlic flavour roast some thinly sliced garlic cloves along with curry leaves in the oil. This gives a good garlic-flavoured mixture. On the other hand, you can use 1/4 teaspoon of garlic powder.
Other crispy snacks on this blog
Oats chevdo
Sweet aval pori
Jowar flakes mixture
Methi matri
Omapodi
Phuklein cookies
What else to do with leftover chappatis?
Chappathis being one of the most common in Indian homes, we do have leftovers. There are a few different creative ways to use them.
Usually, I use the leftover chappatis as wraps to have at lunch or crush them up to make vagerli roti. You can pulse them once they lose the moist feel and use them in place of breadcrumbs. The next best way is to shred them to make noodle-like stirfry.
Stay connected
Hope this interesting recipe puts all that chappati or phulka leftovers to good use. These leftover makeovers certainly help as jar snacks for a busy week. Let us know how you liked this recipe.