Have some pumpkin puree in the refrigerator? Check out this moist,  filled with pumpkin flavour and tastefully spiced savory pumpkin loaf!!
Pumpkins pumpkins pumpkins!!
It's pumpkins everywhere. My social media feeds are filled with sweet pumpkin recipes, that tempt me to bake some.
As I was removing the pumpkin puree from the refrigerator, the kids requested a savory recipe. Instant switch over. Let's make some savory loaf for tea and also use it later for some pumpkin soup. The idea sounded perfect in my head. So let's get baking.
Healthy savory pumpkin loaf ingredients
Pumpkin puree – Homemade roasted pumpkin puree was the best with this pumpkin bread. We had made a huge batch and saved it that came in handy with this recipe – Here is the link. We have tested the boiled puree which seemed to have less intensity of the pumpkin flavour and took a bit longer to cook. If you are using canned, look for the less sweet versions.
Whole wheat flour – We have actually used the Indian atta in this recipe. It is a fine ground wheat flour. It is a bit denser than the whole wheat flour used for baking. This is why it is important to sift the flour twice before mixing with the wet ingredients ( details in the recipe card below).
Chickpea flour – The chickpea flour provided depth to this savory pumpkin loaf. In fact it also helps the batter to come together as it is naturally sticky.
Spices- I have used a fair bit of spices in this recipe. For the spiced effect, there is red chilli powder, ginger powder and black pepper. The dried herbs that give the fragrance to this recipe are thyme, oregano and parsley.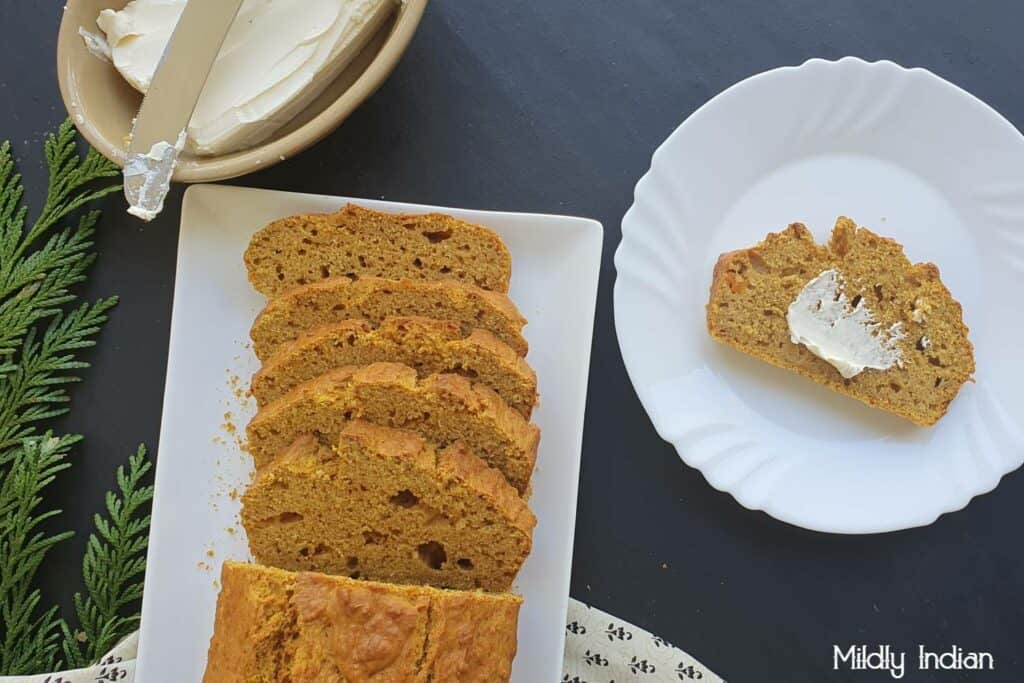 Spiced Pumpkin bread
Spiced Pumpkin bread is an perfectly balanced soft bread that you can use from breakfast to dinner.
Ingredients
Wet ingredient mix
2

tbsp

olive oil

3

small

eggs

1/2

tsp

salt

1/2

tsp

dried herbs

I used a mix of thyme, oregano and parsley

1/2

tsp

dry ginger powder

1

tsp

red chilli powder

can use paprika for colour and reduced heat.

1/2

tsp

crushed black pepper

1.5

cups

pumpkin puree
Dry ingredient mix
2

cup

whole wheat flour

( I have used Indian atta, see the post above for details)

2

tbsp

chickpea flour

Besan

1/2

tsp

baking soda

1/4

tsp

baking powder
Instructions
Preheat the oven to 180 degrees.

Grease and line a loaf tin and set it aside.

Into a large mixing bowl, add the eggs and oil and beat well till they are combined.

Add the spice powders and salt and give it a gentle mix.

Now add the pumpkin puree, gently mix it.

Sift the flour, chickpea flour with baking powder and baking soda.

Add this into the wet mix and give it a quick mix. Do not over mix.

Transfer this batter into the loaf tin.

Bake at 180 degrees for about 30 minutes ( check with a skewer if it comes clean)

Once baked, remove from the oven and cool on a wire rack.

Slice and serve after it has come to room temperature.
Lessons learnt from this Pumpkin bread – Protips
Excess browning if the loaf appears to be browning faster than you expected, cover the loaf with a foiled continue baking. this will stop the excess browning.
Cracking this is common in a loaf tin bake. I wouldn't worry about it.
If it bothers you, bake the batter in a round cake tin instead so the heat movement is more uniform.
Double Sifting the flour- double Sifting the whole wheat flour is absolutely essential to get the desired airiness to the loaf as the other ingredients are pretty dense too.
How to use this Pumpkin bread.
Sandwich – the cooled savory pumpkin loaf with a generous pat of cream cheese was exceptionally tasty. To construct the sandwich simply add sliced cucumbers, rocket leaves or some basic salad ingredients to for it like cucumber tea sandwiches.
With soup – the pumpkin loaf slices are so flavourful and add to the pumpkiness of roasted butternut squash soup. You could also try it with creamy lemon barley soup.
For breakfast-pumpkin bread toast with scrambled beans ,masala tofu and coffee sounds like a plan. I haven't tested it, but can surely say that they will make a great savoury breakfast together.
Panzanella- not much of the loaf was left, but the next day we recreated our classic Panzanella with pieces of this pumpkin loaf. Other ingredients were the same as in this panzanella recipe. The deep pumpkin flavours actually sat well with the ripe tomatoes and cucumbers.
So that's is it folks. Hope you have kept the stash of pumpkin puree ready as this loaf is something you will keep making.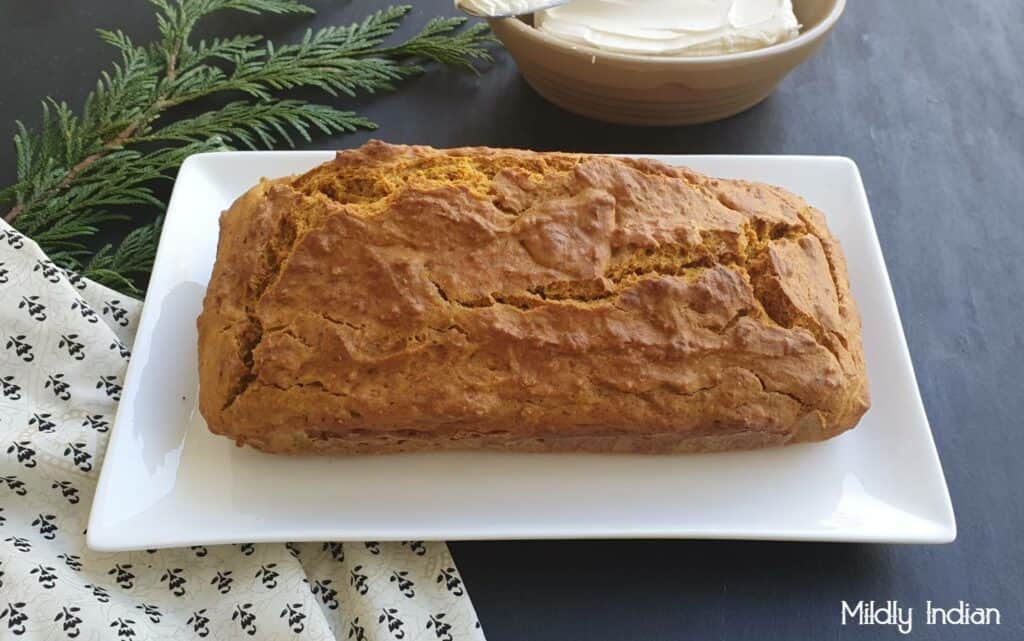 Happened to make a huge stash of Pumpkin puree? 
Here are a few recipes that you may want to save up to use the pumpkin puree. 
Pumpkin quesadilla – Adults and young alike love to have some soft, hot of the griddle quesadillas. Stuff them with pumpkin puree like we have in this recipe.
Roast pumpkin soup – nothing is more soothing than a batch of roast pumpkin soup. This is by far the best soup for our house and more so as it is not a heavy soup with a load of cream in it. 
Stay connected
We hope you will love to share with us your thoughts about or recipes and post. Take a moment to visit our youtube channel. Leaving you with our Facebook page  (click here) and Instagram (click here ) so you can take a peek. Don't forget to follow us as we update these to the best of our efforts. Subscribe, share, like and evermore come back
Stay safe and see you at the next post.