The cooling soothing raitha is one of the best picks for the spicy indian food platter. Apart from the commonly known Cucumber raitha or the mixed vegetable raita, there are a great many regional varieties that we successfully keep hidden as family recipes. This babalimas raita is one such.
Spicing the yogurt.
Spicing the yogurt brings in a lot of flavour to the combination which can then be used as a dressing or as raita.
The flavour of the raita is clearly determined by the way the yogurt will be spiced. Most of the raitas that are served with pulao and biriyani have spice powders like chaat masala, roasted cumin powder and red chilli powder whisked into the yogurt. To this mix, the fruit or the vegetable is added. When pairing with a south Indian meal there is a mix of sizzling mustard, cumin, chillies, ginger and curry leaves that are added to the raita. This is popularly called Pachadi ( or kichadi).
What makes this spiced yogurt recipe better?
Using citrus elements with yogurt is slightly tricky as the yogurt can become very sour and not very pleasant to have. This balance and perfection can be achieved easily by a few tips and tricks along with the recipe from the recipe card.
The pomelo arils – The white membrane that adheres to the pomelo segments is the bitter part. Once we completely ( a bit time consuming) remove this the raita certainly tastes far better. Sperate out the arils as much as possible. This helps to coat the little bubbles of juice with the spicy dressing as well.
Thickness of the yogurt – The yogurt will not coat well if you have a very running yogurt. this will leave clumps of pomegranate and the yogurt separated. at the same time, you don't want hung yogurt as it becomes too thick. So a natural set or Greek yogurt works well in this recipe. You don't need a flavoured yogurt too as you are going to spice it.
Herbs to choose– Usually I go for mint and coriander for the raita recipes as they pair better with most of the mains. You could try chives here as they taste well together in a pomelo salad. The details of ingredients and their measurements are in this recipe card. You could also save it directly into your pinboard from here.
Bablimas raita - Spiced yogurt with pomelo.
A refreshing twist to the raita collection is the slightly sweet one with pomelo.
Ingredients
For the spiced yogurt
1

cup

low fat yogurt

whisked

1/4

tsp

chaat masala

1/8

tsp

salt

adjust to taste

1/4

tsp

red chilli powder

1/4

tsp

roasted cumin powder
Fruit and herbs.
1/2

cup

pomelo

peeled and cleaned

1

tsp

coriander leaves

chopped

1/2

tsp

mint leaves

chopped
Instructions
To prepare the spiced yogurt.
Into a bowl add the yogurt, salt, cumin powder, chaat masala, red chilli powder.

Whisk this mix together till they are a smooth.

Set it aside till needed.
The fruit and herb addition.
Peel and separate the arils of pomelo and remove all the white membrane.

Add this to the spiced yogurt mix.

Add the mint and coriander leaves also to the spiced yogurt and mix.
To garnish
Transfer the raita to a serving dish.

Sprinkle the red chilli powder diagonally in a line.

Sprinkle chaat powder diagonally in the opposite direction creating diamond shapes in teh centre.

Place a bit of the pomelo arils in teh centre of each diamond design.

Chill the raita till serving time.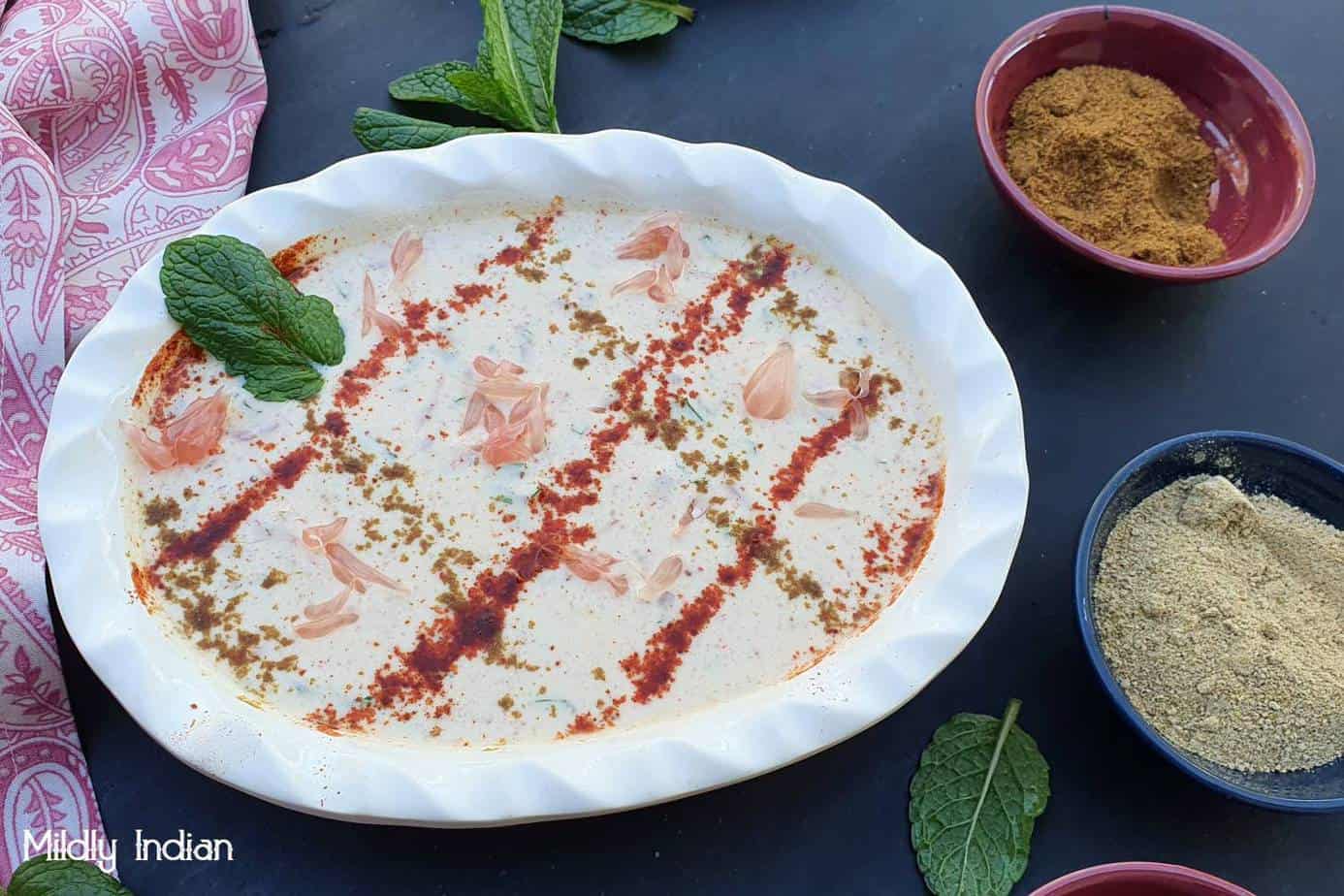 Best to pair this recipe with.
The spiced yogurt recipes are ones that you commonly see paired with everything in Indian cuisines. We have combinations that work best with certain dishes than others. In the case of this bablimas raita, it is the slight sweetness that you have to take into account when you pair this raita. Yet unlike the shahi kele ki raita this is not extra creamy and has the citrus flavour to it. Whole choosing dishes to pair with it, you have to keep in mind that you need one that will not clash with the flavours.
Here are a few mains I will pair with this spiced yogurt.
Mixed vegetable pulao
Young jackfruit biriyani
Bhindi pulao
Sattu ke parathe
Aloo paratha
I will not pair this recipe with peas and lemon pulao as their variation of citrus will conflict or pair it with kalonji pulao as the kalonji flavour will not go with the pomelo.
More pomelo recipes?
We are crazy about pomelos so here are a couple more recipes you can try
Chakotara chaat
Kambli naranga achar
Sensational citrus punch
Hope you enjoy making this recipe. Do share with us what you thought about this unique raita recipe. Subscribe to get regular updates on such unique recipes. Tag us @mildlyindian or # mildlyindian when you pair this raita at your Indian dinner platter.