Try out this mildly spicy bottlegourd curry with garlic and onion base. Paired with soft flatbreads, this low calorie lasuni lauki ki sabji is a nutritious, water-laden recipe that is vegan and gluten-free.
Lauki or bottle gourd is not one of the vegetables that come as a favourite in many households. Yet this low-calorie vegetable is an excellent water-rich, nutritious  vegetable. Moreover, it is one of the easily available Indian/Asian vegetables. This lasuni lauki ki sabji has over the years evolved as one that my husband and I enjoy as a part of our meal.
Understanding bottle gourd
In Indian names, lauki, sorakkai, dudhi or giya are all names of this soft cooking vegetable. In English, it is often referred to as opo-squash, calabash or bottlegourd. It is a popular vegetable that you will find in Indian or Asian grocery stores. With the characteristic long bottle shape, the pale green skin is a hardy vegetable that stays with little refrigeration. Bottle gourd is an easy vegetable to handle. While buying one, look for a blemish-free skin and that it doesn't dip when you press gently.  Look for an evenly long bottle gourd. Slice off the top and bottom and peel the skin evenly. Slice into roundlets. scoop out the seeds and the spongy centres ( with a little bit of experience, you will be able to just remove the seeds as the rest is edible). The rest of the bottle gourd is the one we use to cook. 
What does bottle gourd taste like?
As such bottlegourd is a bland vegetable. It releases a lot of water upon grating and cooking as it is 90 per cent water. When we made lauki shorba earlier, we just chose to flavour it with just gently spices. So the vegetable takes up the flavours that you add to it. Since it doesn't make a thick gravy, the vegetable is often not a favourite. Nevertheless, it is a very flavourful soft cooking vegetable, so don't hesitate to try it out.
Ingredients for this  lasuni lauki ki sabji
The recipe for this Lasuni lauki ki sabji is very simple. The main feature is the bottle gourd. Since this has not had much flavour, to it the added spices bring in a lot of variety and flavour to the dish. This recipe is a variation of dudhi chi baaji.
Lauki- the choicest vegetable for this recipe is certainly the bottle gourds. If these are not available, you can make this recipe with tinda, wintemelon or even watermelon rind.
The spices – Along with the regular, turmeric, salt and red chilli powder the main flavour giving spice mix is the Goda masala ( click here to make some). The way gentle spices from goda masala flavour this dish is amazing. The recipe borders on dudhi chi baaji, yet is not the sweet flavoured one. 
The allium addition – Lasuni lauki is incomplete without loads of garlic. I have added just a bit of red onions slices to the recipe. These together add a fabulous flavour with the goda masala to this lauki ki sabji. 
The herbs- typical to most Indian curries the fresh coriander leaves stirred in at the last minute add a refreshing flavour to the recipe.
The recipe card below details the step by step process to achieve this bottle gourd curry with ease. Pin it from this recipe card for your future use or make it right away.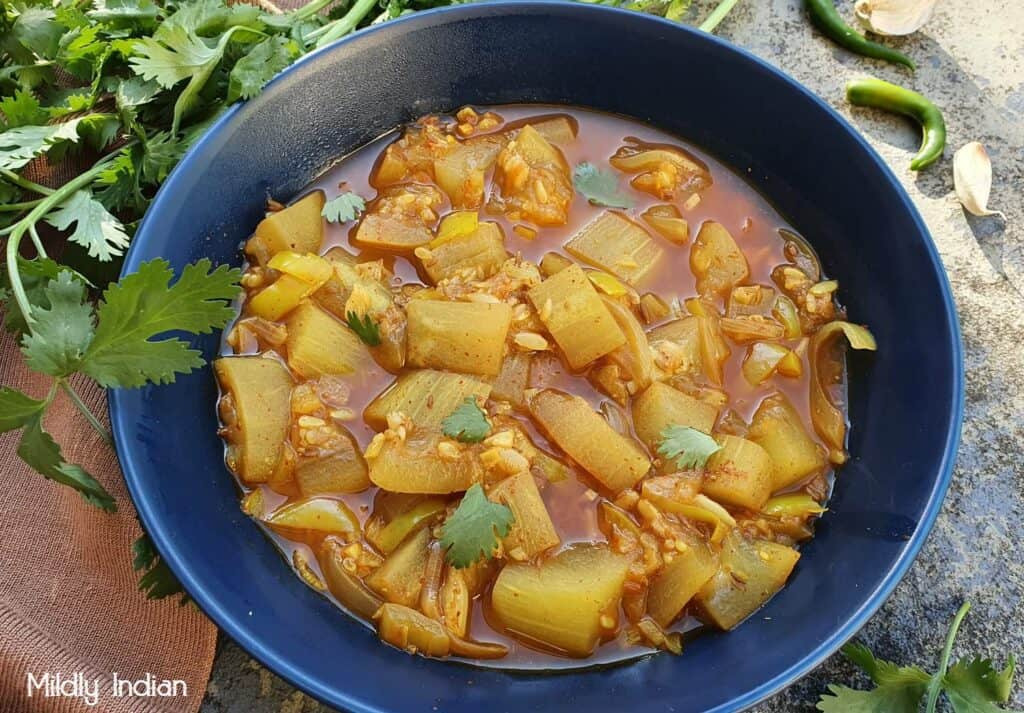 Lasuni Lauki ki sabji
Equipment
Cutting board

Knife

ladle
Ingredients
2.5

cup

Bottle gourd

cleaned and diced.

1

tbsp

cooking oil

1

tsp

cumin seeds

1

medium

green chilli

slit

1

medium

bull horn pepper

yellow, red or green.

4-6

cloves

garlic

minced

1/2

inch

fresh ginger root

1

small

red onion

peeled and sliced thin

1/2

cup

drinking water
Spices
1/2

tsp

turmeric powder

1

tbsp

goda masala

3/4

tsp

red chili powder

salt to taste

1

pinch

Asafoetida
Garnish
1

tbsp

coriander leaves

chopped.
Instructions
Wash and peel the bottle gourd and cut it into chunks. Set it aside till needed.

Slice the onions, green chilli, bull horn pepper and set it aside.

Peel and crush the garlic pods, mince them fine. mince the ginger as well. Keep it aside till needed.

Into a deep pot or kadai add the oil and cumin seeds.

Add the garlic, ginger, onions, green chilli and bull horn pepper and saute till they are aromatic.

Add the salt, turmeric powder, red chilli powder, goda masala and mix well.

Add the bottlegourd chunks and mix well.

Cover and cook for 7to 10 minutes.

Once the bottle gourd looks glassy, add the asafoetida and coriander leaves.

Mix well and cover and cook for another 2-3 minutes.

Remove from heat and serve the curry hot with rotis or rice.
Pairing this bottlegourd curry right
The basic bottlegourd curry is best with steamed rice or millets and masala papad on the side. When making a thali, add channa salad and sweet potato kheer to this mix. If pairing with a paratha try a Stuffed cabbage jowar paratha or the dal paratha to balance out this watery curry.
Collaboration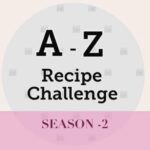 The lasuni lauki ki sabji is my pick for the A to Z season 2, ingredients with Hindi series. It has been a good journey so far with this season as we have been able to showcase some classic Indian dishes through them. The last couple of recipes that received great reviews is here.
Khatti meeti kaddhu
Jeera aloo
Imli ki goli
Stay connected
We hope you will love to share with us your thoughts about recipes and posts. Take a moment to visit our youtube channel Leaving you with our Facebook page  (click here) and Instagram (click here ) so you can take a peek. Don't forget to follow us as we update these to the best of our efforts. Subscribe, share, like and evermore come back
Stay safe and see you at the next post.