Try out this mildly spicy curry made with spinach and cottage cheese. Palak paneer is a classic Indian dish, vegetarian, gluten-free that adds green goodness to your dinner in under 25 minutes. Are you ready?
Classic Indian dishes are everlasting. They are timeless, ageless and always a super hit. This is why they are restaurant favourites around the world. Palak paneer is that one Indian gravy that you will see relished easily. Firstly,  it is not spicy. Secondly, it makes sense to a lot more people without having to explain the nuances of an Indian curry, as it has two visible elements spinach (palak) and cheese (paneer).
What type of spinach is palak?
Palak is essentially English spinach. The tender smaller leaves make it into the salad bags where the long soft leaves get sold as bunches. The key point with this spinach is the soft and creamy texture upon blending and cooking. These also keep their green cour much better than some other types of leafy greens. This is the same green we have used in the stirfry with lotus root and to blend into spinach avocado phulkas.
It is fine to use the salad spinach leaves though you may need a couple of bags as they shrink a lot upon heating.
While picking a bunch of palak, ensure that there are plenty of leaves than the stalk. The stalk is fibrous and not the best in this recipe. Wash the batch thoroughly as mud tends to cling to this green variety.
Understanding paneer
Paneer is pressed cottage cheese. This fresh cheese is one of the favourites in Indian cuisine. Prepared by curdling cow (buffalo) milk with an acidifying agent like lemon juice or vinegar this is a mild, rennet-free cheese. It is not aged or matured but rather had as soon as it is made for the best flavour. Eat fresh or cooked the cheese holds its shape. It stays good on grating, grilling, sauteing roasting and deep frying. We love this paneer cheese as paneer tikki sandwiches and palak paneer.
Let's get some palak paneer ready
When we are making palak paneer at home we are aiming for a vibrant green smooth gravy with cheese pieces in it (plenty of it), not a dull brown restaurant-coloured gravy that is loaded more with tomato puree. So let's get started.
Palak – Once the leaves are separated, wash the leaves thoroughly. Then quick dunk in boiling water will wilt the leaves. remove the leaves and blend them smooth. Set aside till you are ready to cook.
Paneer -If store-bought, wash the paneer well.  Cut the paneer into cubes and set aside to cook later.
Onions and garlic- The curry base is predominantly made with Onions which gives thickness and curry flavour to the base.
Nuts- The creaminess of the curry comes from two parts. the cashews that get cooked in and the milk and dairy. Since it is a home-style paneer palak we are making today, it is the cashews that take more presence than the cream.
Dairy- Palak paneer gets cooked in a couple of different ways. I love the version that is cooked in milk and a touch of cream is added at the end. This is the method I have in the recipe card below for you. For the milk, full cream is most preferred. For the cream, choose cooking cream. The whipped cream is not suitable. 
Spices- the curry is gently spiced allowing the spinach and the paneer to shine. The spices used are salt, garam masala and green chilli ( optional). Keep the garam masala to a minimal amount so the curry stays green yet aromatic.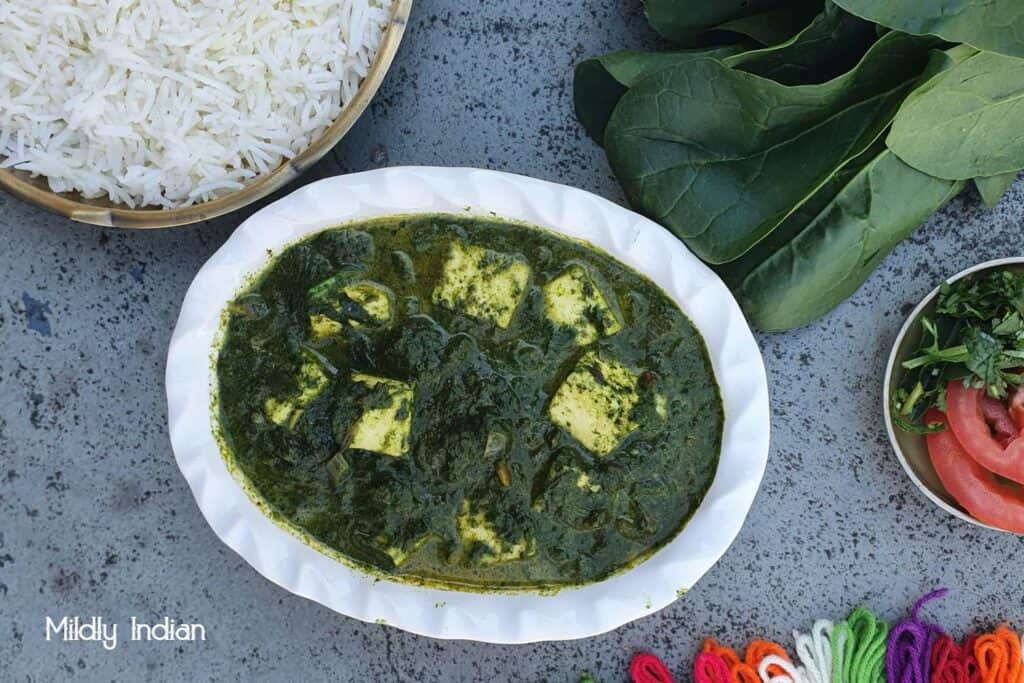 Palak paneer
Equipment
Kadai

blender

Cutting board

Knife
Ingredients
To blanch
2

bunches

spinach

about 400 grams

3

cups

Water
To blend together
1

small

tomato

1

green chilli

i used serrano

3-4

cloves

garlic

1

inch

fresh ginger root
To saute and cook
1

tbsp

oil

1

medium

onion

1

tsp

garam masala powder

salt to taste

1/2

cup

milk
to finish the dish
250

grams

paneer / cottage cheese

cut into cubes

3

tablespoon

heavy cream
Instructions
Wash and clean the spinach.

Boil the water and blanch the spinach till it turns limp and bright green.

Drain and set the spinach to cool a bit.

Blend the spinach with chopped tomato, chilli, garlic and ginger into a smooth paste.

Finely chop the onion and set it aside.

Into the khadai, add the oil and heat it up gently.

Add the chopped onion and let it saute.

Once the onion is translucent, add the pureed spinach and mix well.

To this add garam masala and cook slowly till they come together well.

Add the milk to thin the curry base.

As it bubbles add the cubes of paneer and let it simmer.

Once the palak tastes cooked, adjust the salt and remove it from heat.

Mix the heavy cream and stir well.

The palak paneer is now ready to be served.
Can we use frozen spinach?
Absolute yes! These are lifesavers when you want to put a quick meal on the table. You will have to defrost it and blend it with a bit of warm water and cashews to get the texture perfect.
Is palak panner and saag paneer same?
This is one that confuses a lot of people. Saag is leafy green whereas the type of green is non-specified. So saag paneer can be with methi, palak, mustard greens or any other variety. It is a preparation slightly thicker than palak paneer. There is no added cream, milk or cashews in this saag paneer preparation. As you have seen in palak panner the creaminess is a big hit.
Serving the palak paneer
Meal platters-Hands down palak paneer with butter naan is the best combo. However, have it with steamed rice, kalonji pulao, masala roti or stuffed paratha it all tastes fabulous. Since it is a mildly spicy gravy,  serve a side of Indian pickle or laccha pyaaz salad for spice lovers.
Leftovers- Leftover palak paneer makes a very happy curry bun prep for our lunch boxes. Stuff the rest of the creamy thick palak paneer into a ramekin, top with puff pastry and bake for the best kind of pot pie.
Meal prep the palak paneer
The palak paneer stays so good for s week in the fridge. So, a big yes to adding this mildly spicy curry to your meal prep list. Freeze and thaw work well too. However, the vibrant green is slightly reduced to a dull green upon reheating. Still tastes amazing.
Stay connected
However much you try to stay away, palak paneer is a prep you cannot really stay away from once you have tasted it. It appeals to a lot more tastebuds as it is a mildly spicy curry and is a great way to initiate kids to Indian cuisine. Serve the cheese bits on the side for the first-timers. Let us know if our recipe worked well for you. Rate us based on your experience in the comment section. If you had any issues making it, reach out to @mildlyindian or through Facebook so we can see if we can help you out a bit better.
Thank you for sharing, staying on and encouraging us to go on for 8 years and counting. Subscribe if you haven't already as we are soon heading into the 9th year.
Collaboration
This recipe has been posted in conjunction with A -z recipe challenge group as we work through ingredients in Hindi. So, the palak and paneer both qualify in this recipe. Enjoy!!