Ready to enjoy a unique grain, teff in payasam form?  Get your cups ready this onam for a gluten-free, mineral-rich, teff payasam.
When festivals fall on a weekday they do not get the dues credit to be celebrated with the same vigour. The same again happens when the children are not going to be at home. For this onam, we are in one of the above said moments so we fast-forwarded it a bit and had our share of payasam a week earlier. What did we make? Teff payasam of course!
What is teff?
Teff is a tiny ( really tiny) grass seed. Scientifically, Eragrostis tef,  is of Ethiopian origin and known as love grass. Rich in phosphorus and manganese this comes in a variety of colours from light to dark brown. Teff gained popularity as a gluten-free grain and can be a bit expensive to purchase. Though not any strong flavour, teff has an earthy, nutty aroma when roasted and cooks to a creamy perfection upon cooking. Teff is commonly used in porridges, to make injera bread and teff flour in cookies. 
How does teff incorporate into Indian cuisine?
With a rustic earthy flavour that is subtle,  teff is easy to adapt to Indian cuisine. You can use this in kichadi, porridge or soups as it cooks to a creamy softness. Teff flour can be made into bread or dosas.
We have earlier added teff to our butternut soup recipe to provide thickness and as a filling option for a meal.
Dietary profile of teff payasam
Teff payasam is a gluten-free, nut-free dessert. However, it is not vegan. To make the payasam vegan see the notes below.
Ingredients and substitutions
A few different ingredients go into making this payasam, However, compared to a long slog prathaman, this payasam is far simpler. 
Teff: The tiny grains of teff are available in the grocery store aisles here. A small pack actually comes for a very long time and it increases in volume upon cooking. Wash and sieve using a cheesecloth so that the seeds don't get filtered out. Add these seeds to a thick-bottomed wok and roast them on low heat. This brings out that nutty aroma of the teff. Further, this can be cooked with double the quantity of water to a soft consistency.
Jaggery: The airdried sugarcane juice makes jaggery. The jaggery cubes are dissolved back in drinking water and slow-boiled to form a thick syrup almost like golden syrup. This is the sweetener used in making this teff payasam. It is a bit of prep work, however, it results in a tasty payasam. You can use palm jaggery, gulamelaka or piloncillo in place of this sugar cane jaggery. 
Cardamom: Green cardamom pods are added to a lot of Indian desserts. The pods are peeled and the seeds are powdered to use in this dessert. You can powder small quantities of these seeds with rice grains or a bit of sugar to add volume to the grin. However, it is easy to grind it on its own using a mortar and pestle. 
Milk: I have used cow's milk to make this payasam typical of most paal payasams in Kerala. Usually, we use full cream milk to achieve that creamy texture. However, in teff payasam, you can use low-fat or skim milk as the cooked teff is creamy already. Among plant milks, oat and coconut milk give the best results.
Coconut: That roasted coconut topping adds an enhanced layer of Kerala flavour and crunch to this fusion dessert. Roast in ghee or coconut oil depending on your dietary needs. slow roast the coconut till it becomes golden brown and then add to the payasam. 
Let's make teff payasam
Teff payasam has a few steps to get it all together.
Make the jaggery syrup: soak the jaggery in water and slowly boil to make a thick syrup. The consistency of this is similar to maple syrup. Usually, we strain the syrup and keep it refrigerated in a bottle to use during festival seasons.
Cook the teff: teff is an easy seed to cook. However, the best flavour of teff is when it is roasted. In a dry pan roast the teff till you start hearing faint pops. Remove from heat and set it aside. Bring water to a boil, add the teff and cook with constant stirring till it looks creamy.
Bring it all together for the payasam: add the milk into the saucepan. To this stir in the cooked teff and ensure it is lump free. Let this start boiling. Now add jaggery syrup and simmer further till they all come together. Add the powdered green cardamom towards the end of the cooking process.
Chef tip:  Do not boil vigorously after adding milk to jaggery as it will split the milk.
Toppings: Toast coconut in a bit of ghee till it starts becoming golden. Add this to the simmering payasam and mix it well.
Remove the payasam from heat and it is now ready to serve.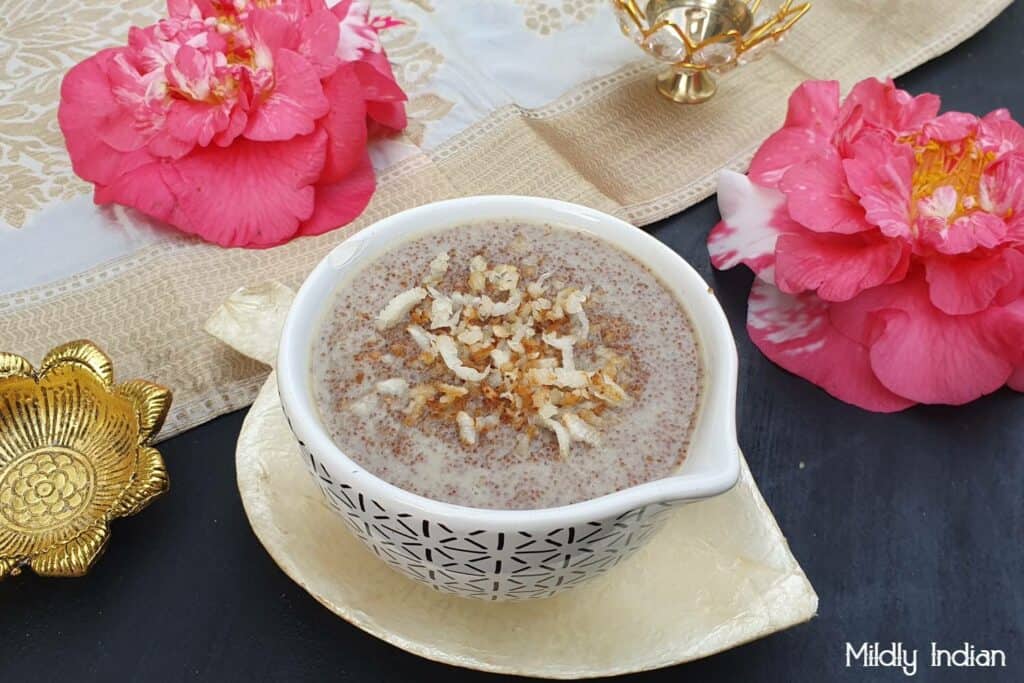 Teff payasam
Ready to enjoy a unique grain, teff in payasam form?  Get your cups ready this onam for a gluten-free, mineral-rich, teff payasam.
Equipment
saucepan

measuring cups and spoons
Ingredients
To cook the teff
1/2

cup

teff

1.5

cups

drinking water
To make jaggery syrup
1/2

cup

jaggery

powdered

1/2

cup

drinking water
To make the payasam
2

cups

milk

full cream or low fat

4

green cardamom
For the coconut topping
1/2

tsp

coconut oil

2-3

tbsp

grated coconut
Instructions
In a small pan add the jaggery and the water.

Dissolve the jaggery and then set it on low heat.

As it comes to a slow boil skim the bubbles on the surface to reduce impurities.

Into a sperate pan add the water to cook teff and let it come to a boil.

Wash and drain the teff carefully and add the teff to the boiling water.

Cover and cook on low heat till the teff is soft and creamy. Dont forget to stir in between.

Into the another sauce pan, add the milk and bing it to a boil.

Now add the cooked teff and whisk well to have a lump free mix.

Let this boil and then add the jaggery syrup to taste. Mix well.

Add crushed cardamom and remove from heat.

Into a small pan add the coconut oil and roast the coconut till golden brown.

Add this on top of the payasam.
Serving a payasam
Payasam is usually served hot either on the banana leaf with a meal or in a cup. This teff payasam is more like one in a cup or a small bowl and scooped with a spoon. I love my payasams on the banana leaf with a bit of leftover papadam and the nurukku manga achar. However, these are not essentials to enjoy this payasam.
Can we make vegan teff payasam ?
Yes, you can absolutely make this payasam vegan. Substitute the milk with diluted coconut milk and the payasam will be vegan. If using oat milk, use it without diluting. Use coconut oil to toast the coconut scrapings to golden perfection too.
Can we make the payasam sugar-free?
Yes, you can. You can use stevia or sugar-free to flavour the payasam instead of jaggery syrup if you need a sugar-free dessert. To do this, follow the steps up to boiling the cooked teff with the milk and let it simmer for 5-10 minutes. Now, remove from heat and stir in the stevia or sugar-free to taste. Remember that stevia and sugar-free are far more sweeter than refined sugar. So a little goes a long way. Avoid boiling the payasam after the stevia is added. Top with the roasted coconut and the sugar-free payasam is ready.
Payasams from our blog
No sumptuous meal in South India is complete without a payasam at the end. Here are some classic ones and some unique payasams that you don't want to miss.
Kerala pink payasam
Quick carrot payasam
Vegan Godhambu payasam
Varagu paal payasam
Paalada prathaman
Hope you will try a few of these too.
Stay connected
Tell us how you enjoy your payasam, specifically if you are making this teff payasam. I am sure you will find us easily accessible through Instagram, Twitter, Facebook or Threads. Leave us a comment here or on our media platforms so we can connect with you. Don't miss to subscribe as we bring forth such new ideas that are more of a global Indian perspective.
Pin for later
See you at the next post