The tricolour capsicum dahi  chutney was introduced to our family menu by my husband. He usually makes Indian style potatoes and brilliant tomato rasam. This particular day,  he made dinner with Blueberry pulao and beautiful tricolour capsicum. One day that he made the combo and it was a super hit. The blueberry Sweet pulao and the the combination big the crunchy capsicum  was delicious.
It has made its appearance on the previous version of the blog. Ever since we moved to this website  I had not added it back again.. Somehow it became a regular thing and so got accepted and never came up for much thought to be put on the blog. But this time I did take the pics necessary to I could reshare it with you all. It is not only an easy to do side to an Indian dinner, but so beautiful with the three colours and quite a healthy raw recipe.
Capsicum  is not  just a beautiful  pepper
Capsicum or bell pepper belongs to the chilli family. they come in much more colour than just red yellow and green so have fun with the colours. try to use them with minimal exposure to heat as heat can destroy some of the beneficial effects.
The yellow capsicum heads the list for Vit C content followed by the red.
Providing a significant level of potassium the yellow capsicum again helps in the effective blood pressure balance.
Adding crunch to any recipe you add it to, capsicum packs in a good amount of antioxidants needed for radiant skin and a healthy body.
Coming from the capsicum family, the capsaicin content helps in anti-inflammatory benefits
Another addition from the chilli family is the Vit A content making the pepper friendly to optic health.
For pregnant women, the folate content is really reliable so munch on some as you make the recipe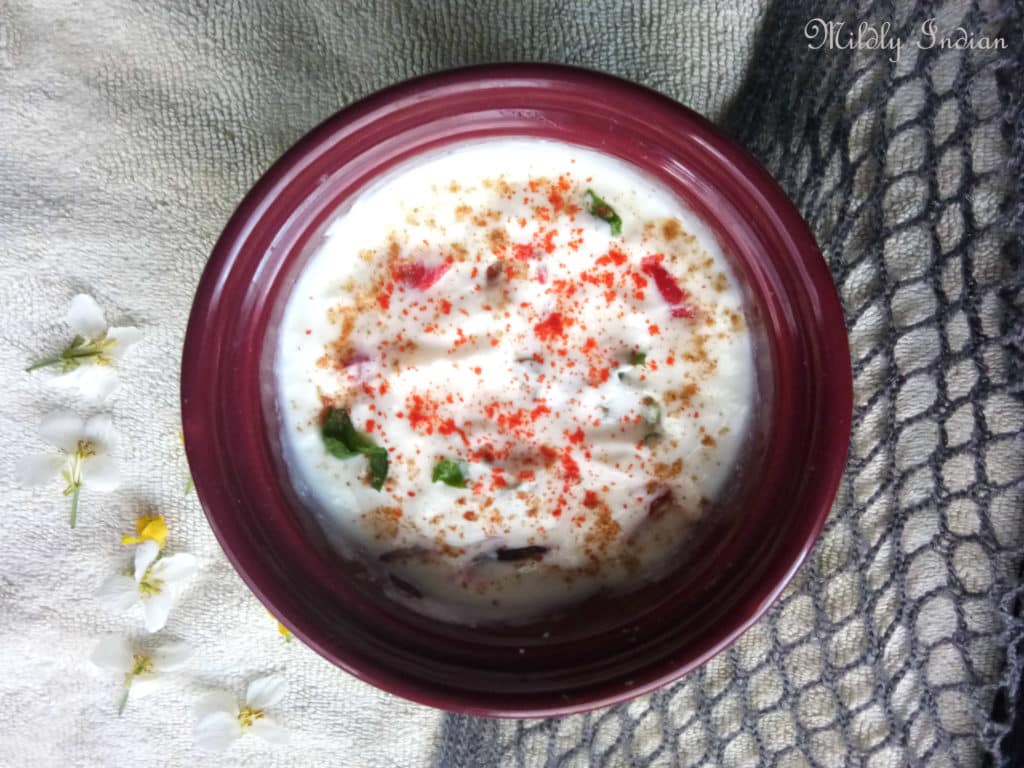 Here is one more recipe you could try with capsicum
A few more preparations which are raw and have yoghurt in them  are here
Hope you like them.
they are best served with an Indian flatbread, pilaf like preparations.