Mangoes are loading up here. As much as we all love mangoes, I have one kid who really finds mango difficult to enjoy. He simply doesn't like sweet stuff made with mangoes. It is fine with savoury and raw mangoes. When I started adding them to salads, it quickly was acceptable to the sweet mango hater. In fact, it was an easier flavour to adapt to.
Over a period of time, we have made significant changes to the way we make this recipe. Hence updating this post here and collaborating with Foodies redoing old posts to bring out the best we can.
Here are some reasons why you may love this mango salsa.
For making any good recipe,  like this mango salsa, we always need some good prompts. Here are yours: 
Oh my God!!it is delicious and healthy!!
To be honest, this is so delicious that it turned a ripe mango hater into a fan. Plus, the mum in me loves it as it is a truckload of seasonal fresh fruit, a bit of veggie and herbs that get on the plate.
Simple and easy
A bit of knife work and the recipe is practically ready to eat. I think this should be a no brainer recipe now. Just make mango salsa, no looking back. Substitute it for salad all through summer. Serve it with chips or crackers on the appetiser platter.
Colourful we all eat with our eyes, so how good is this. Keep it mixed up of in layers the varied colours of the recipe are eye-catching and ends up on the plate at a faster rate than or many other meals.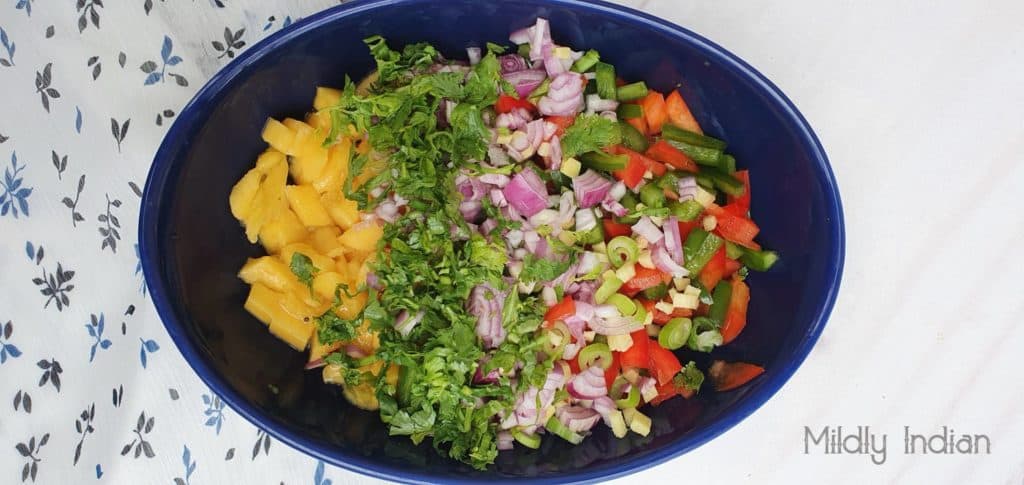 Make ahead and meal prep.
The ease of making the recipe brought you up till here, let's make it better. It stays so well in the refrigerator to add zing to your lunch boxes. I love to fill these my burrito wraps or on my chipotle quinoa (click here for the recipe).
Here is one more thing I of do. I cook the grains, say rice or barley, make a good portion of tofu scramble and keep the salsa ready as well. When I build the lunch boxes it is these three that go in with a bit of spinach. How good does that sound?
Customise to your needs
Here comes the best part. Check what's in your fridge today. As long as you have mangoes, a couple of chillies,an onion, some coriander and some lemon or lime, you are good to start. Do you have some avocado chunks, throw it in.no avocados how about some peppers or grated carrots? They all work with the base really well.
Wait, fussy eater won't eat chunkily, throw the mix into the blender and whizz to a fine paste however you like it, it works.
Too good to be true isn't it!try it for yourself and let us know how you went. 
Still, hung up on sweet mango recipes?
Try these recipes to satisfy your sweet tooth. After all, there is plenty of mangoes this season.
Let us know how these compared with your salsa experience in the comments.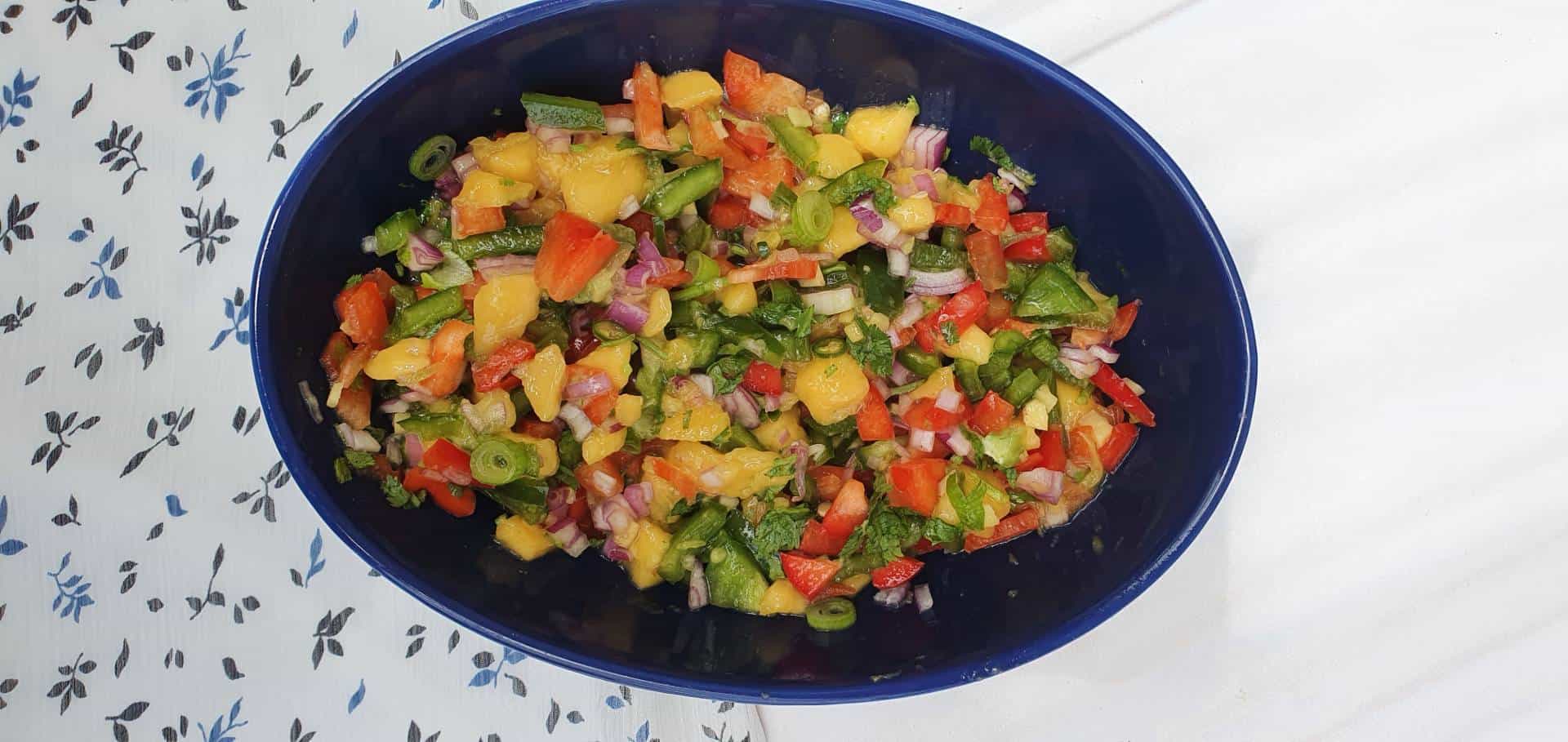 Mango salsa
Quick and easy salsa recipe, gluten free, nut free, zero oil and fun.
Ingredients
1

cup

mango

ripe and sweet, cubed

3

tbsp

red onion

finely chopped

1/4

cup

red bell pepper

diced

1/4

cup

green bell pepper

diced

1

tbsp

coriander leaves

chopped fine

1

tsp

green chilli

chopped fine , remove seeds.

1

tsp

lime juice

salt to taste

1

stalk

spring onions

sliced thin.
Instructions
Wash, peel and collect one cup of cubes of ripe juicy mango. The cubes around 1cm.

Deseed the chillies and chop them finely.

Dice the peppers, slice the spring onions, Finely chop the coriander leaves.

Add all the chopped ingredients into the mixing bowl and add the slt and lemon juice and gently toss together

Check for the salt levels and serve with crackers, lavash bread or mini toasts
Nutrition
Serving:
50
g
Sodium:
780
mg
Sugar:
27
g
Fiber:
4
g
Potassium:
335
mg
Calories:
128
kcal
Monounsaturated Fat:
0.2
g
Polyunsaturated Fat:
0.1
g
Saturated Fat:
0.1
g
Fat:
0.5
g
Protein:
1
g
Carbohydrates:
33
g