At the farmers market, I often observe people take off the radish leaves before getting the bunch of radishes. I have observed the same in India too where the sabjiwala asks if he shall take off the leaves. This week in my grocery I was buying the radish with the tops. The lady at the billing asked me if I kept rabbits!! I replied that we eat it as it was nutritious. She looked surprised but that saved me the reddish leaves that otherwise would have ended up in the bin! This was the revelation that many of them do not realise the benefits of this rabbit food. Well, if it is so good for those cute rabbits, why not for us!
I was so used to the wet markets in Penang and the open-air farmers market in India where they had so many recipes to share while you buy the products that I did not think that some may not be just used to the commercial way of life. I have taken it upon myself to update and educate them a little at a time as I go.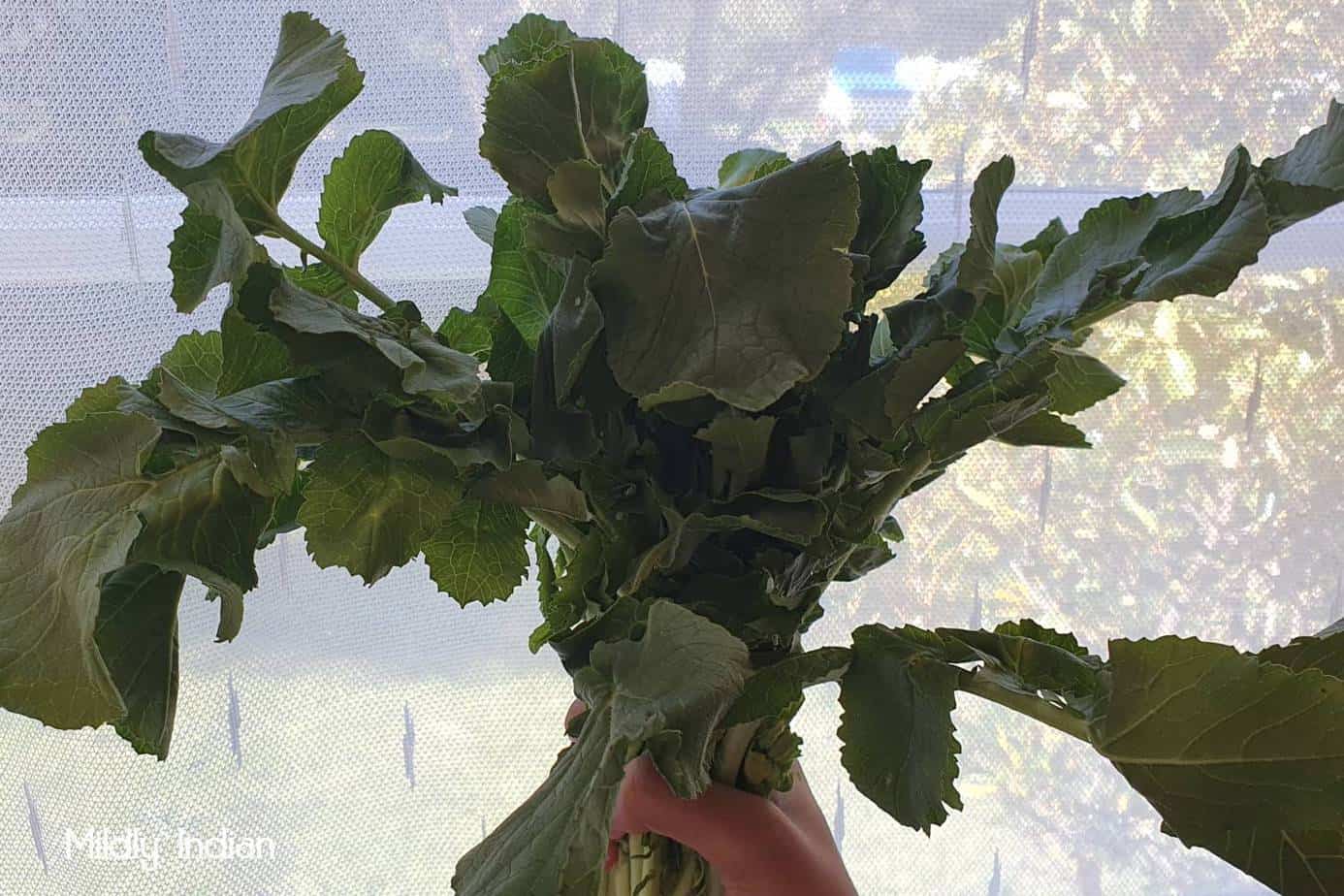 Benefits of radish leaves
Raphanus raphanistrum subsp. sativus, is quite popular as a peppery root vegetable than the actual leaves. In fact, the leaves are as equally good as the roots.
May it be the daikon or the salad radishes the leaves have six times more Vit C than the root.

Being a green leafy vegetable it adds a lot of dietary fibre to your meals.

The diuretic properties of the radish leaves are well tested.

Radish leaves have been considered useful in the treatment of piles. Though the reasons are not explained clearly, the dietary fibres and anti-inflammatory benefits may be the reason.

Just like most leafy vegetables, they are useful for diabetics, the iron-deficient and detox needed ones.
What is saag?
Saag is a popular Indian word that summarises all sorts of green together. Any type of leafy vegetable, therefore, can be saag. Saag is also a soft-cooked curry made with greens especially mustard or other levels that need a slightly longer time to cook. The mashed greens with generous amounts of tempering and butter are often a part of the winter cuisine.  Served with roti and salad of onion, the saag is the flavour vehicle for the meal and more like a sauce that can be served either on its own or in combination. Saag curry is often named based on the leafy vegetable that you choose, for example, sarson ka saag (mustard greens), shalgam ka saag ( turnip greens) and Mooli ki saag( radish greens). Based on what else you add to the saag, you can have saag paneer ( addition of cottage cheese), alu saag ( adding boiled potatoes ) or saag kumbh ( with sauteed mushrooms). You could also add the sliced and sauteed pieces of the radish to this recipe to enhance the radish flavour.
Mooli ke saag
The often discarded radish leaves are really tasty when made in the Indian mooli ki saag curry. This braised earthy curry is best with roti and a salad. Ty the recipe today before you toss out the radish greens.
Ingredients
the leafy part
2

cups

radish leaves

cleaned, washed and chopped

1

cup

Spinach

(optional)
to saute and grind
1

clove

garlic

1/4

cup

red onion

chopped small

1/4

cup

tomatoes

1/2

tsp

fresh ginger root

grated

1

medium

green chill

(optional)

1

tsp

cooking oil
masala powders
salt to taste

1/4

tsp

roasted cumin powder

1

tsp

garam masala powder
Others
1/4

cup

full cream milk / plant based milks

butter

to serve, avoid for a vegan treat
Instructions
Clean and wash the radish leaves, peel and chop the onions tomatoes, ginger and green chillies.

Into a pan, add oil followed by onion, garlic green chillies and ginger to saute

As the onion turns golden add the tomatoes and saute well.

Cool and add to the blender with the chopped radish leaves, blend smooth.

Add the blend into the pan and bring back to a bubble.

Add the salt, garam masala and roasted cumin powder. Stir well.

Cook the greens for about 5 minutes

Now as it gets the raw green smell off , add the milk and cook for another 3 to 5 minutes.

Remove from heat and stir in some butter for extra creaminess.

Serve hot with Rotis or rice.
Notes
Remove the saag as soon as it is cooked into a serving dish to retain the green brightness. Also, don't cover and cook.
Nutrition
Calories:
72
kcal
Carbohydrates:
8
g
Protein:
3
g
Fat:
4
g
Saturated Fat:
2
g
Polyunsaturated Fat:
1
g
Monounsaturated Fat:
1
g
Trans Fat:
0.1
g
Cholesterol:
7
mg
Sodium:
590
mg
Potassium:
396
mg
Fiber:
2
g
Sugar:
2
g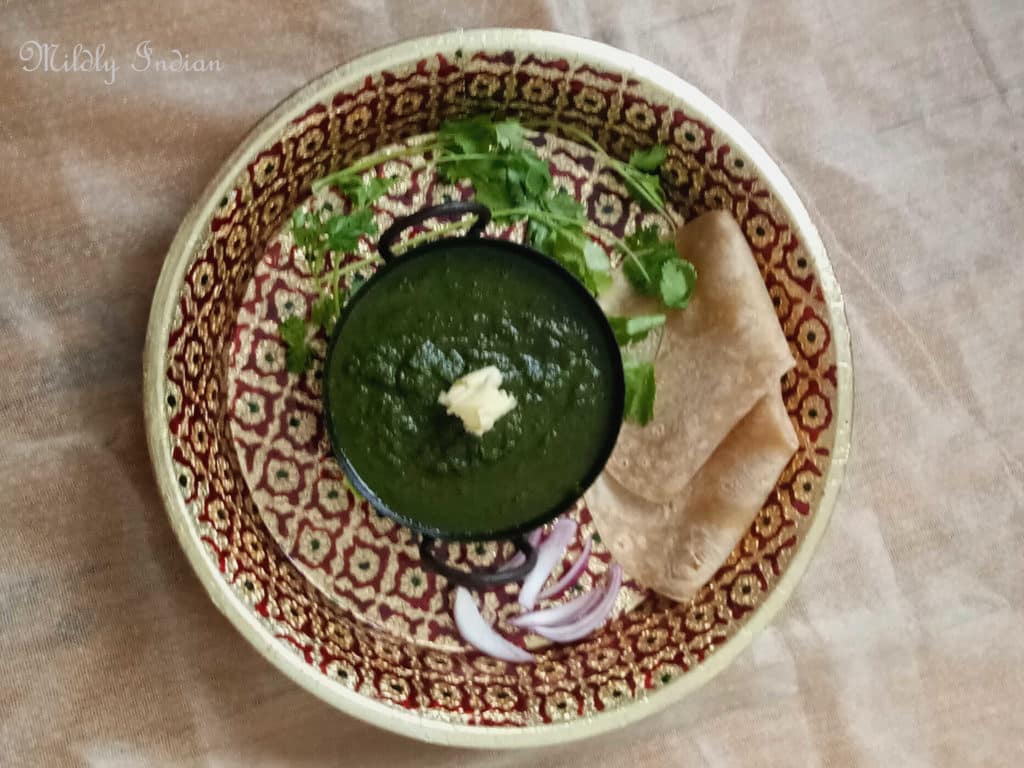 Being a slightly tougher green when compared to spinach, radish greens are perfect for this recipe. If you do not have enough radish greens, you can use, mustard greens or English spinach to add volume to the leafy mix The mooli ki saag also holds the green colour better upon longer cooking than some which quickly lose colour. Enjoy the simple recipe of mooli ki saag and the green bits of every vegetable possible. Waste not!! want not !!!
Here are a few more curry recipes that use green leafy vegetables.
Hope you like and enjoy these recipes. Do let us know your known ways of getting greens on your plate.
Contributions.
Enjoy this week with unique recipes of saag from the group.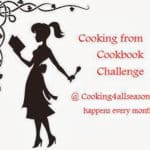 This recipe is also a part of the Cooking from a Cookbook Challenge as the base recipe for a saag is one I have learnt from the renowned Tarla Dalal. As years went by I have madly adapted the recipe to suit our needs and the available greens along our travels.
This recipe with radish leaves was the perfect pick for the theme #saagsaaga on Foodie Monday blog hop initiated by Kriti. So here it is.
See you later this week with something more. Meanwhile, if you make this recipe, tag us @mildlyindian or #mildlyindian. Keep us updated on what changed you would make to this recipe. Pin the recipe for a later time directly from the recipe card onto your boards. 
Stay on with more posts or subscribe to us for updates.