Mushrooms weren't something I grew up eating. It never entered my mother's kitchen or my mother-in-laws. With the kids came a new attraction to mushrooms. Further, life in Malaysia solidified the love for mushrooms in our family. Though common white button mushroom appears more often in my kitchen, I have experimented with oyster mushrooms, Swiss browns and enoki in my kitchen. Each of these provides a unique experience for the tastebuds. In the end, it is back to the familiar few recipes that you will love on an everyday basis.
Mushrooms on our dinner table. 
That huge bag of button mushroom, fresh from the market gets its first taste as mushroom pepper fry. Then a day later I decide if the rest gets transformed as pilaf, biryani or curry.  Click on these highlighted links to access them. If Kadai mushroom curry is your preference, scroll further down.
Easy cremini mushroom and millet pilaf
The leftover mushrooms certainly get used up as bite-sized mushroom rolls.  That sums up the quick use of button mushrooms in our house. Along with this, we love oyster mushrooms in curry. 
Cleaning the mushrooms
The first step of any good recipe begins with cleaning the produce. With button mushrooms growing so close to the substrate (commercial mushrooms are grown on a special base not on soil) a bit of it tends to stick on to the mushrooms. So cleaning is absolutely necessary. Like the mini sponges they are, mushrooms, absorb water if soaked. So soaking to clean is out of the question. The best way is to clean them individually, using a damp kitchen cloth. However, if they really small and if you are in a hurry, you can give it a quick rinse under cold water. 
What is Kadai mushroom curry? 
Kadai mushroom curry is a variation to the Kadai masala gravy popularly made in Indian cuisine. 
Kadai is a deep heavy wok we often use in Indian cooking. Since it is a heavy-bottomed cast iron one, it helps to slow down the cooking and helps thicken the sauce giving that authentic gravy flavour. The onion-tomato buna masala with special ground sauce mixes us the curry base for this recipe. The gravy is therefore spicy, rich and super easy to make. Are you ready to make this delicious khadai mushroom curry recipe?
Ingredients for the Kadai masala gravy
The buna masala – The basic buna masala that we had made earlier forms the base of this recipe as well. this tangy onion tomato based gravy in the smooth blended consistency gives body to the curry. Here is the link to making storable buna masala
The kadai masala-  instead of the usual garam masala is the spicy kadai masala that makes this gravy lip-smacking delicious.  The spices that make this Kadai masala are the ones you often find in any Indian pantry. Basically, it is made of coriander seeds, cardamom pods, fennel and red chilli powder. 
Check the details of the step by step recipe below in the recipe card that will help you prepare this kadai mushroom curry.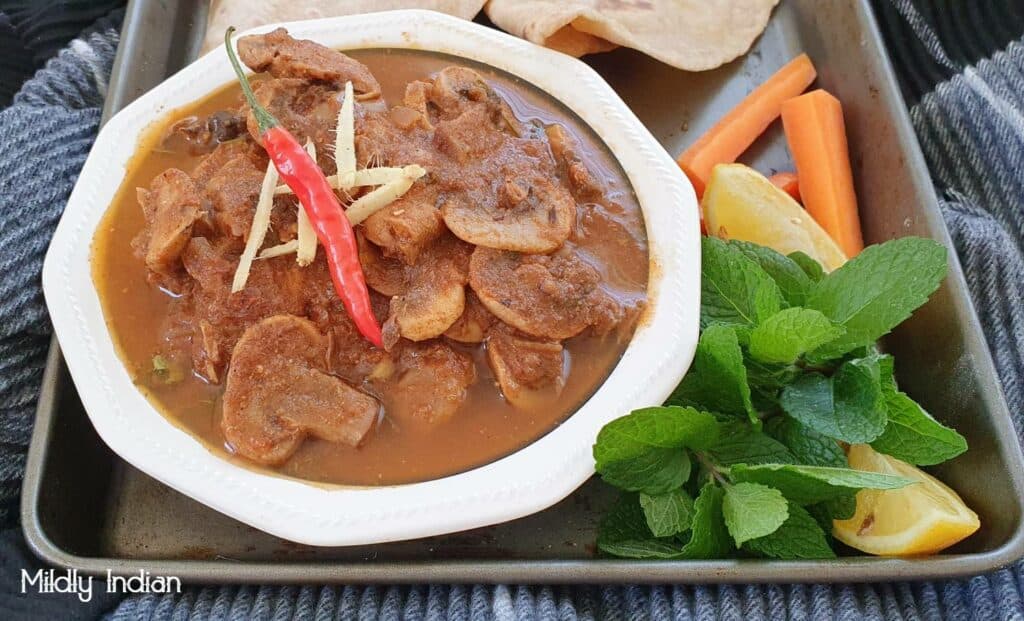 Kadai mushroom curry
Kadai mushroom curry is a spicy, hot delicious recipe you can put at dinner table with rice or breads. Try out the Kadai masala gravy with paneer or mixed vegetables too. Enjoy a great Indian dinner.
Equipment
1 frying pan

1 ladle

1 wok

1 Spice mill
Ingredients
For the kadai masala powder
4

tbsp

coriander seeds

8

dry red chillies

1.5

tsp

fennel seed

7

green cardamom
Other ingredients
1

tbsp

cooking oil

3

cups

Mushroom

sliced

salt to taste

1

tbsp

fresh ginger root

julienne

1

tsp

kasuri methi

dried fenugreek leaves.
Instructions
Soak the cashew nuts for a while and blend them into a smooth paste.

Wash and slice the mushroom.

In a frying pan, dry roast fennel, cardamom, dry red chillies and coriander seeds.

Once crisp and aromatic, set it aside to cool.

Powder this masala mix into a smooth powder.

Into the wok, add the oil and heat it to medium heat.

Sautee the mushrooms in the oil.

Remove the roasted mushroom and set it aside.

Add the buna masala and heat it up.

Now add the kadai masala, cashew nut paste.

Add half a cup of water and mix it well.

Add the roasted mushrooms and boil the gravy well, till the mushrooms are cooked.

Let the curry boil for 6-7 minutes. Rub the fenugreek leaf and add to the curry.

Mix well and serve the curry with grains or flatbreads.
Variations
Vegetable Kadai masala -Instead of mushrooms vegetables that can be used are bell pepper, peas, french beans, cauliflower and carrots. This is the most popular form of Kadai masala curry
Kadai paneer masala – Indian cottage cheese or paneer soaked in the delicious kadai masala gravy with pulkas is the best Indian curry experience. 
Bread and rice to serve with this Kahdai mushroom curry.
The curry pairs well with Indian flatbreads and gentle rice varieties well than spicy mains. Here are a few ideas you can try with this curry.
Malabar cuisine ghee rice-neichoru
Kalonji Pulao- nigella seeds spiced rice.
 Bajra roti – Unleavened pearl millet bread
Peas and lemon pulao – Peela pulao.
End your meal combo with a bit of sweetness to cool the spice. Here are a couple of ideas you may want to try. 
Shakarkandi ki kheer – Sweet potato kheer
Banana Sheera – Sweet Banana Pudding
Stay connected
When you make the Kadai mushroom curry, let us know what you like about them in the comments.  let us know when you also try our recipe for Rajma masala,  Channa masala and vindaloo curry. We are always all ears to hear your reviews, twists and turns.  Let us know if you are making the khadi masala gravy with paneer or vegetables too. While you are here, do subscribe to get updates as regular as we can post them for you. Tag us @mildlyindian or #mildlyindian with your version of these recipes on all your social media accounts.
See you at the next post and stay safe.