Keep a glass of this cool homemade blackberry lemonade that offers a great twist to the classic cool down this upcoming summer.
It's just the start of spring itself that has given us a sneak peek into the upcoming summer and oh boy! It is going to be super hot here in Sydney. The winds are absolutely smashing it, they are not the soft cooling ones, but the blazing hot ones! While we plan our menus ahead having something fresh to add as a drink may be something I need to look at as a daily add to my weekly planner. So as we do, I may be able to add a couple of useful ones for you too.
Just as a start, we made fresh blackberry lemonade and will be repeating this one for sure.
Why would you make this recipe?
Quick and easy: This is easiest to put together as you can literally throw it all in the blender and you get it done in a few minutes.
Make ahead: You can actually blend up the mix for 2 or 3 days and keep it in the fridge ready to get a glass as soon as you get home from a hot day at work.
Variations are possible: based on the berries you have at hand. This creates variety, just with the basic recipe over and over again, each time a new one.
You don't have to start from scratch: so here is my cheat. Berries with store-bought lemonade are still perfect to cool you down. Here is one more, a spoonful of jam in store-bought lemonade.
With these ideas and cheats that you have options for, let's now get back to the original recipe.
Why does this juice become pink and not black like the blackberries?
The blackberries when crushed do have a deep red to purple colour. However, the colour behaves like an indicator. We had previously done a similar experiment with cabbage leaves as an indicator solution. Her as well the blackberry juice is changes colour when the lemon is added, otherwise, if you just blend it with water, you will get a deep purple liquid. 
Ingredients for blackberry lemonade.
With just four ingredients the blackberry lemonade is so easy to come together.
Blackberry: the aggregate fruit of the blackberry plant is the one that is used to make this recipe. The berries usually appear black with a deep red juice from them. We have used blackberries to make a tofu blended smoothie and at times freeze it to use as a sorbet.
Lemon: lemons are an absolute must for lemonades and for summer respite. I have used the Meyer lemons to make this recipe. You can make this a limeade too.
Water: Clean drinking water makes up the major portion of the lemonade. Water is important in summer as it is essential to make up for the heat and the loss of water through sweating.
Sweetener: ideally choose natural sweeteners like honey, dates, agave nectar or maple syrup unless you have not yet weaned off sugar and are still hooked on to it.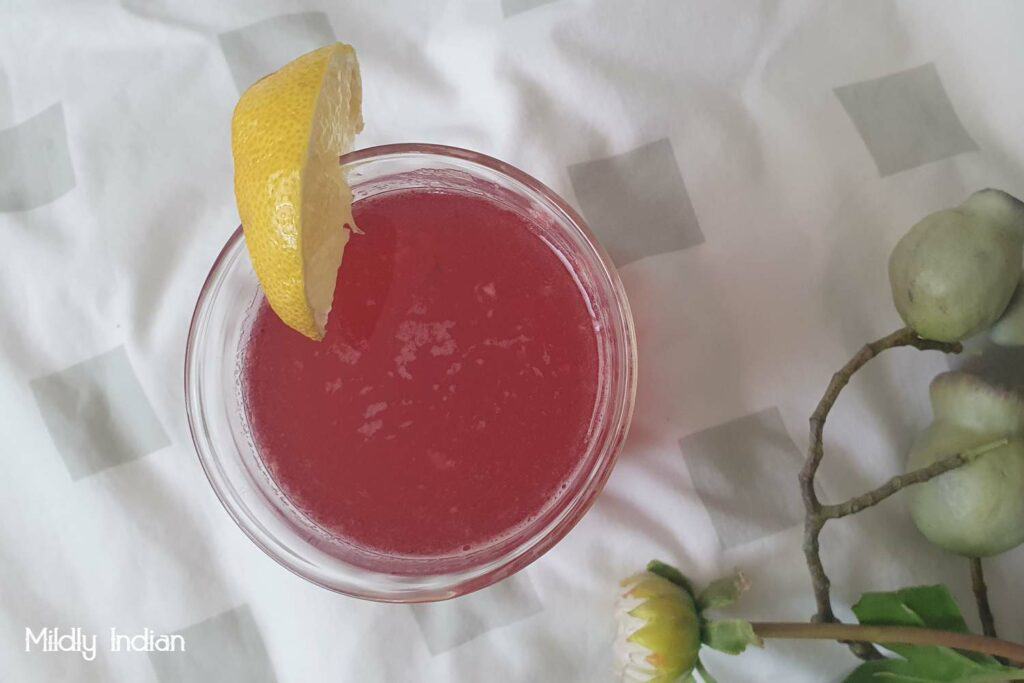 Let's make the lemonade
Add into the blender add the berries, lemon juice, sweetener and half the water.blend them to a smooth blend. Add the rest of the water and mix well. Strain and store. Add ice to a glass and pour over the fresh lemonade and enjoy.
Variations
Add some herbs: herbs add a lot of freshness to the mint, lavender and thyme are the ones that are the best.
Use natural sugars: use honey or blend in some dates to sweeten this lemonade. Stevia or sugar-free also is fine to add to this recipe.
Jazz it up: add sparkling water instead of just water to make this lemonade. If you are having a party, you may want to look at changing it to become a cocktail.
Let's plan a good snack time
Serving a good drink always relies on some great snacks that you can pass down as well. Since this is a refreshing drink roasted nuts, namkeens or cookies pair with it well. You could definitely serve these for a gathering with a pina colada popcorn bowl, Hummus and chips, or spicy cheese bites.
Blackberry lemonade
Keep a glass of this cool homemade blackberry lemonade that offers a great twist to the classic cool down this upcoming summer.
Ingredients
4

cups

drinking water

1

cup

Lemon juice

1/2

tsp

lemon zest

1/2

cup

sugar

( add extra for a sweeter lemonade)

1

cup

blackberry

washed and drained
Instructions
Wash and drain the berries.

Add the berries with the sugar, lemon juice and a glass of water and blend it.

Add the remaining water and give it a quick whizz.

Serve it in tall glasses.
A few more drinks that you can make ahead for the season.
Nectarine fizz
Kiwiberry mojito
Kesar sherbet
Grapes jaljeera.
Stay connected
Stay subscribed to this blog as we bring you plenty to refresh through this season. When you have a handful of blackberries don't forget to make a batch of this delightful simple drink and let us know in the comments if you enjoyed it.
See you at the next post.
Pin this from here to save for later