Bengaluru is a vibrant city with a good mix of the young and old. It never has a dull moment. Unlike the other metros, Bengaluru has a unique south Indian warmth with a heavy presence of quick eateries. This uniqueness is often reflected in the recipes that get adopted by the youth. This is why I am a solid connoisseur of the Bengaluru style chaats. The nippatu masala chaat is one such unique creation that you will find in the chaat stalls that are closer to the universities and colleges. These chaat stalls do not just have a crowd of young blood, but a mix of some good fun with this spicy, crunchy chaat with a hint of sweetness at the end.
What do you need to make a plate of good nippatu masala chaat?
Nippatu or thattai – nippatu or thattai is the crunchy rice and chickpea-based deep-fried fritter that is used as a base for this recipe. This can be made at home or store bought. Currently I have use store-bought ones.
Chaat chutneys -the two main chutneys that we use in the Bengaluru nippatu masala chaat is the green chutney and the tamarind based sweet chutney. 
Salad veggies – I love a good kachumer style mix in the  chaats I make at home. In this chaat I have used tomatoes, onions, grated carrots and capsicum. You can use cucumbers or grated zucchini too to add to this recipe. Chop up the tomatoes and onions as small as you can so that they make a perfect mouthfeel. 
Spice powders – Just like any other chaat, the tangy chaat masala is absolutely essential for making this chaat. Together with this, I add roasted cumin powder, a touch of salt and some red chilli powder. 
Peanuts – The peanuts you use for most Bengaluru style chaats is the Congress Kadelekayi. This is a special roasted peanut recipe with chilli powder ( cayenne or paprika). This is unique to all the chaats that belong to this region.
Puffed rice – Murmura or puffed rice is the crunch factor that bulks up the chaat. We have used the murmura earlier to make Strawberry bhelpuri and chocolate murmura slices.
Herbs – This chaat cannot do without roasted curry leaves. This is the one that gives a classic South Indian aroma to the chaats. You can add some chopped mint and coriander to that chaat too to add freshness to this thattai chaat.
Nippatu masala chaat.
Equipment
1 mixing bowls and spoons.

Cutting board

grater

measuring cups and spoons
Ingredients
8

pieces

nipattu / thattai

medium sized

1/4

cup

murmura

2

tbsp

peanuts

roasted , congress Kadlekayi if uou can get it.
For the salad mix.
1

medium

tomato

chopped

1

small

red onion

chopped

1

mdium

carrots

Grated

1

tbsp

green chutney

1

tbsp

tamarind chutney

1

tsp

lime juice
Spices
1

tsp

chaat masala

1/4

tsp

roasted cumin powder

1/4

tsp

red chilli powder

salt to taste
herbs
5-6

curry leaves

roasted

1

tsp

coriander leaves

chopped
Instructions
Chop and grate the ingredients for the salad.

Add this to a mixing bowl, add the chutneys and add the lime juice to it.

Crush and add the nipattu, peanuts and murmura to the salad mix.

Add the spice powders and curry leaves.,

Mix all this well and check for salt or any balance of spices needed.

Serve the chaat immediently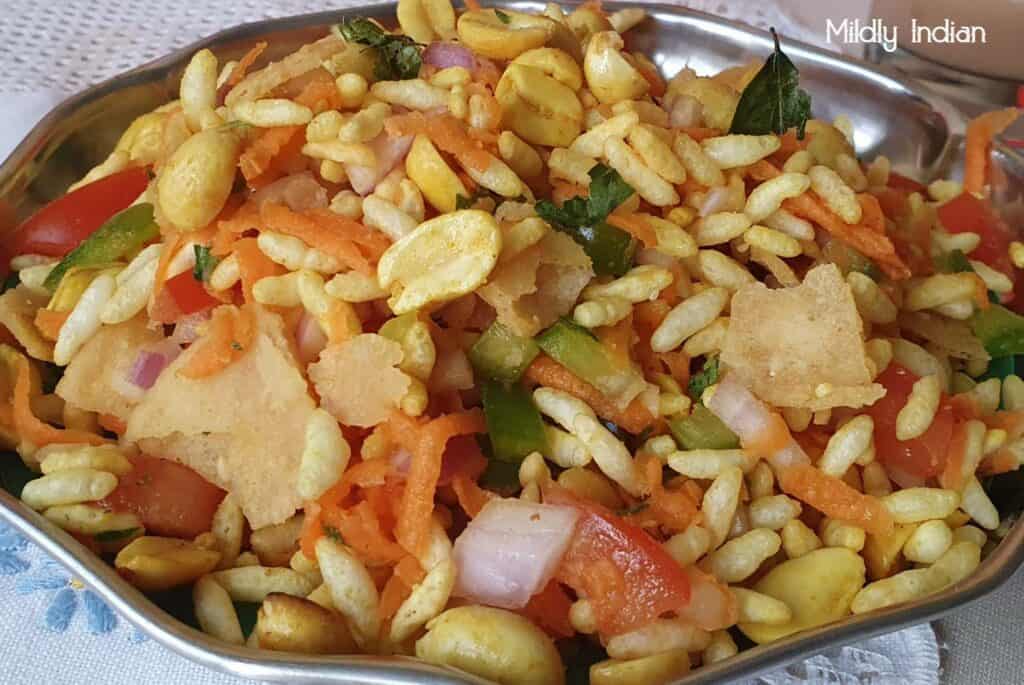 Arranging the chaat.
There are a couple of ways you can arrange this chaat. You can crush up the nippatu and mix it with the other ingredients for bhelpuri style chaat.
If you have flat nippatu layered out on a tray like candles and top them with spices bit of ingredients it is a perfect appetizer. Choose the bite-size nippatu to make these.
Why is this dish fun?
First of all, it is addictively tasty across the ages.
Secondly, it really doesn't really have hard and fast rules about measurements of each increment, just an average proportion. From then on it is totally customisable.
Then, it doesn't really get soggy as fast as some of the other traditional chaats, say panipuris. So perfect to set up for a chaat evening at home or with friends.
Perfect pairs with this nippatu masala chaat
Nippatu masala pairs well with chilled sodas or a good sweet lemonade. However, if you are making this in winter, try tulsi chai with it. I love this combo rain or shine.
A few more Bengaluru chaats
Stay connected
If you have never had nippat masala chaat, you absolutely should. I like the crunch of the nippatu better than the papadis and the slight fragrance of curry leaves..after all, I am that curry leaf loving South Indian. 
We are always all ears to hear your reviews, twists and turns.  Let us know if you are making the Nipattu masala chaat. Rate the recipe here with the star rating and let us know what you think of it in the comments. While you are here, do subscribe to get updates as regular as we can post them for you. Tag us @mildlyindian or #mildlyindian with your version of these recipes on all your social media accounts. 
We have a few good recipes that we managed to take in a Video format. Check out our youtube collection. 
See you at the next post and stay safe.