Like any other household, we have opposite poles in ours too.  Onion haters and onion lovers,  pilaf hoggers and lemon rice diggers!! When it gets crazy busy it is also the time, you don't want to make a lot of dishes.  Just want to make a quick version of an Indian vegetarian dinner,  one pot that satisfies all. With these in mind began my kitchen trials. One of the best experiments which seem to please all the palates of the house and the guests is a mix-up of two classic but very different recipes. The baby of the North Indian mutter pulao and the South Indian Lemon rice is this Peas and lemon pulao. This peela pulao seemed to satisfy both parties in my house and was raved at a recent get-together. 
Why is this pulao so good?
I have a few good reasons why this pulao hits the yummy notes quickly. Pulao is that Indian dish that is mildly spiced and adapts quickly to a variety of vegetables. It also pairs really well with any combination of sauces gravies or salads that you put together. Lemon rice on the other hand is one favourite of the South Indians. There is no escape from the heartwarming yellow colour and the refreshing lemon flavour. So, combining these two makes it a perfect match. 
If you are looking from a health perspective, it is a good balance of fibre with the peas along with the rice. It also is not heavily oily or spicy. Hence easy to pair with other curries and raithas. If from a time perspective, frozen peas cook real fast and leftover rice can me your mid-week dinner far easier than you imagined. 
Check out the ingredients and the cooking steps in this recipe card. Also, use the link on the recipe card to pin it to your favourite board.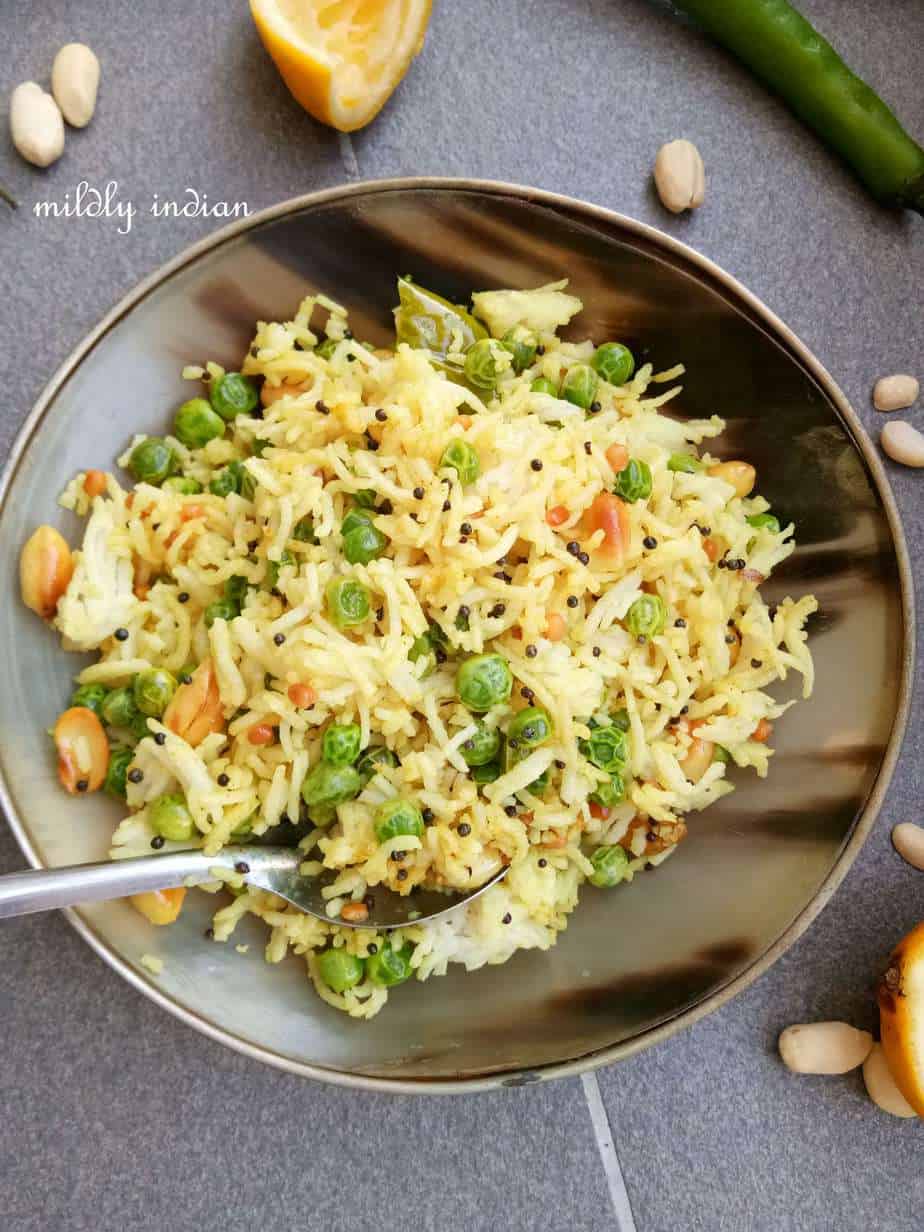 Peas and lemon rice
The gluten free baby of Mattar pulao and elumachai saadam.
Ingredients
3

cups

rice

cooked, basmathi
Tempering
2

tbsp

vegetable oil

1

tsp

mustard seeds

1

bay leaf

1

inch

cinnamon stick

1

small

star anise

1

tsp

cumin seeds

1

green chilli

chopped

1/2

tsp

fresh ginger root

grated

2

tbsp

Onion

sliced

1

sprig

curry leaves

1/4

cup

peanuts

3/4

cup

frozen peas

1/2

tsp

tumeric powder

salt to taste.
To stir in
1

tbsp

dry mint

2-3

tbsp

Lemon juice

salt to taste
Instructions
Fluff the cooked rice and set aside to cool in a mixing bowl.

Set a large frying pan on medium heat. Add in the cumin seeds and mustard seeds to sizzle.

Followed by the whole spices, onion slices, ginger, chillies, curry leaves and saute gently till the onions turn translucent.

Add in the peanuts and saute for a minute.

Add the frozen peas, salt and saute for 3-4 minutes. ( dont add a lot of salt as the rice is cooked with salt already).

Remove from heat and add the turmeric powder

Add this mixture to the mixing bowl with the rice.

Add in the lemon juice, salt and mix gently without mashing the rice.

Sprinkle crushed dry mint.

Serve warm with the curries and papads in the suggestions below.
Nutrition
Serving:
200
g
Calories:
870
kcal
Carbohydrates:
157
g
Protein:
23
g
Fat:
19
g
Saturated Fat:
2
g
Polyunsaturated Fat:
6
g
Monounsaturated Fat:
7
g
Sodium:
487
mg
Potassium:
234
mg
Fiber:
12
g
Sugar:
4
g
Planning an Indian vegetarian dinner with this pulao. 
This recipe has actually reached a number of people along with the lemongrass and peas sundal. It has become one of the most asked for lunch box recipes too as it is wholesome as it is. If you are planning a gathering with an Indian vegetarian dinner here are a few visually stimulating ideas. 
Option 1 – pair this lemon pulao with whole baked cauliflower, crispy leeks pakora and curried avocado.
Option 2 – Pair this peela pulao with Vegetable vindaloo, cooling cucumber raita and sago fryums.
Option 3 – Pile up this peas lemon pulao on the serving dish with sheek kebabs on top. On the side serve khatti meethi imli ki chutney and spicy hari chutney.
Finish up the dinner with a sweet potato kheer and kaju katli. Don't forget the mukhwas at the end to help through the digestion.
Trying to make a quick vegetable raitha? check this video to help you out.
Frequently asked questions about this pulao.
This is one of the most travelled recipes on this blog. Significantly it is also one that gets a few different questions about it. Here is a couple of FAQ's that may be helpful.
What rice do I use in this lemon and peas Pulao?
I have chosen basmati rice for this pulao. I love the long-grain brown basmathi to make this as I like the fragrance of it. I have made this recipe with, Sonamasoori, Keerakashala and Govindbhog rice as well. If you ask me to pick one, I will still pick the basmati to make it. 
Is the peela pulao good with other grains?
This is a fusion recipe so you can play around with it a lot. We have tested this recipe with barnyard millet, proso millet, quinoa, buckwheat, broken farro and vermicelli. Personally, I liked the quinoa and the proso millet better than the others.
What type of peas to use in this lemon pulao?
This is one of my quick go-to recipes. So. I choose the comfort of frozen peas. You could make it with fresh peas when in season. Blanch the peas before you add to this recipe so it is cooked through. If using dried peas, soak 1/3 cup of peas in excess of water ( say 3- 5 cups) for about 5 hours. Drain and cook these peas with more water till it is cooked through but retains a bite. Add this in the place of frozen peas.
Hope you like the recipe and will let us know in the comments or by emailing us. Join us as we proceed through this exciting food journey by subscribing. Tag us @mildlyindian or #mildlyindian when you make this peas and lemon pulao. Let us know what your family and friends think about it. See you at the next post.