If millet still carries the reputation of being bird food, I would rather be that bird. This pseudo-grain is far healthier than most stuff we eat. Millet is an ancient grain finding its roots deeply embedded in our culture. Sustainable as a crop with great drought resistance, millet has seen much more media coverage recently and had been gaining popularity as a gluten-free option.
The swap over to millets in my household was consciously slow. Ragi was perhaps the easiest as my husband used to it with the Karnataka cuisine. Over the period of time I have used various millets and in different forms. Now, millets come up at least 3 to 4 times a week in our meals. To add variety, the various forms make it so easy to use.
Whole grain
The whole grain millet can be cooked and use it just like we use rice. I prefer the saucepan method to cook millets and use them in the following recipes or simply with a curry on the Indian thali meal
Do you have trouble cooking millets?
Here is the link you can follow how to cook millets perfectly?
To use, try these recipes
Mushroom millet pulao
Soft cooked millet can be used to make
Thani Kara Pongal
KodomilletThairr saadam
Flour
As a gluten-free flour, millets make a wonderful base to bake cakes and muffins.
Try this   Finger millet (ragi ) chocolate cake for instance
Or
Dry roast the millet and use it as a flour to make sweet treats
Here I have used Pearl millet (bajra) in a ladoo recipe aka energy ball
Grits
I love to use the grits to make a porridge, both a sweet one or the savoury.
Little millet ( saamai) Koozhu
Kodomillet (varagu) Pal payasam
Flakes
This is the first time I am using millet flakes. The flakes are much smaller than poha or flattened rice and soften much faster. So this is a very quick method to have a satisfying meal.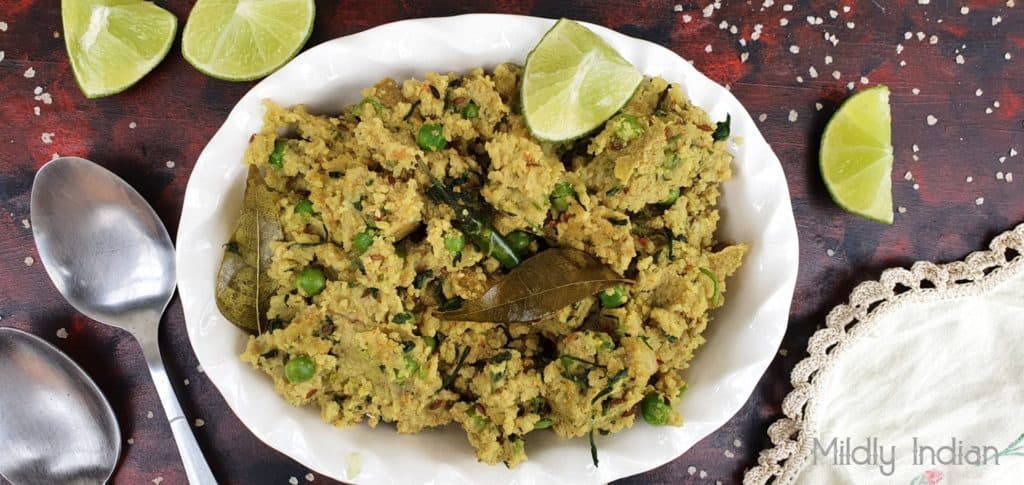 This quick upma recipe with little millet is quite filling. Further, I am going to try these flakes to do dahi chuda or ladoo as well.
This contribution
This recipe is added to Shh cooking secretly challenge. This millet recipe collection was proposed by  Aruna, who has partnered with me earlier as well. My partnerfor this challenge is  Poornima, who had thoughtfully checked what is available for me at this lockdown period. She the proposed millet flakes and green chillies as my secret ingredients which were available in my pantry. So I added in the fresh fenugreek leaves and frozen peas to create a kharabath style upma. The little millet flakes are really tiny and soak up in a matter of seconds. The vegetables lightened the density of this upma. I am so glad I tried this as it is the quickest upma I have made so far. Hope you enjoy it too.
Stay tuned for more recipes and try the millets today. I have served this millet upma with Almond chutney and masala chai
If you have any questions or comments on the recipe do let know in the discussion below. Stay in touch and don't miss to subscribe.
Save this recipe for later by clicking here